There is little doubt that 2020 has been a breakthrough year for Razer.
But the gaming company is not about to stop there.
The Singapore-based company is making a new commitment to environmental, social and governance (ESG).
Razer CEO Tan Min-Liang said that the group's community, which includes youth, Gen Z and millennials, is deeply passionate about the environment and sustainability.
As such, the company will be doing its part by making some big commitments.
Commitment #1: 100% Renewable Energy
The first commitment starts from Razer's home base: Singapore.
The company's new Singapore office, located in one-north, will be using 100% renewable energy.
Razer will be looking to get all its 17 offices worldwide to use renewable energy by the end of 2025 and have all offices be at 100% green energy by the end of 2030.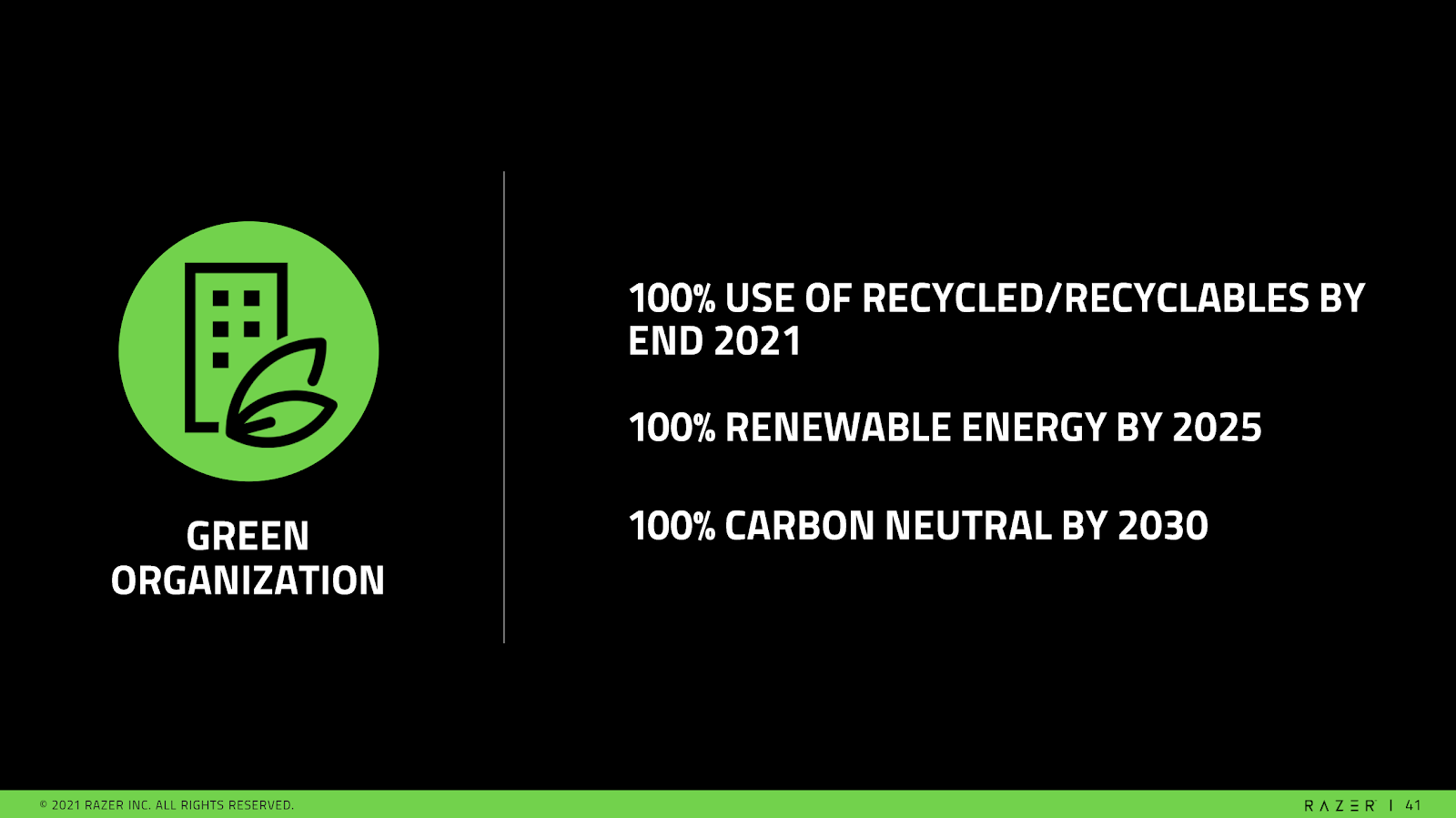 Source: Razer's earnings presentation
In tandem, Razer will be reducing its use of single-use plastics across all its offices and switching to 100% recycled and recyclable by the end of 2021.
Commitment #2: 100% Recycled or Recyclable Products
Razer sold over US$1 billion in hardware in 2020, amounting to more than 60,000 of its products flying off the shelves every single day.
In ESG terms, that's a lot of plastic being shipped out its doors daily.
So, by 2030, Razer is committing to having 100% of all its products to be using either recycled or material that can be recycled.
To achieve its target, CEO Tan Min-Liang said that the company will be redesigning some its products with new materials such as PCR plastic. Razer's manufacturing will also be using conflict-free materials.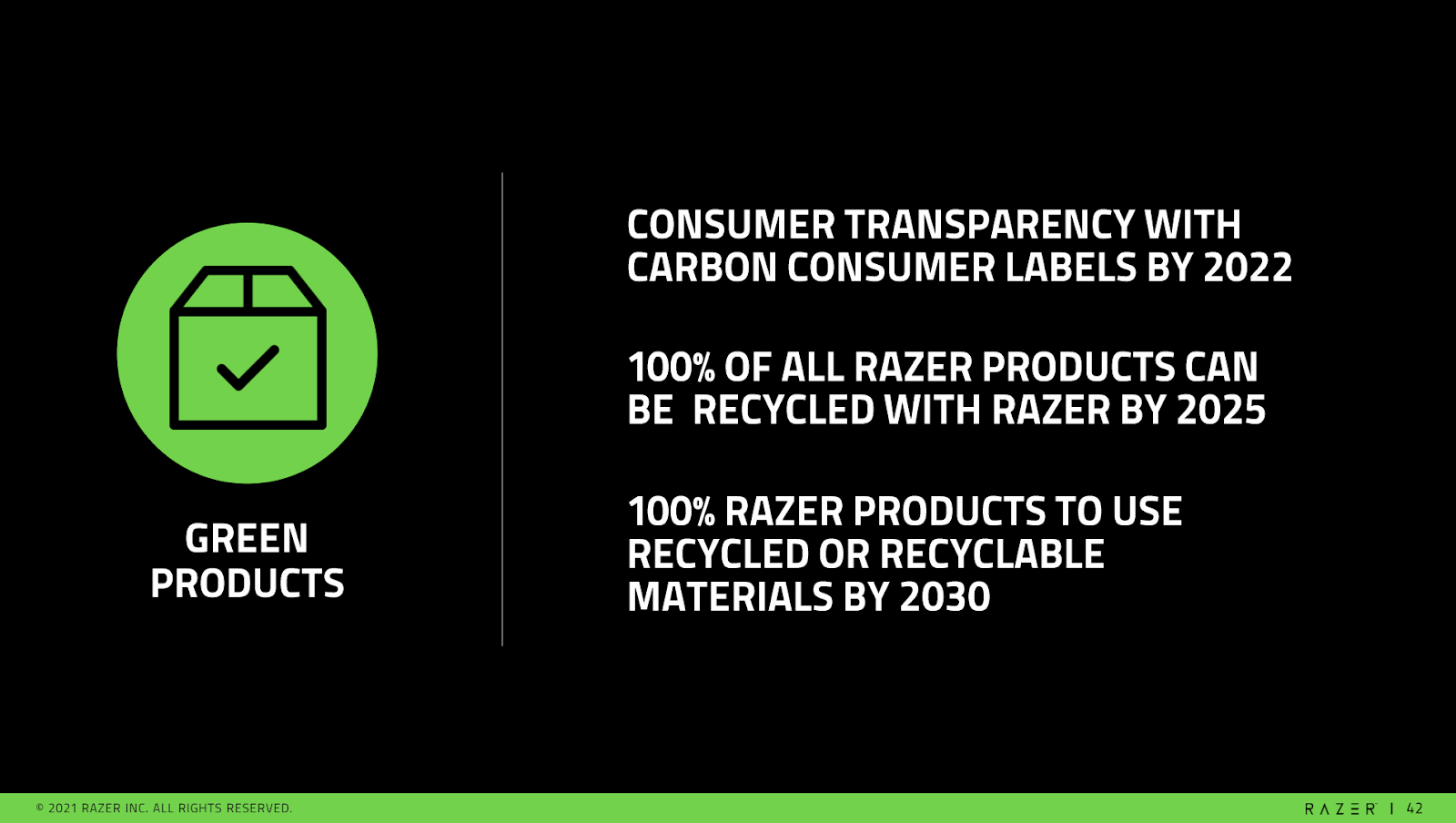 Source: Razer's earnings presentation
As the company works towards its goal, it has marked out another two milestones.
By the end of 2022, all Razer products will have carbon consumer labels and by the end of 2025, all products can be recycled through the company.
Commitment #3: Saving 1 million trees
The third goes beyond Razer's business and towards building a green community.
Prior to this announcement, Razer had been working with Conservation International (CI) to sell Sneki Snek-branded merchandise (think head pillows for Razer gaming chairs).
Note: Sneki Snek is the non-profit organisation's mascot.
As part of the partnership, for every Sneki Snek item sold, part of the proceeds would go towards CI saving 10 trees.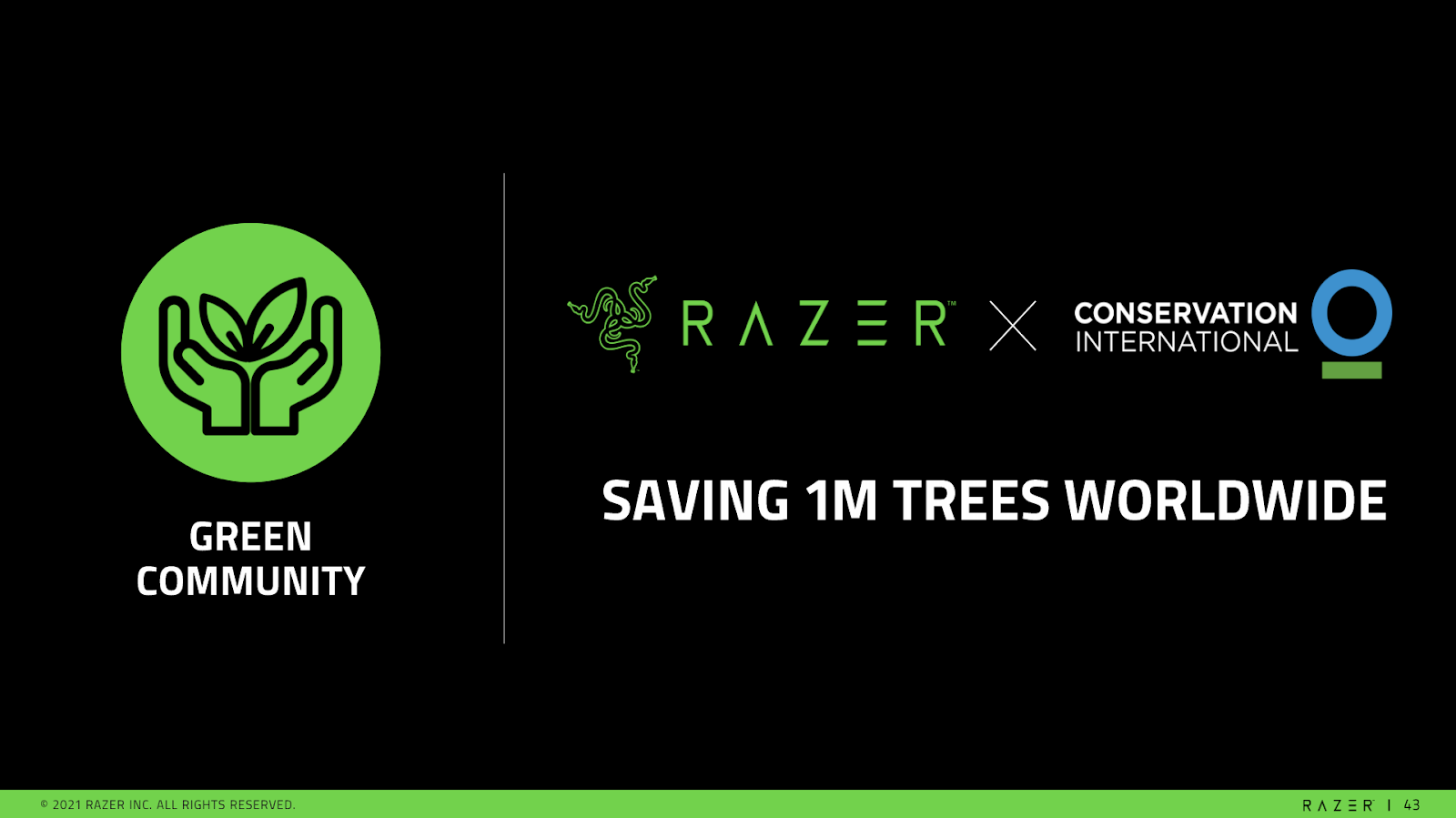 Source: Razer's earnings presentation
Initially, Razer set a goal of 100,000 trees.
The company quickly exceeded its target. At the time of writing, Razer has contributed towards saving over 180,000 trees.
Looking ahead, the company is making a new goal: to save one million trees.
Commitment #4: Investing in a green future
The latest commitment is about investing in a greener future.
Razer's venture capital arm, Z Ventures, will be dedicating part of its resources to impact investing with a keen focus on startups with a focus on environmental issues and sustainability.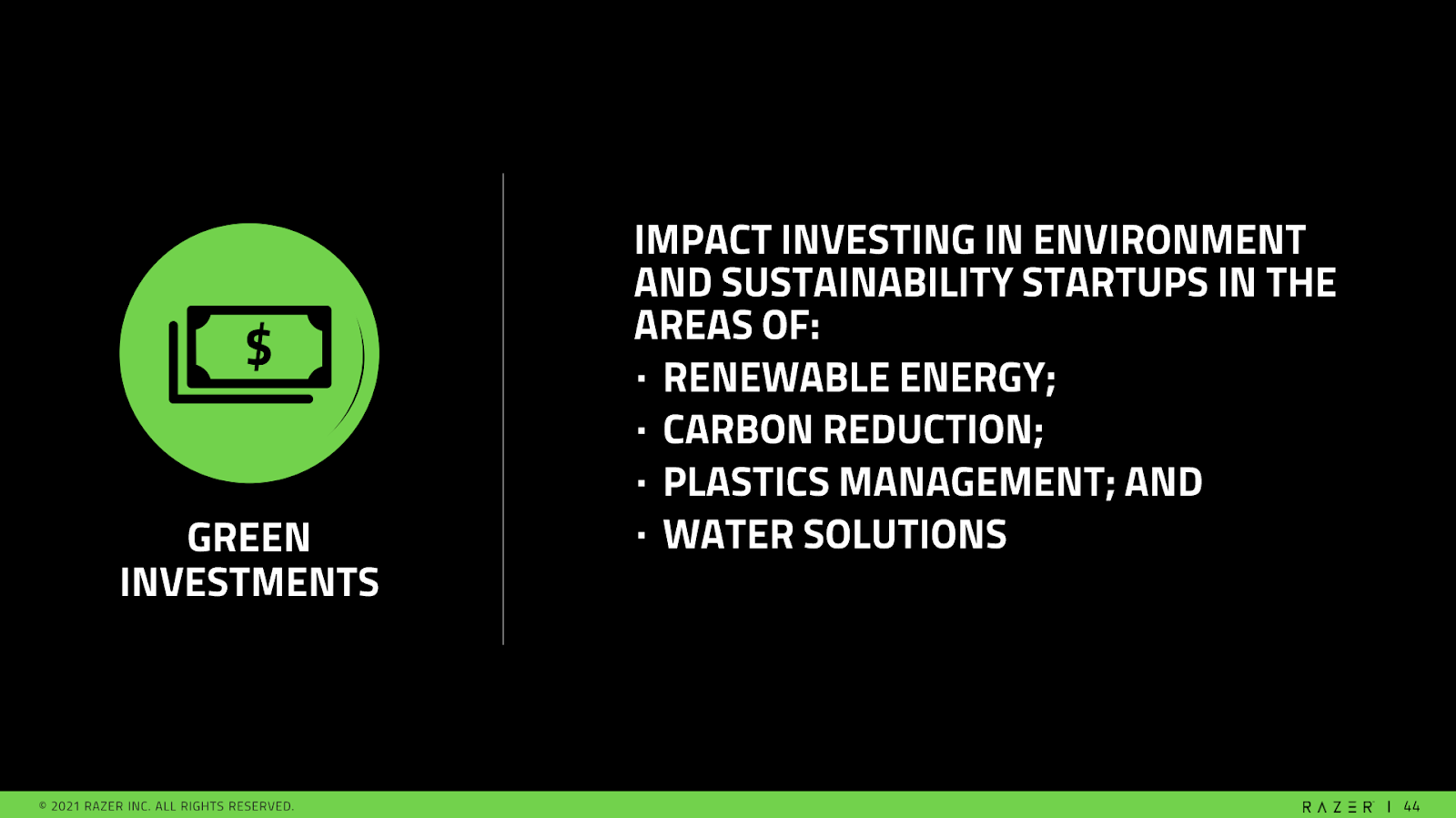 Source: Razer's earnings presentation
The key target areas include renewable energy, carbon reduction, plastics management and water management.
Details on its efforts are not available at the moment.
10 Growth Stocks To Supercharge Your Portfolio! In our latest special FREE report, we cover 3 unstoppable growth trends and the 10 stocks that will ride them in 2021 and beyond! CLICK HERE to download now!
Follow us on Facebook and Telegram for the latest investing news and analyses!
Disclaimer: Chin Hui Leong does not own any of the companies mentioned.