Like Walt Disney (NYSE: DIS), Razer's (SEHK: 1337) story started with a simple idea: a mouse.
Not just any mouse, mind you.
I am not about to make a mickey out of it.
Razer's flagship Diamondback mouse was introduced some 15 years ago, targeted towards a specific internet demographic: gamers.
With a tagline that reads "For Gamers, By Gamers", the company remained focused on serving its gaming fan base, enabling it to slowly expand beyond its hardware roots and into software and services.
Today, Razer has morphed into a multi-billion dollar company.
In its latest conference call, CEO Tan Min-Liang declared that Razer is no longer about hardware alone. The business is not about software or services too.
Instead, it is a unique ecosystem with a huge fan base.
Without a doubt, 2020 has been a landmark year for Razer. Let's go through the reasons why.
Win# 1: Hardware revenue surpasses US$1 billion milestone
Gaming hardware remains Razer's bread and butter.
The company's slate of products has gone way beyond the humble mouse.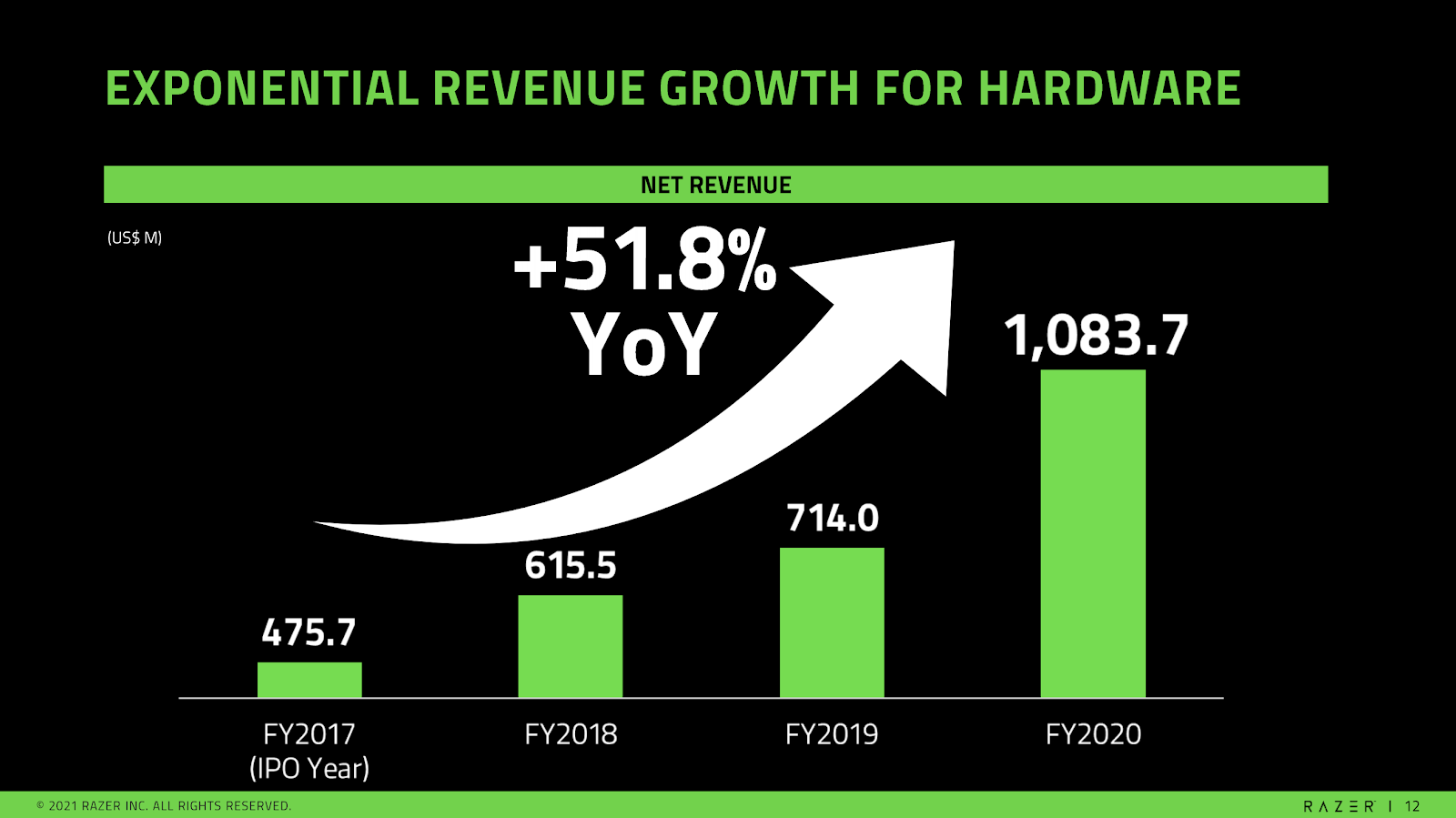 Source: Razer's earnings presentation
2020 was a landmark year for Razer's hardware.
Hardware revenues crossed the US$1 billion mark for the first time after growing 50% year on year from 2019.
Growth came from across the board.
CEO Tan Min-Liang said that the company's brand, represented by three intertwined snakes, continues to be the top gaming peripheral across the US, Europe, Asia Pacific and China.
And that's not all.
The company's Razer Blade Laptop is ranked as the #1 premium gaming laptop in the US. Also, Tan said that Razer's mobile gaming controller is also ranked #1 in the world.
Beyond gaming, Razer is also supplying tools for live streaming such as webcams.
The company also launched its first gaming chair, the Iskur, in October last year. Earlier this month, Razer also announced its new Anzu smart glasses which combines optical care with open-ear audio.
Looking ahead, Tan considers its gaming chair to be among one of the key growth drivers for hardware.
Win# 2: Razer user base swells to over 120 million
Hardware revenue is not the only thing booming during the pandemic.
As the world's population stayed at home, many turned to online gaming, eSports and live streaming for entertainment.
Razer's slate of gaming platforms, including Synapse (an Internet of Things platform), Chroma RGB (universal RGB lighting) and Cortex (game booster), saw an upsurge in demand as attention shifted online.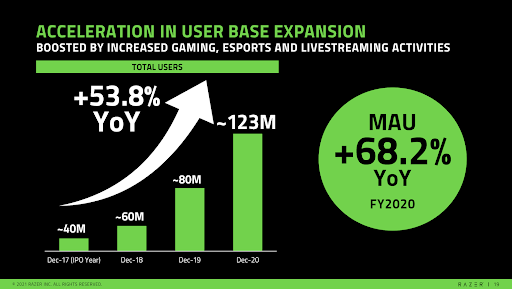 Source: Razer's earnings presentation
The upswing in activity lifted the number of monthly active users (MAU) across its platforms to 123 million, up over three times compared to 2017.
2020 was a huge year for Razer services.
The company added 43 million users last year, more than its entire user base in 2017.
Win# 3: From hardware to services (and beyond)
Razer monetises its large user base through two services, namely Razer Gold and Razer Fintech.
The first service, Razor Gold, is a unified gaming payment system with over 34,000 digital entertainment titles for in-app purchases and exclusive content.
The game payment service has been well-received, gaining more than 26 million registered users by the end of 2020.
The second service, Razer Fintech, represents the company's financial technology arm, which includes digital payments.
The fintech's total payment volume (TPV) soared in 2020, more than doubling last year's US$2.1 billion figure to end 2020 with almost US$4.3 billion in payment volume.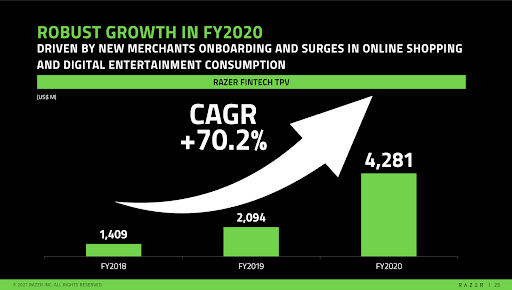 Source: Razer's earnings presentation
As it stands, the company's fintech payment network serves over 50,000 merchants and boasts more than 1 million acceptance points in Southeast Asia.
At that scale, Razer considers itself as one of the leading offline to online (O2O) digital payment networks for Southeast Asia.
Win# 4: From making a loss to turning in a profit
Buoyed by the rise in demand, Razer was able to close its first profitable year since its initial public offering (IPO) in 2017, a result that has come ahead of expectations.
In all fairness, losses had been narrowing from 2017 to 2019.
But 2020 was the pivotal year where Razer went from being in the red to go into the black.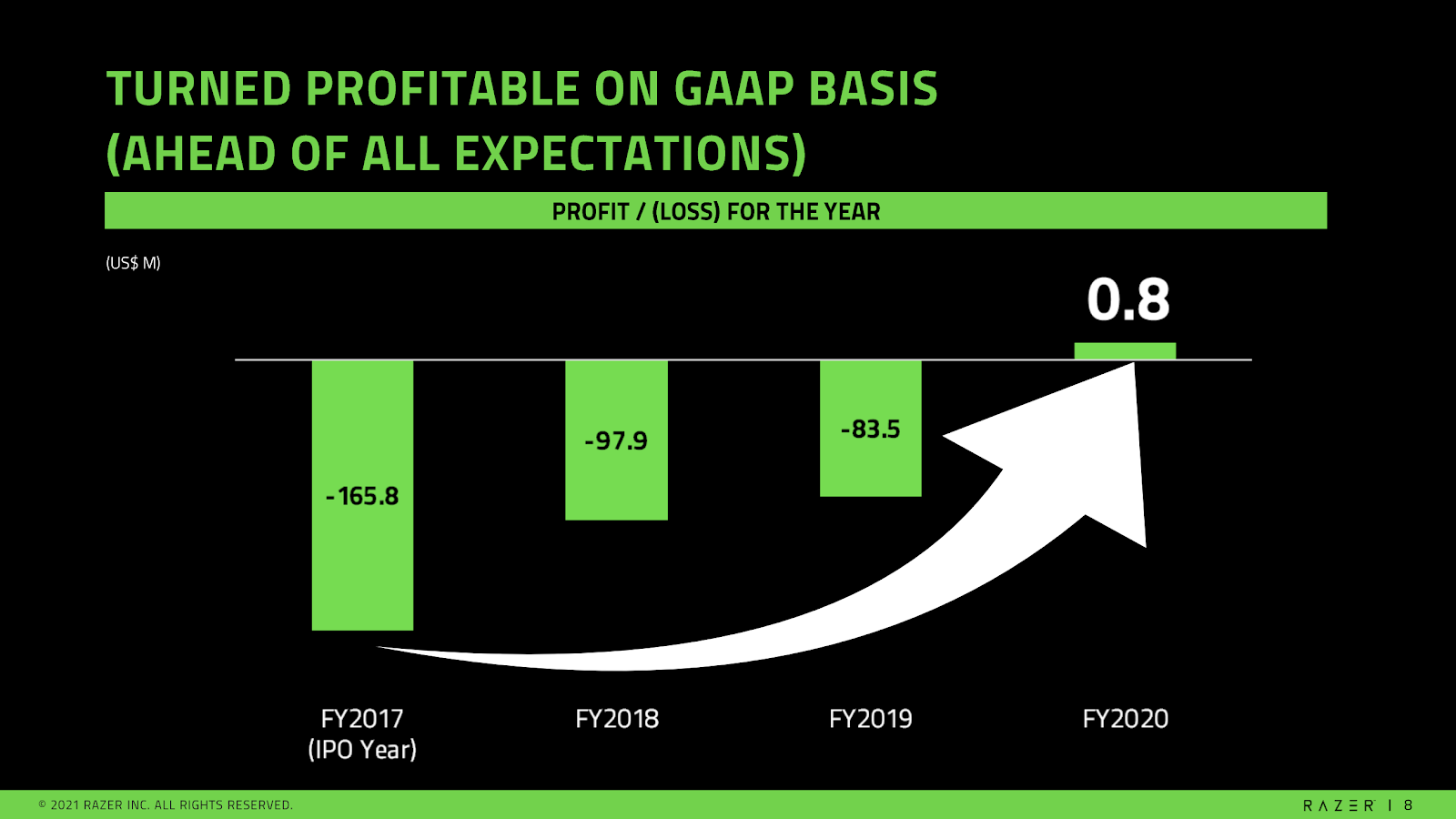 Source: Razer's earnings presentation
The rise to profitability can be traced to Razer's services segment which boasts a fatter 43.8% gross margin.
For context, the services segment accounted for around 10% of Razer's revenue but contributed over a fifth of its gross profits.
As demand for its services grows, we could see more dollars drop to the company's bottom line.
Win# 5: A cash war chest with over US$600 million
Interestingly, Razer has a negative cash conversion cycle.
In other words, the company gets paid by its customer before it has to pay its suppliers, creating a cash buffer that it can use to sustain its operations.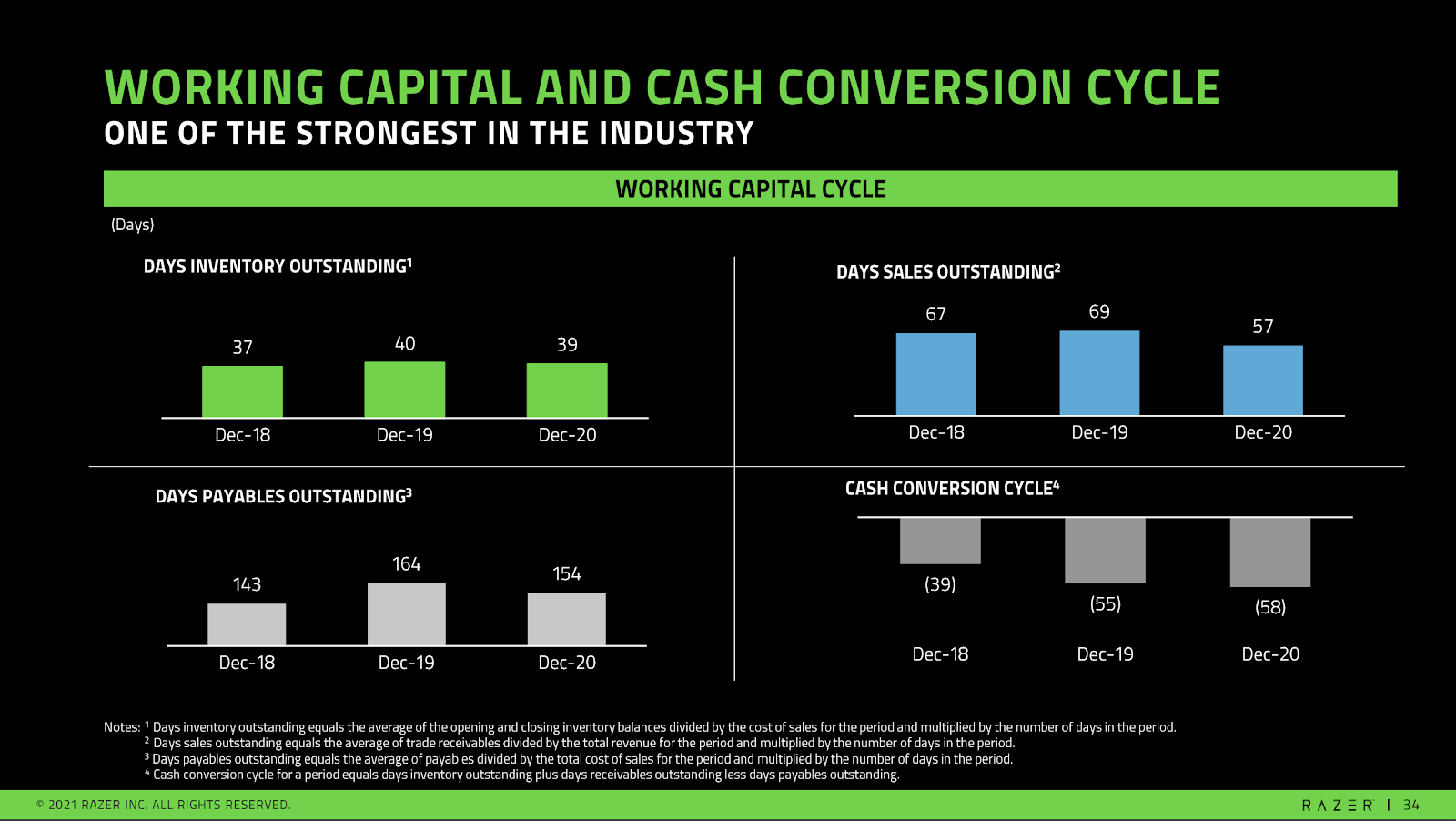 Source: Razer's earnings presentation
The negative cash conversion cycle enabled Razer to generate US$138.1 million in free cash flow for 2020, the first time the company was able to post positive free cash flow for the year.
The free cash flow contributed to growing Razer's cash and bank balances to US$621 million at the end of 2020.
This pile of cash provides sizable financial firepower for the company to invest in its future.
SPECIAL FREE REPORT! 10 Growth Stocks to Supercharge Your Portfolio! We cover 3 unstoppable growth trends and the 10 stocks that will ride them in 2021 and beyond! CLICK HERE to download for FREE now!
Don't forget to follow us on Facebook and Telegram for some of our latest free content!
Disclosure: Chin Hui Leong owns shares of Walt Disney.