The investing world is waiting to hear from Warren Buffett this week. It wants to know what the Sage of Omaha plans to do with his growing cash pile that just can't stop growing.
In 2009, Buffett's investment vehicle, Berkshire Hathaway, was sitting on US$28.6 billion of cash. That is roughly equivalent to the annual economic output of Nepal. By 2014, the cash hoard had grown to US$60.9 billion or the annual economic output of Croatia.
By 2019, Buffett's coffers had ballooned to US$128 billion. That is equivalent to the GDP of Croatia. Put another way, Buffett's stack of cash has grown at a compound rate of 16% a year….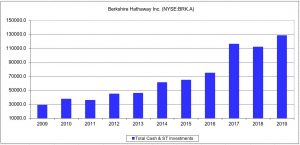 …. If he doesn't deploy the cash on an acquisition, the greenback mountain could be more than twice the economic output of Finland in another decade.
Investors in Berkshire Hathaway just want Buffett to buy something. However, Buffett believes that prices are too high.
He's right. The valuation of companies have been driven up by an oversupply of cheap money from central banks. But the longer he waits, that higher that prices could go.
Here's the thing: Let's say that Buffett is right. Let's agree that prices are too high to make a sensible acquisition. What then?
His cash pile will just keep on growing until prices drop. But should we do the same?
That would depend.
If you, like Buffett, are expecting another US$20 billion to drop into your lap next year, then it could make sense to wait.
But I suspect many of us are not expecting anything like that from our dividends next year.
We also mustn't forget that Buffett is in this enviable position today because he started investing nearly 60 years ago. He once quipped that someone is sitting in the shade today because someone planted a tree a long time ago.
He is that "someone" who planted that tree six decades ago.
So, if we want to be in the same fortunate position as Buffett, we too should continue planting our saplings today.
Unlike Buffett, we aren't looking for jumbo acquisitions. We just need to look for wonderful companies at fair prices. And in my case, it means looking for companies that can grow their dividends.
If you'd like to learn more investing concepts, and how to apply them to your investing needs, sign up for our free investing education newsletter, Get Smart! Click HERE to sign up now.
Get more stock updates on our Facebook page or Telegram. Click here to like and follow us on Facebook and here for our Telegram group.
The Smart Investor is not licensed or otherwise regulated by the Monetary Authority of Singapore, and in particular, is not licensed or regulated to carry on business in providing any financial advisory service. 
Accordingly, any information provided on this site is meant purely for informational and investor educational purposes and should not be relied upon as financial advice. No information is presented with the intention to induce any reader to buy, sell, or hold a particular investment product or class of investment products. Rather, the information is presented for the purpose and intentions of educating readers on matters relating to financial literacy and investor education. Accordingly, any statement of opinion on this site is wholly generic and not tailored to take into account the personal needs and unique circumstances of any reader. The Smart Investor does not recommend any particular course of action in relation to any investment product or class of investment products. Readers are encouraged to exercise their own judgment and have regard to their own personal needs and circumstances before making any investment decision, and not rely on any statement of opinion that may be found on this site. 
Disclosure: David Kuo does not own shares in any of the companies mentioned.