Last year wasn't easy for iFAST Corporation Limited (SGX: AIY).
The fintech saw its net profit plunge 79% year on year in 2022 as the group recorded sharply higher operating expenses along with a S$5.2 million impairment loss on an associate.
iFAST recently released its 2023's first quarter (1Q 2023) earnings.
Start-up losses from its newly-acquired digital bank, iFAST Global Bank (iGB), continued to weigh on its financial results.
The group is, however, focused on its ambitious three-year plan to make its core platform better and more profitable while accelerating the growth of its Hong Kong e-Pension business.
Could a turnaround be imminent for the fintech, and how long will this take to realise?
We highlight five salient points from the group's latest 1Q 2023 earnings.
1. A downbeat set of earnings
iFAST reported that its core revenue dipped by 2% year on year to S$51.5 million.
This decline was offset by a more than six-fold year on year jump in interest revenue to S$2.5 million.
As a result, net revenue rose 8.6% year on year to S$31 million.
Operating profit tumbled 47.8% year on year to S$4 million due to start-up losses incurred by iGB.
Net profit plunged 48.1% year on year to S$3 million.
Looking at just the non-banking division, net revenue would have dipped slightly by 1.7% year on year to S$28.1 million.
Net profit would have declined by a gentler 18.5% year on year to S$4.7 million while operating cash flows rose 11.1% year on year to S$9.3 million.
Capital expenditure for 2023 is expected to come in at S$21 million, higher than 2022's S$17.9 million, as iFAST works to build up its iGB division (more on this later).
The group expects to usher in a period of "high growth in revenue and profitability" between 2023 and 2025 as it delivers on its Hong Kong e-Pension business.
iFAST has updated its Hong Kong division net revenue targets since we wrote about it back in October 2021.
It now expects to achieve net revenue of more than HK$900 million and HK$1.3 billion in 2024 and 2025, respectively, up from HK$800 million and HK$1.2 billion previously.
2. Lower inflows and AUA
Despite the weaker earnings, iFAST continued to book positive net inflows for 1Q 2023.
The group believes that the net inflow of client assets is the most important indicator of its long-term growth potential.
Net inflows came in at S$329 million for the quarter, down 50.8% year on year because of continued market volatility.
Gross unit trust subscriptions fell by 31.2% year on year to S$1.1 billion.
iFAST's assets under administration (AUA) dipped by 2.6% year on year to S$18.1 billion as of 31 March 2023, although this was 4.2% higher than the previous quarter's S$17.4 billion.
3. Launch of iGB's digital personal banking platform
iFAST released its 1Q 2023 earnings just one day after its iGB division officially launched its digital personal banking (DPB) service in the UK.
The launch of its DPB platform and integration of wealth management services with the group's platform will enable more consumers to easily access different investment products.
The aim is for iFAST to build a truly global business model, and management believes that an attractive opportunity exists for a digital banking player that targets the mass affluent by tapping into digital capabilities.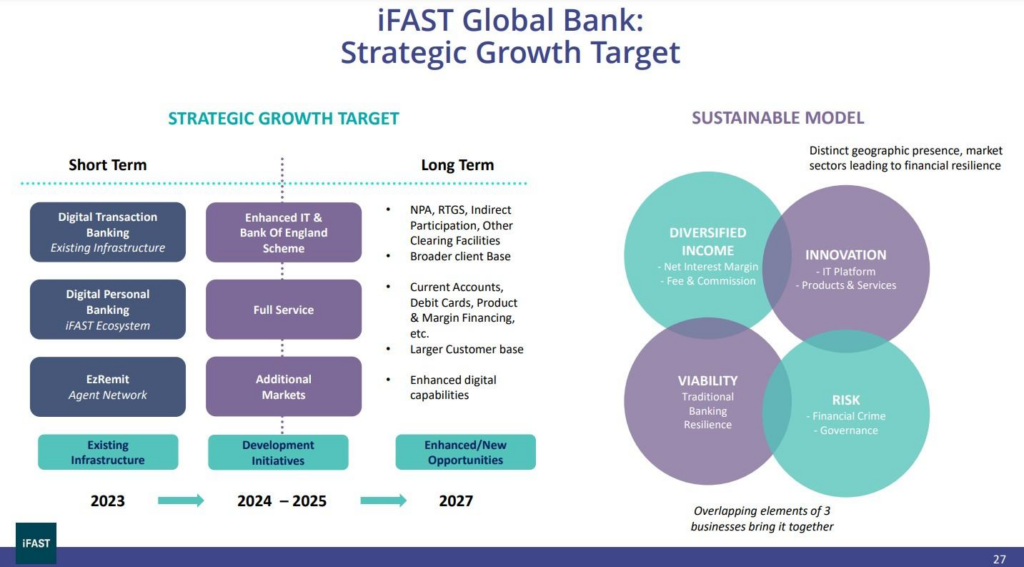 Source: iFAST's 1Q 2023 Presentation Slides
iGB has also launched its Digital Transaction Banking in December 2022 for UK corporate customers while its EZRemit business division continues to offer money transfer and foreign exchange services in more than 20 currencies to over 50 partners globally.
The graphic above shows iFAST's medium-term plan for iGB and how it intends to scale up its services by 2027.
4. Encouraging business developments
iFAST has also reported encouraging progress in its various markets.
For Singapore, the AUA for its iFAST Global Markets (iGM) division hit S$1.13 billion, a new record quarterly high.
Fixed income turnover for the group also hit multi-year highs at close to S$450 million for 1Q 2023, demonstrating the popularity of bonds as interest rates surge.
Hong Kong's iGM division also recorded a 35% year on year jump in AUA to a record high as customers put in more assets.
Over in Malaysia, iFAST's business-to-business division has launched two new managed portfolios with mandates on Asia and Developed Markets to offer investors more investment choices.
New initiatives designed to enhance investors' overall experience, such as chatbot services and a financial education module, are also planned for the next few quarters.
5. Maintained its interim dividend
Income-driven investors should rejoice as iFAST has maintained its interim dividend of S$0.01 for 1Q 2023 despite the weaker earnings.
The group's trailing 12-month dividend stood at S$0.048, giving its shares a trailing dividend yield of 1%.
Get Smart: Patience is key
iFAST may have reported a downbeat quarter, but management seems confident of pulling off a turnaround by the end of this year once its Hong Kong e-Pension division contributions kick in.
Investors need to have patience and also hope that there are no execution hiccups or unforeseen events that may negatively impact the group's forecasts.
Are we really ready to live in a world with AI that could potentially take over our jobs? Check out our latest Special Free Report on this fascinating topic. We cover the latest developments in AI and how they could impact your life and investments. Click here to download a copy now.
Follow us on Facebook and Telegram for the latest investing news and analyses!
Disclosure: Royston Yang owns shares of iFAST Corporation Limited.