Hongkong Land Holdings Limited (SGX: H78) can't catch a break.
After enduring months of street protests, the city-state had to deal with the repercussions of the COVID-19 outbreak.
Given the difficult circumstances, the property owner and developer is seeing some deep challenges for its retail rentals and possible delays to its development property business. We covered the details HERE.
On the other hand, the group's office rental segment held up well, as we noted HERE.
At the same time, there are things to look forward to at the company
Beyond Hong Kong 
The biggest news at Hongkong Land is the mega-acquisition of the West Bund site at Shanghai for US$4.4 billion.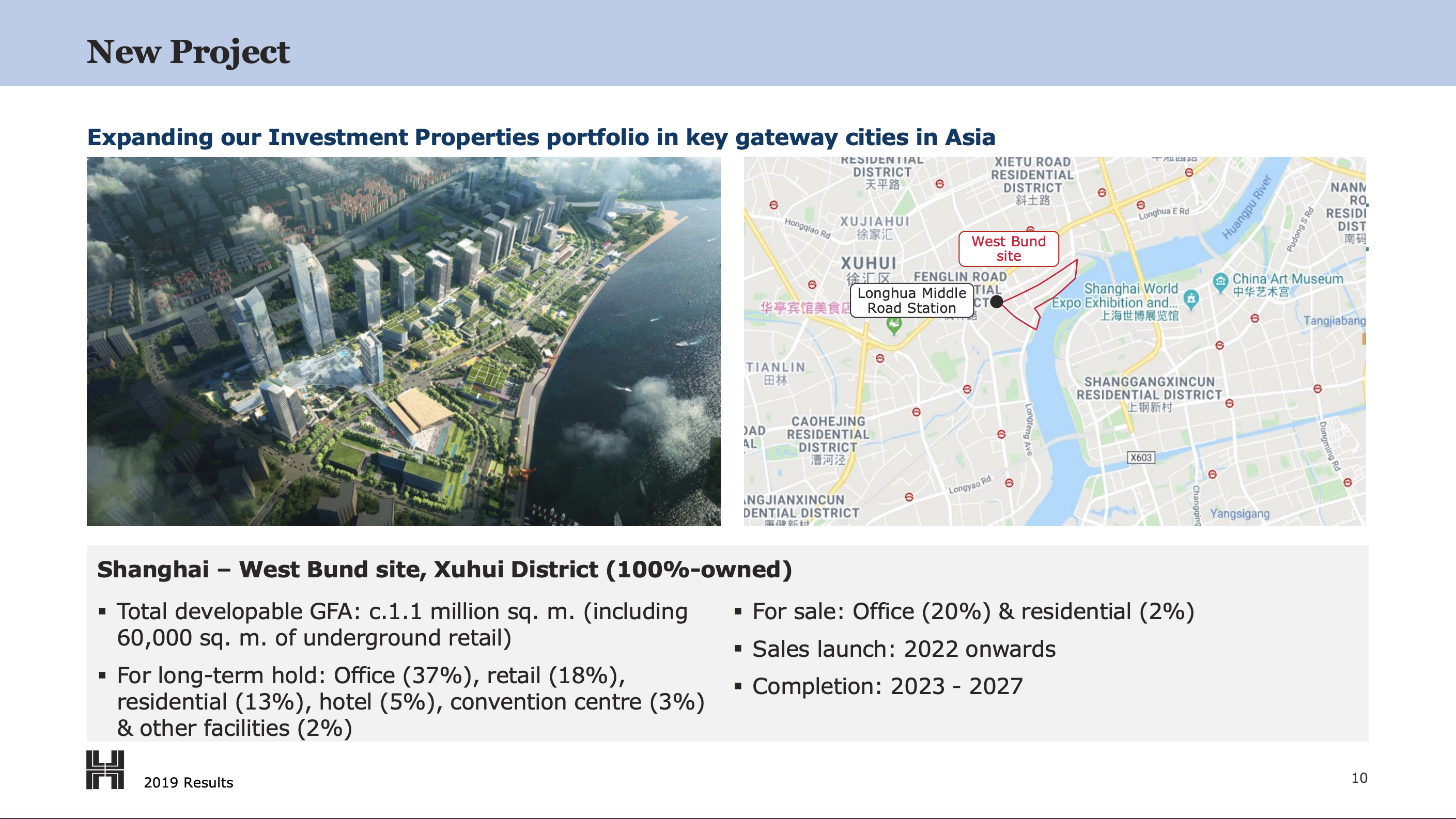 Source: Earnings presentation
The slide above provides a peek into what's in store for Hongkong Land's future. 
The full-fledged mixed development will feature the complete gamut of office space (37%), retail (18%), residential (13%), hotel (5%), convention centre (3%) and others. 
The company intends to retain around 78% of the developed property and sell off the other 22%, consisting mostly of offices (20%) and residential (2%). 
Hongkong Land CEO Robert Wong remarked that the completed site will have a net lettable area for office and retail of 450,000 square meters, a similar size to its existing Central Portfolio in Hong Kong. 
Once completed, Hongkong Land will have a presence in three leading financial and commercial hubs in Shanghai, Hong Kong and Singapore. 
The project is expected to complete progressively from 2023 to 2027.
Ambition versus debt
Hongkong Land's debt profile remains healthy with a low 9% gearing and a safe-looking 8.8 times interest cover.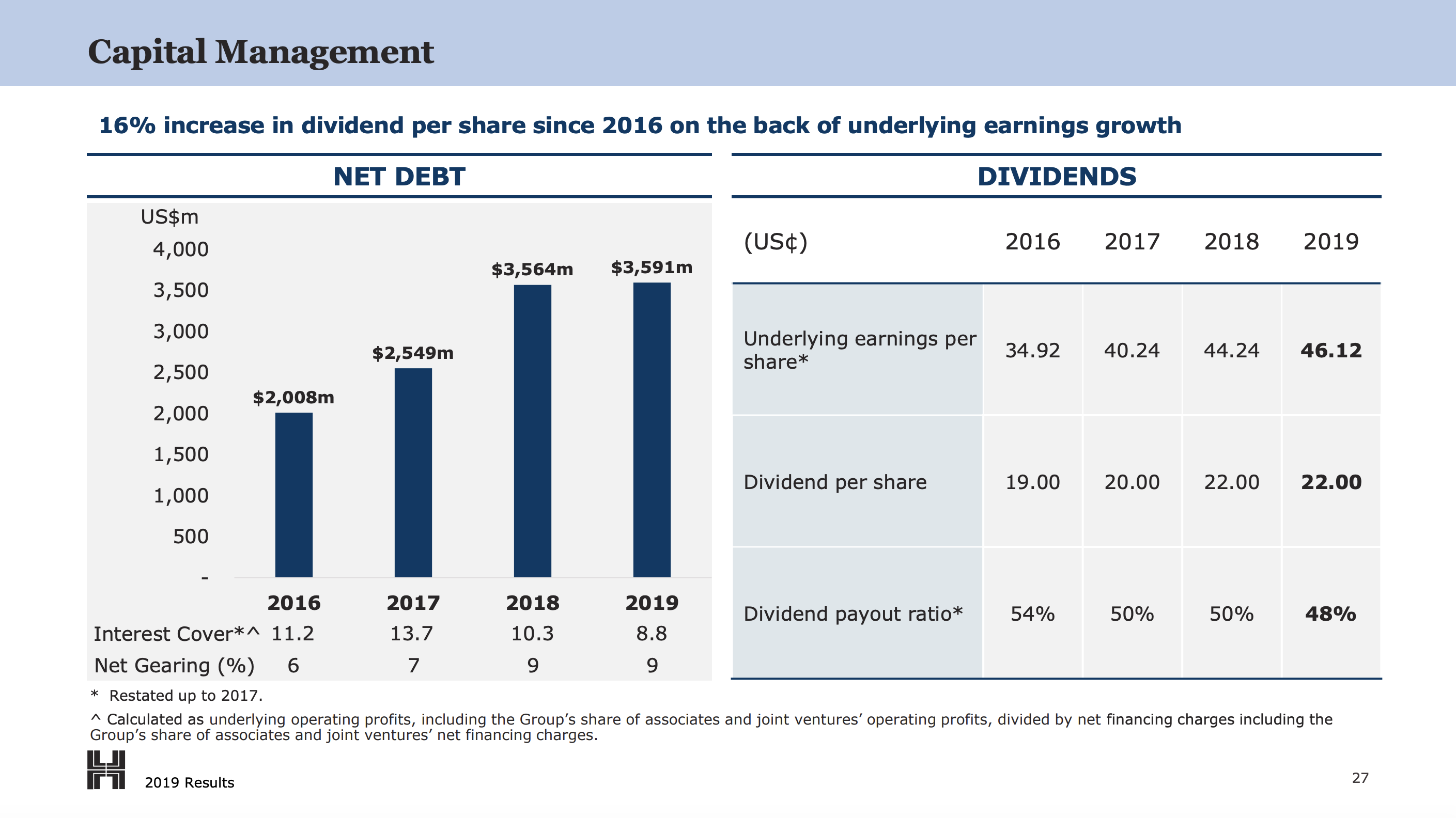 Source: 2019 earnings presentation
Debt, of course, is expected to rise as Hongkong Land has to find the means to fund the US$4.4 billion required for the Shanghai project. 
CEO Robert Wong assured investors that the company will not be asking for additional funds from investors and will be pursuing internal and external resources which could include presales, strategic partners, and additional debt.
Will dividends be sacrificed? 
When all is said and done, there is the question on what investors should expect for dividends.  
In general, the management team intends to steadily increase its dividend per share as earnings increase.
However, their stance will be challenged in 2020, where it would be reasonable to assume that underlying profits will decline. 
While there cannot be a firm commitment, CFO Simon Dixon stated clearly that Hongkong Land has every intention of keeping the dividend steady until such time the company's earnings rise again. 
Dixon also stated explicitly that the Shanghai project will not be funded at the expense of a dividend cut. 
On another note, Dixon also said that the company will not be considering restructuring its Central portfolio into a Singapore REIT. 
Get Smart: The forecast is cloudy
As a whole, Hongkong Land is facing extraordinary circumstances that would have been hard to predict ahead of time. 
Given the situation, I think that the company is weathering the storm exceptionally well. 
Hongkong Land shares, of course, look cheap today. The stock offers a decent dividend too. 
However, after the massive decline we have seen over the past few months, there is a good selection of shares that are trading cheaper than before. 
As investors, we have to consider all the opportunities alongside each other to decide where is the best place for our hard-earned money. 
Want to know what stocks we like for our portfolio? See for yourself now. Simply CLICK HERE to scoop up a FREE copy of our special report. As a bonus, we also highlight 6 blue chips stocks trading at a 10 year low. But you will want to hurry – this free report is available for a brief time only.
Disclosure: Chin Hui Leong owns shares of Hongkong Land