REITs are well-known for providing a stable, regular income stream for dividend investors.
Among the different REIT types, retail REITs are probably the most recognisable as they involve suburban malls that investors themselves may frequent.
It's easy to identify with a retail REIT as Singapore is renowned for being a shoppers' paradise.
City living involves mall-hopping as a regular pastime for families, with the added attraction of being able to escape from the island's stifling heat and high humidity.
However, the pandemic has altered the retail landscape considerably in the last three months.
With the circuit breaker measures imposed since early April, only essential services have been allowed to operate.
Malls have virtually turned into ghost towns during those two months, with some semblance of life returning only when Phase II's safe transition kicked on 19 June.
Frasers Centrepoint Trust: A long history of rising DPU
Frasers Centrepoint Trust (SGX: J69U), or FCT, is probably among the best-known retail REITs.
The REIT's portfolio consists of suburban malls located in the heartlands, such as Northpoint City, Anchorpoint, Causeway Point and Bedok Point.
Investors have been enjoying steadily rising dividends since FCT listed back in 2006.
Distribution per unit (DPU) has risen from S$0.0655 in 2007 to S$0.1207 in 2019, and the REIT has never seen a fiscal year with a year on year decline in DPU.
However, these trends may all change post-pandemic. Here are three key risks investors need to watch out for.
Permanent lower footfall?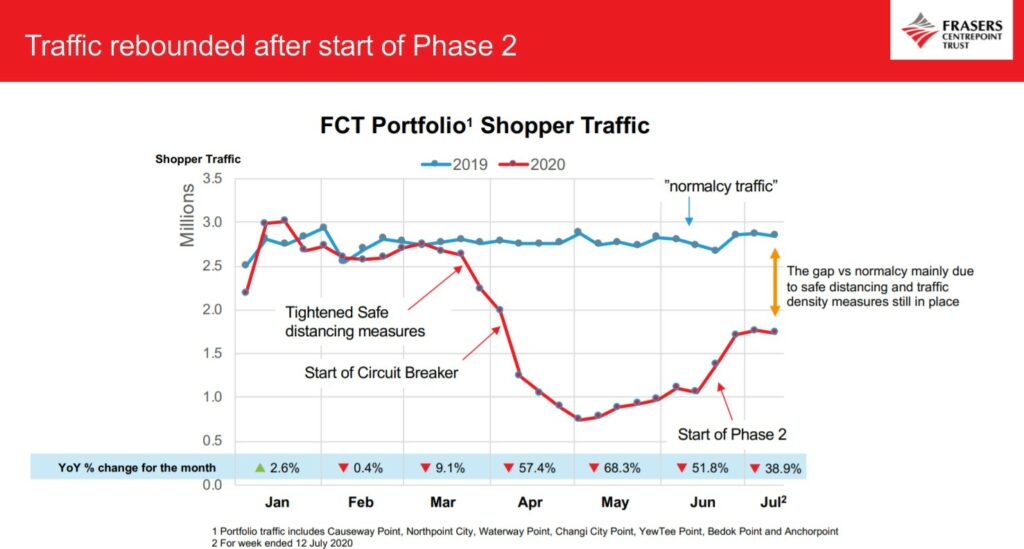 Source: Frasers Centrepoint Trust 3Q 2021 Presentation Slides
The graph above shows the shopper traffic for FCT's portfolio for the current calendar year.
During the circuit breaker period, at its lowest, shopper traffic dropped by as much as 68.3% year on year in May.
Since the start of Phase II, shopper traffic has rebounded somewhat, with the week ended 12 July seeing a smaller but still significant 38.9% year on year decline.
The current decline is due to new safe distancing measures that are still in place to stem the spread of the coronavirus.
It is still too early to tell, but it is possible that shopper traffic may not recover to pre-pandemic level for quite some time, if at all.
We could be looking at a new normal where shops and food outlets need to maintain social distancing to ensure crowds do not gather.
These measures may be here to stay and limit the capacity for the number of shoppers to enter and stay within malls.
Lower occupancy rates
The government has introduced the Jobs Support Scheme (JSS) during the circuit breaker period to assist struggling businesses that were badly impacted by the pandemic.
The JSS was aimed at providing businesses with cash to ensure their employees stay employed even though the business stays shut.
With Safe Transition now in force, the JSS will start to wind down in August, and will eventually cease from September onwards.
Without the JSS, many businesses may face bankruptcy and be forced to shut down as the safe transition level of revenue may not be sufficient to tide them over.
Unless FCT doles out yet another round of tenant support package, we may witness tenants going out of business, in turn impacting the malls' occupancy rate.
With businesses still under considerable financial stress, it may be tough to source for replacement tenants to fill up these vacant spaces.
It should be noted that as of 30 June 2020, portfolio occupancy was at 94.6%, down 2.2% year on year.
Negative rental reversion
Tied closely to the higher level of vacancies, rental rates may also be negatively impacted.
If the supply of retail space greatly exceeds demand in the months to come, the imbalance could result in negative rental reversion for FCT.
Although only 4.8% of expiring leases are set to be renewed in the current quarter, a total of close to 30% of FCT's gross rental income is set to expire in the fiscal year ended 30 September 2021.
Average rental reversion as of the second quarter of the fiscal year 2020 (ended 31 March 2020) was 5.2%.
Moving forward, investors need to keep a close eye on the reversion rate to assess if it may decline significantly or turn negative.
With share prices battered to multi-year lows, many attractive investment opportunities have emerged. In a special FREE report, we show you 3 stocks that we think will be suitable for our portfolio. Simply click here to scoop up your FREE copy… before the next stock market rally.
Click here to like and follow us on Facebook and here for our Telegram group.
Disclaimer: Royston Yang does not own shares in any of the companies mentioned.