Singapore Press Holdings (SGX: T39) announced two major purchases of aged care facilities this week, committing to spend over $300 million in the process.
The first was an S$66 million acquisition of five high-quality senior independent living assets in Hokkaido, Nara and Tokyo, in Japan. The move is also SPH's first overseas foray into aged care businesses outside of Singapore, after it purchased Orange Valley Healthcare for S$164 million back in April 2017.
The second acquisition is a significantly larger one — six freehold properties in Canada worth S$245 million.
These properties provide independent and assisted living accommodations and services to seniors. The acquisition marks SPH's second foray into overseas aged care assets and in part of the group's strategy to grow its recurring income in defensive sectors.
The declining importance of media
SPH's core business has long been the publishing of newspapers, magazines and books in both print and digital formats.
However, with the arrival of digital media and the internet, SPH's core business has faced significant disruptions. Gone are the days when the Straits Times or Business Times was the only source of news and information for readers.
Now, with the ease of connection to the internet through mobile phones or laptops, people are relying less on SPH's publications. This, in turn, means that SPH earns much less from media advertising as compared to the good old days.
For the first quarter of fiscal 2020 (FY 2020), media accounted for 57% of total revenue, down from 63% a year ago. However, the media segment only makes up 19.3% of segment profit (after adding back S$7.2 million in retrenchment costs for the quarter), whereas property made up 75% of total segment profit.
Building up its property portfolio
SPH has been growing its property portfolio in the last couple of years.
Now, it owns 65% of SPH REIT (SGX: SK6U), from which it collects recurring management fees, and also owns aged care assets and purpose-built student accommodation (PBSA) assets.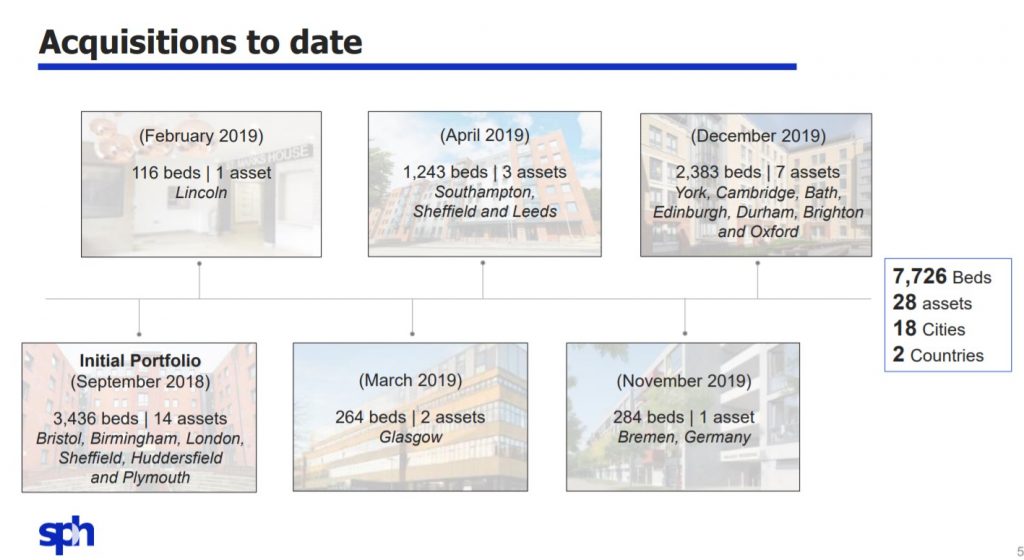 Source: SPH's Presentation Slides December 2019
Aside from aged care assets, SPH has also been on an aggressive acquisition spree in the PBSA sector. The group's initial portfolio consisted of 14 assets in the UK with 3,436 beds back in September 2018 but has since expanded significantly with five further acquisitions to a total of 28 assets in 18 cities within the UK and Germany.
Watch that debt load
SPH is eager to diversify out of its media business, but there are risks involved in operating such assets.
The mitigating factor here is the long leases signed for aged care facilities, and also the trend for more and more elderly to seek refuge and shelter in such facilities as these countries face a silver tsunami.
Meanwhile, PBSA assets rely on healthy student enrolment numbers.
Investors should, however, keep an eye on SPH's debt load. Most of these acquisitions are financed by debt and perpetual securities. As of 30 November 2019, SPH had total debt of S$2.18 billion and perpetual securities worth S$447.2 million, with just S$855 million of cash.
Smart Analysis: Better days ahead?
It remains to be seen if SPH's new strategy can yield better overall numbers for the group.
While the property segment's contribution has been increasing, it still has not been able to offset the continued deterioration in the media segment.
SPH has also been reducing its dividends over the last five years and has lost its status as being a dividend stalwart. In the fiscal year 2015, the total annual dividend was S$0.20 but has since been reduced to just S$0.12 for the latest fiscal year 2019.
Unless the property portfolio can start to contribute more meaningfully, it seems investors will continue to face dividend erosion as time goes by.
If you'd like to learn more investing concepts, and how to apply them to your investing needs, sign up for our free investing education newsletter, Get Smart! Click HERE to sign up now.
Get more stock updates on our Facebook page or Telegram. Click here to like and follow us on Facebook and here for our Telegram group.
Disclaimer: Royston Yang does not own shares in any of the companies mentioned.