When a business does well, there is usually more than one reason for its success. 
However, there is one key factor, in my mind, that stands out above the rest. 
Let me explain more.  
In late October 2016, the Motley Fool Singapore's analyst team, where I was a key analyst, picked Carlsberg Brewery Malaysia (KLSE: 2836) as a buy recommendation. 
By the time the Motley Fool Singapore's services closed in October 2019, the stock had delivered almost a 120% return in three years. Without a doubt, the return that we got from Carlsberg Brewery Malaysia was pleasing. 
However, it doesn't mean that it was smooth sailing for the business over the last three years.
Far from it. 
Taxing challenges 
Carlsberg Brewery Malaysia suffered a blow in May 2016 when its Sri Lankan subsidiary, Lion Brewery, was hit by a massive flood.  
The Sri Lankan brewery had to be shut down for almost seven months, inflicting a loss of RM 5.1 million to Carlsberg Brewery Malaysia for 2016. The plant restarted operations in November 2016 but took another year before profits returned to pre-flood levels. 
That's not all that the Malaysian brewery had to deal with. 
Prior to the flood in Sri Lanka, the Singapore government had banned the sale of alcoholic drinks from 10:30 pm to 7:00 am. The law came into effect in April 2015. 
There were more regulation changes that the Malaysian brewery had to deal with. 
In 2016, the Malaysian government introduced a myriad of new laws, imposing a higher excise duty, mandating a health warning statement for all alcohol retailers, and imposing a quota on duty-free islands of Langkawi, Labuan and Tioman. 
Then, in December 2017, The Malaysian government increased the legal drinking age from 18 to 21, reducing the addressable market for Carlsberg Brewery Malaysia.  
But an even bigger change was just around the corner. 
In 2018, Malaysia's main opposition party, Pakatan Harapan, pulled off a major win, dethroning the incumbent, Barisan Nasional, which has governed the country since 1955.
As part of the opposition party's promise, the GST (government service tax) system was abolished in favour of the SST (sales and service tax) system.
Rising above the rest
Despite all the challenges that Carlsberg Brewery Malaysia faced, the company was able to deliver higher sales and profits between 2016 and 2018.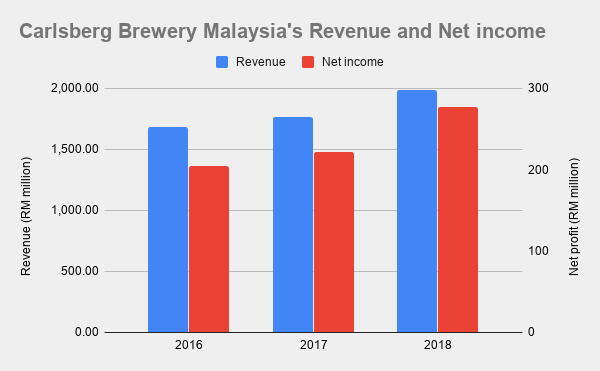 Source: S&P Global Market Intelligence 
In other words, Carlsberg Brewery Malaysia was able to grow its sales and profits despite all the challenges thrown at it. 
So, how did that happen? 
There was more than one reason. 
However, a key moment in March 2016 gave a big clue to investors. That's when the Malaysian government increased excise taxes. Within days, Carlsberg Brewery Malaysia increased prices of its brews. 
An ode to pricing power 
By increasing its product prices, Carlsberg Brewery Malaysia demonstrated that it had the pricing power to do so. 
In my opinion, that is a key factor in its long-term success. More so than other factors. 
Based on Carlsberg Brewery Malaysia's performance between 2016 and 2018, we can safely state that the company was able to pass on the price increase without suffering an adverse loss in revenue. 
With pricing power, Carlsberg Brewery Malaysia is able to protect its margins as it grew its business. That resulted in higher profits and more cash in its hand.
From there, a strong balance sheet meant Carlsberg Brewery Malaysia is better equipped to survive unexpected events such as the floods in Sri Lanka. 
The ability to raise prices also enabled the company to respond to tougher regulations in Malaysia and Singapore. 
Get Smart: The factors that matter 
Every business will face challenges. 
As we have seen with Carlsberg Brewery Malaysia, there were headwinds ranging from unexpected plant closures, higher taxes, and tougher regulations over the last three years. 
That's not the end of it. There are more challenges that we haven't mentioned, such as rising labour costs and volatile material prices.  
Yet, with pricing power, Carlsberg Brewery Malaysia was able to respond to threats to its business and limit the impact. 
It's no wonder why Warren Buffett once attributed pricing power as a defining characteristic in a business. 
"The single most important decision in evaluating a business is pricing power. 

If you've got the power to raise prices without losing business to a competitor, you've got a very good business."
And if Buffett, one of the best investors of our generation, touts pricing power as one of the most important factors — investors would do well to sit up and take note. 
I know I will. 
Get more stock updates at our Facebook page. Click here to like and follow us on Facebook.
If you'd like to learn more investing concepts, and how to apply them to your investing needs, sign up for our free investing education newsletter, Get Smart! Click HERE to sign up now.
None of the information in this article can be constituted as financial, investment, or other professional advice. It is only intended to provide education. Speak with a professional before making important decisions about your money, your professional life, or even your personal life. Disclosure: Chin Hui Leong does not owns any of the shares mentioned.