Since hitting bottom in March 2020, many stocks have surged past expectations:
Singapore Exchange (SGX: S68) increased by a good 46%
Singapore's largest bank, DBS Group Holdings (SGX: D05) soared by 78% over the same period
This is all good for investors who entered the market early.
But with almost everything at sky-high prices today, even experienced investors hesitate to enter the market now.
So it begs the question…
Is It Too Late For You To Invest?
Perfect timing is an investing myth.
Common advice is to buy low, sell high. It's also possible to buy high, sell high.
According to J.P. Morgan, you'll get more returns if you invest when the market is at an all-time high: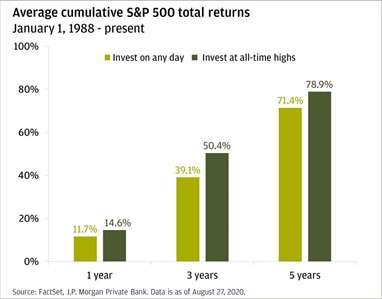 The message is clear –
Instead of getting your timing just right, focus on the quality of the business behind the ticker.
At The Smart Investor, we do that by investing our money almost every month, even when the market is soaring.
We believe this is a far superior way to invest.
Despite our constant imperfect timing of the stock market, our disciplined approach helped score a 9X return on one of our stocks.
Our Smart Dividend Portfolio as a whole is also up 38% as of 22 July 2021.
Buying Stocks When Prices Are High
Of course, stocks are no longer as cheap as it was back in March 2020.
As such, we have to be more selective in our stock picking.
But it doesn't mean you should sacrifice quality to get a low price tag.
Cheap stocks today are often cheap for a good reason.
To use an analogy, you can always pay a low price for a low-quality car.
But you may come to regret it when a hefty maintenance bill turns up unexpectedly.
Unlike cars, you can own a fraction of high-quality stock.
If the valuation is high, you can always buy less.
That way, you can add more when its valuation becomes better in the future.
"Can I Still Profit From Shares?"
Piling into exciting, riskier stocks may offer more growth and profit potential.
But it comes at the expense of your capital should that growth fail to pan out.
If you load up on defensive stocks, you'll protect your capital. But your gains may not be as much as you'd like.
Profiting from shares is 100% possible regardless of the market condition.
The key is to find the right blend of income-paying and high-growth stocks.
Only you can decide how much you want to profit and how much risk you're willing to take.
What's In The Future For You?
Today, at least one in every two people in Singapore has received two doses of the vaccine.
The government is confident of having two-thirds of the population fully vaccinated.
We could finally be putting some of the most painful circuit breaker measures behind us.
When that happens, perhaps you'll look back and realise the market today isn't as high as you might think.
If you want more stock ideas, start looking out for these 5 unique traits in the stock market. Companies with these traits can possibly pay you dividends for life. Discover what these traits are in your FREE special report "Dividend Stocks That Can Pay You For Life". Click here to download now.
Follow us on Facebook and Telegram for the latest investing news and analyses!
Disclaimer: Chin Hui Leong owns DBS Group and Singapore Exchange Limited.