In a surprise announcement, CapitaLand Limited (SGX: C31) unveiled a major demerger involving its development and investment divisions.
The real estate giant plans to go asset-light and is proposing a transaction to spin off its investment management arm while privatising its development arm.
This announcement marks the third restructuring by a Temasek-related entity.
Back in June last year, utilities giant Sembcorp Industries Limited (SGX: U96) announced a recapitalisation exercise cum demerger of its offshore and marine subsidiary Sembcorp Marine Limited (SGX: S51).
Following that, in early February this year, Keppel Corporation Limited (SGX: BN4) then announced a restructuring of its offshore and marine division, splitting it into three parts.
Going asset-light seems to be a common theme here as all three companies are shedding their asset-heavy and debt-laden units in favour of a corporate structure that allows flexibility and nimbleness.
Here are five things investors need to know about this transaction.
1. Going separate ways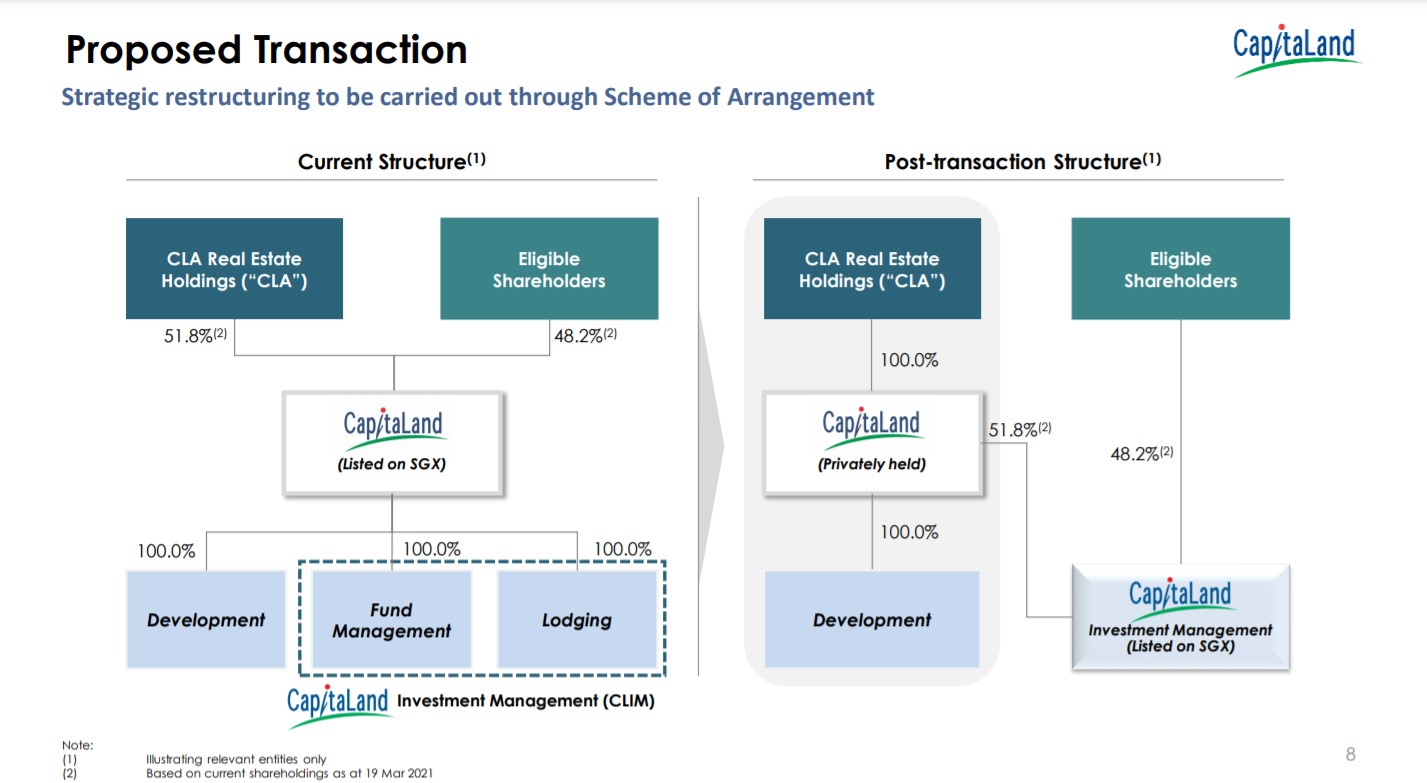 Source: CapitaLand's Presentation Slides
First off, investors need to understand how the demerger works.
The above diagram helps to explain the mechanics.
Currently, CapitaLand is 51.8% majority-owned by CLA Real Estate, a unit of Temasek Holdings.
The remaining 48.2% is held by retail shareholders.
Post-transaction, CLA will now hold 100% of the privatised CapitaLand, which holds a 100% stake in the property giant's development arm and a majority stake in its investment management arm.
Management intends to list the investment management arm, known as CapitaLand Investment Management or CLIM, on SGX.
2. Unlocking value for shareholders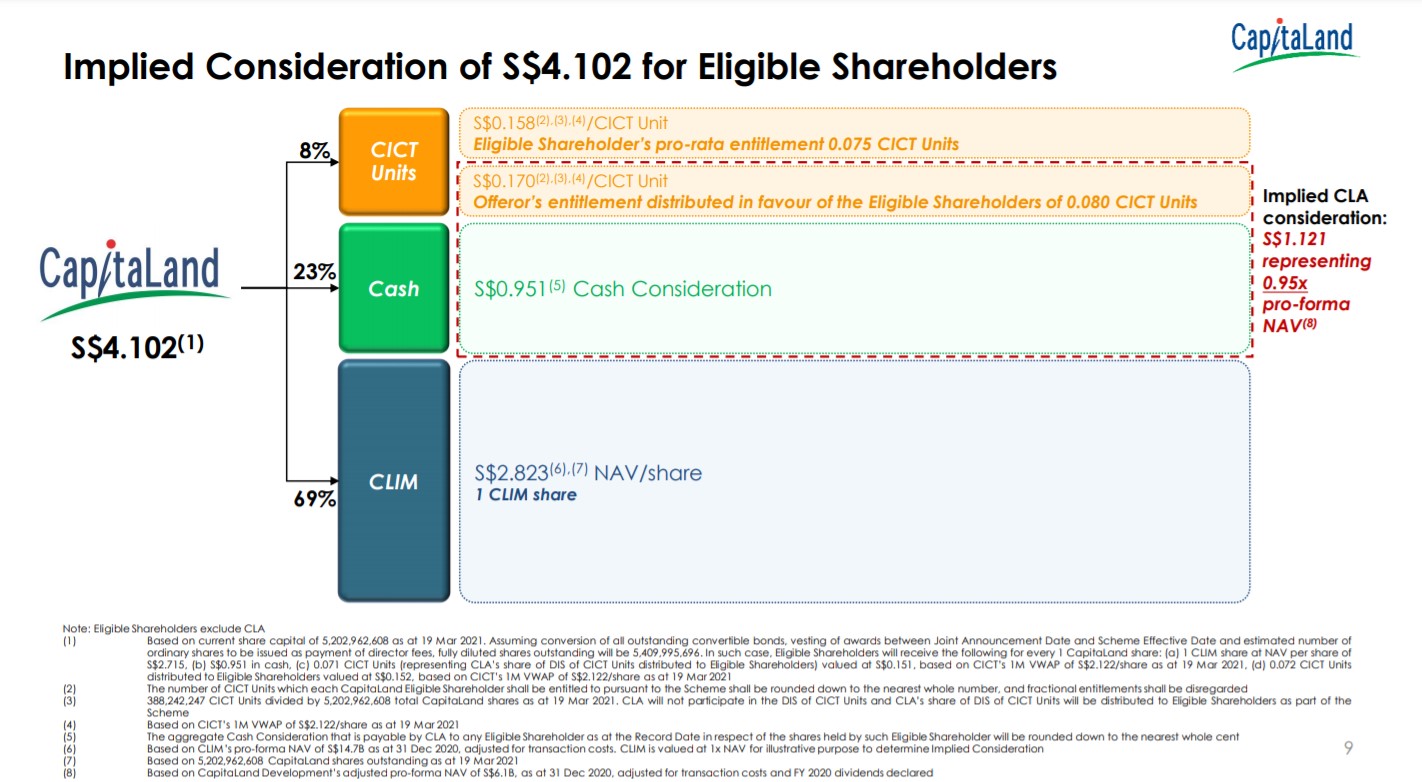 Source: CapitaLand's Presentation Slides
This transaction will help to unlock value for shareholders as existing shareholders will be offered around S$4.102 under the scheme.
The consideration is around 24% higher than CapitaLand's last traded share price of S$3.31 before its shares were halted.
From the diagram above, shareholders can expect to receive the total amount in three batches.
The cash component consists of S$0.951, while each CapitaLand shareholder will receive one share of CLIM for every share he or she owns at an implied value of S$2.823.
The third component of S$0.328 consists of the distribution in specie of 0.155 units of CapitaLand Integrated Commercial Trust (SGX: C38U), or CICT.
To summarise, for each share of CapitaLand they hold, eligible shareholders will end up owning one share of the newly-listed CLIM and 0.155 shares of CICT, and S$0.951 in cash.
3. Propelling CapitaLand into the big league
Through this proposed transaction, CLIM will be propelled into the big league of global real estate managers.
The new entity will be Asia's largest real estate investment management firm with an asset under management (AUM) of S$115 billion.
CLIM will also be the third-largest listed global real estate investment manager after Brookfield Asset Management (NYSE: BAM) and Blackstone Group (NYSE: BX).
4. Opportunities for capital recycling
CapitaLand currently has six listed REITs and a long list of unlisted funds and joint ventures (JVs).
The six REITs, namely CICT, Ascendas REIT (SGX: A17U), CapitaLand China Trust (SGX: AU8U), Ascott Residence Trust (SGX: HMN), Ascendas India Trust (SGX: CY6U) and CapitaLand Malaysia Malls Trust (KLSE: 5180), have a combined market capitalisation of S$34.1 billion as of 19 March 2021.
The rest of the funds and JVs cover a wide range of property sub-segments including retail, commercial, lodging, industrial and data centres.
CLIM will end up with an attractive portfolio with a target timeline for monetisation of around three years.
In the last three fiscal years, CapitaLand has achieved an average premium of 11% on divested assets.
This track record bodes well for CLIM as this means it has ample opportunities to recycle capital and generate a decent return on its asset portfolio.
5. Asset-light, recurring income model
The aim of setting up CLIM is to adopt an asset-light model that earns a recurring fee income from asset management.
With its current stable of REITs and private funds, consistent fee income is already being generated for the investment division.
Also, CLIM intends to leverage its lodging platform to drive further fee income growth.
By tapping on its well-known brands such as Ascott, Citadines and Lyf, CLIM will seek to improve operational efficiencies and increase profit contributions.
The current lodging units under management for 2020 stands at around 123,000 units.
This is targeted to increase by 30% over the next three years to reach 160,000 units, for an increase of around 37,000 units.
According to the group, every 10,000 stabilised lodging units earns around S$20 million to S$25 million in fee income, based on a 0.7% fee for AUM.
With the additional units, fee income could grow by between S$74 million to S$92 million once all new units are stabilised.
Get Smart: EGM to be held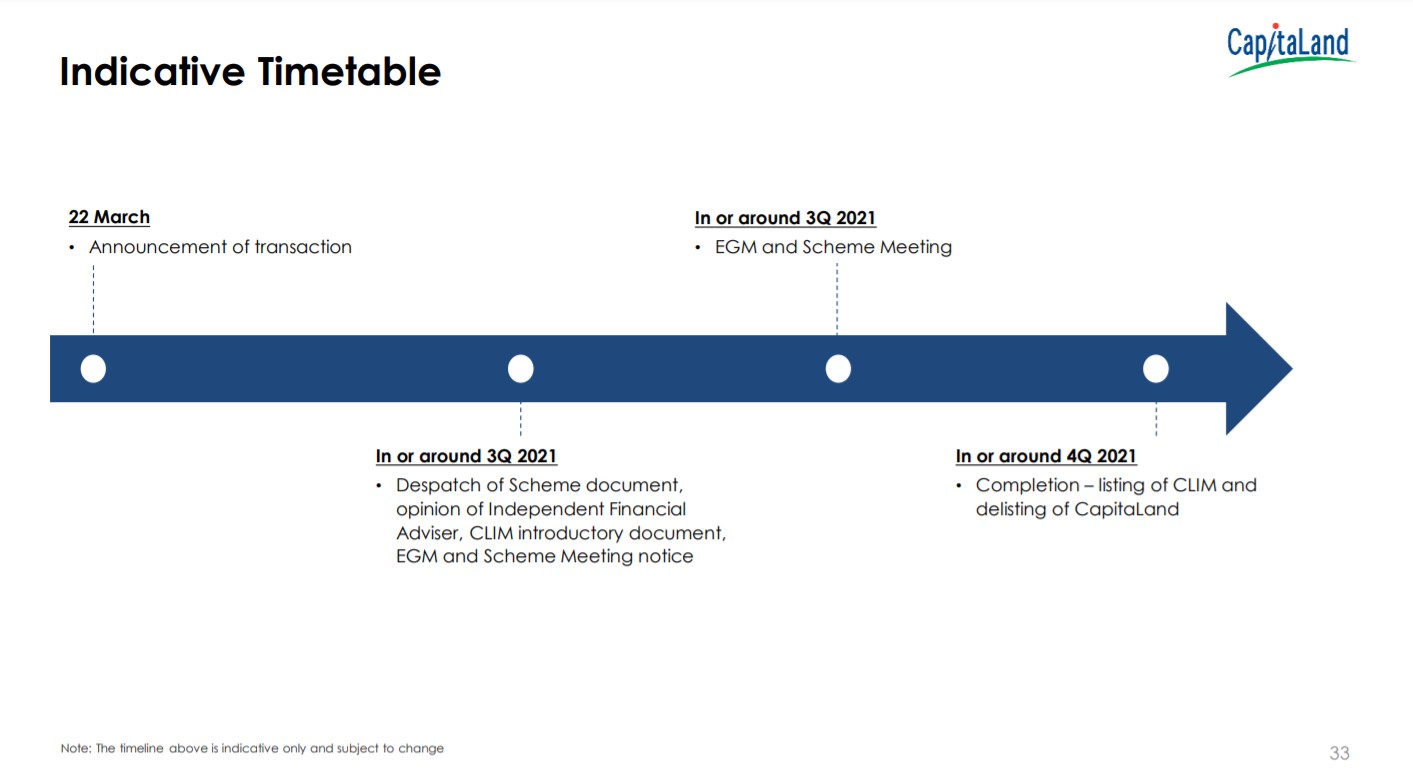 Source: CapitaLand's Presentation Slides
An extraordinary general meeting (EGM) will be held in the third quarter of 2021 for shareholders to vote on this transaction.
If approved, the delisting of CapitaLand should occur in the fourth quarter, with the concurrent listing by introduction of CLIM also taking place.
10 Growth Stocks To Supercharge Your Portfolio! In our latest special FREE report, we cover 3 unstoppable growth trends and the 10 stocks that will ride them in 2021 and beyond! CLICK HERE to download now!
Follow us on Facebook and Telegram for the latest investing news and analyses!
Disclaimer: Royston Yang does not own shares in any of the companies mentioned.