In one of the most startling pieces of news to hit the oil and gas industry, Sembcorp Industries (SGX: U96), or SCI, has announced a recapitalisation exercise for its subsidiary Sembcorp Marine (SGX: S51), or SMM.
The exercise is complex, involving both a rights issue to shore up SMM's balance sheet, followed by a demerger after the completion of the rights issue to fully and completely separate SCI from SMM.
This move will allow both companies to exist as separate entities and grants them flexibility in managing their respective businesses.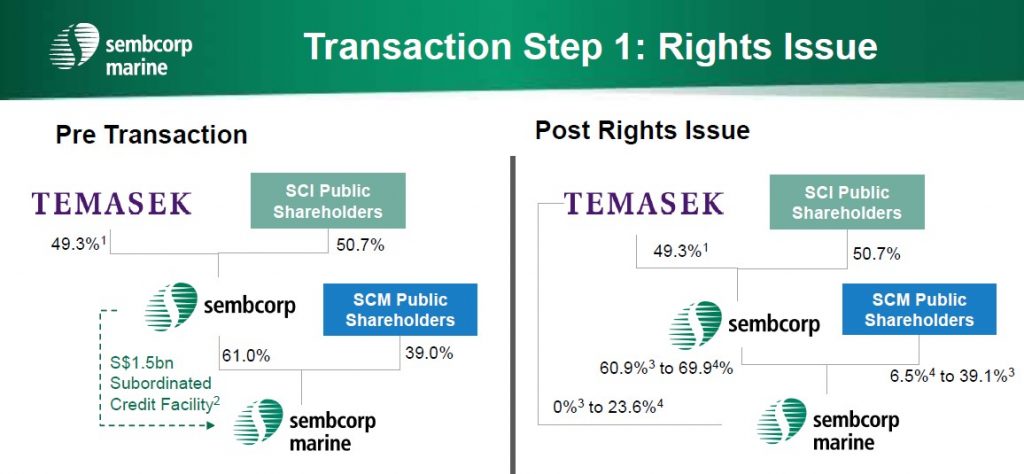 Source: SMM's Presentation Slides
The diagram above provides a quick snapshot of this transaction, and how the ownership of SCI and SMM will alter post-transaction.
In a nutshell, Temasek Holdings, being the majority shareholder for SCI, will end up directly owning part of SMM after the rights issue.
After this rights issue, SCI will then issue a dividend-in-specie of its entire stake in SMM, thereby divesting itself fully of SMM.
Should investors subscribe to the SMM rights shares?
The rights issue: salient aspects
First off, let's have a look at the salient aspects of the rights issue.
The rights issue will involve the issuance of five shares for each existing share held, at an issue price of S$0.20 per rights share.
Gross proceeds of S$2.1 billion are expected to be raised from this exercise.
As part of the issue, S$1.5 billion is made up of a loan from SCI to SMM that will be converted to equity in the books of SMM.
The equity conversion means that SMM will not receive the S$1.5 billion from SCI. Instead, the loan owed by SMM to SCI will be extinguished.
The balance S$0.6 billion of the S$2.1 billion raised will be pumped in by Temasek Holdings.
The rights issue price of S$0.20 represents a very steep discount of 76.5% to SMM's last closing price of S$0.85 (before the announcement of the rights).
Severely dilutive
If an investor owns 1,000 existing shares of SMM, he will then be allotted 5,000 rights shares and will have to cough up S$1,000 (5,000 x S$0.20) to subscribe for his full entitlement.
He could also choose to sell his rights shares in the stock market as the rights issue is renounceable.
Note that the ratio of 5:1 makes the entire exercise highly dilutive for shareholders, as the number of issued shares will jump by six times the original amount.
As of 31 December 2019, SMM had around 2.09 billion issued shares.
Assuming the rights issue is fully taken up, SMM will end up with around 12.5 billion shares in issue.
Notably, the group is loss-making right now. Even if the company registers a profit in future, the earnings per share will be diluted by the flood of new shares issued.
Smaller cash injection than anticipated
The group's slides tout an improved financial position after the rights issue.
Namely, it was flagged that net tangible asset (NTA) for SMM will double from S$1.9 billion to S$4.0 billion.
The difference between the two NTA positions is S$2.1 billion.
This S$2.1 billion is made up of the conversion of S$1.5 billion of debt that SMM owes to SCI into share capital in SMM's books.
Thus, SMM will, in fact, only receive a cash injection of S$600 million from Temasek Holdings.
Debt heavy
A quick check on SMM's balance sheet as of 31 December 2019 shows a cash balance of S$389.3 million against a gross debt of S$4.4 billion, of which S$1.5 billion consists of the subordinated loan from SCI.
Assuming the rights issue has been completed, this will only bump up SMM's cash position to around S$989.3 million, while the gross debt will fall to S$2.9 billion.
SMM will still end up being debt-heavy, with a net debt position of around S$1.9 billion.
In a trading and liquidity update released by SMM alongside the rights issue announcement, the group acknowledged that securing new orders remains a "big challenge".
Operating cash flow is also expected to be low as business volumes remain weak. Although non-essential capital expenditure can be deferred, SMM is unlikely to be able to generate any free cash flow for quite some time.
Oil crisis may drag on
SMM has been through two oil crises in the last six years.
Its order book has been severely hammered, and the current crisis looks as though it may drag on indefinitely even after the world emerges from the pandemic.
The above analysis shows that the rights issue is not going to boost SMM's liquidity profile significantly.
The demerger does shift the ownership of SMM from SCI to Temasek.
Although it can be argued that Temasek has deep pockets and can keep SMM afloat, just like what happened with the recent Singapore Airlines Limited (SGX: C6L) rights issue, it may be a long, hard slog for shareholders of SMM.
It might not be a good idea to throw good money after bad. Shareholders may wish to think twice before subscribing to SMM's rights issue.
Want to know what stocks we like for our portfolio? See for yourself now. Simply CLICK HERE to scoop up a FREE copy of our special report. As a bonus, we also highlight 6 blue chips stocks trading at a 10-year low. But you will want to hurry – this free report is available for a brief time only.
Click here to like and follow us on Facebook and here for our Telegram group.
Disclaimer: Royston Yang does not own shares in any of the companies mentioned.