Covid-19 continues to spread like wildfire throughout the globe, infecting close to 370,000 and killing 16,000 as at the time of writing.
In response, countries are imposing draconian travel restrictions to contain the pandemic's spread.
These lock-downs and travel bans have severely impacted the aviation industry.
Two days ago, we discussed whether Singapore Airline Limited (SGX: C6L) could survive the Covid-19 crisis. The conclusion was that the airline may face significant difficulties and may need to be bailed out by its major shareholder, Temasek.
We now turn our attention to SATS Ltd (SGX: S58) to assess if the airline caterer can survive this crisis. SATS' key customers are SIA and other major airlines, and the group provides ground handling and food catering services to the aviation industry.
On March 9, SATS had warned of a substantial and adverse impact on its revenue and profitability as demand for air travel experienced an unprecedented slump.
With that in mind, can SATS navigate its way through this tough challenge and emerge unscathed?
1. Financially stronger than SIA
A glance at SATS' latest third-quarter fiscal year 2020 (3Q FY 2020) financials shows that the group is, at least, financially stronger than SIA.
As of 31 December 2019, SATS held S$212.4 million in cash and short-term deposits. Total gross debt stood at S$103.6 million.
The group, therefore, was in a net cash position of around S$108.8 million.
SATS is paying a total of S$4.5 million in interest costs on its borrowings for the first nine months of the fiscal year 2020 (9M FY 2020), which works out to be around S$0.5 million per month.
In contrast, SIA was paying a total of S$169.5 million in finance costs over the same period, or around S$18.8 million per month.
2. A portion of revenue is non-aviation related
Though the bulk of SATS' revenue comes from the aviation industry, over the years, the group has worked on diversifying its sources of income away from this industry.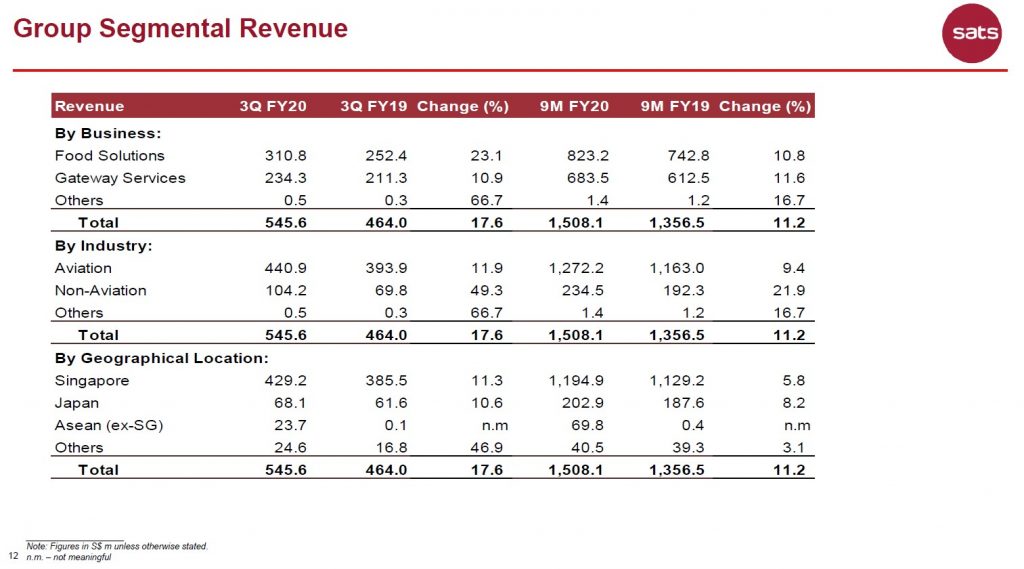 Source: SATS' 3Q 2020 Presentation Slides
Its 3Q FY 2020 presentation slides show the breakdown for revenue by industry — around 15.5% of revenue for 9M FY 2020 now comes from non-aviation sources.
Though this may still be insignificant, it does provide some buffer for SATS compared to SIA, which derives 100% of its revenue from aviation.
3. History of free cash flow generation
SATS has traditionally displayed consistent and healthy cash flow generation. Over the last five years, the group has generated, on average, S$200 million worth of free cash flow annually.
This crisis will badly impact operating cash flow, which will almost certainly lead to negative free cash flow generation.
However, with SATS' good history of free cash flow generation, the group should be able to bounce back much quicker once air travel conditions return to normal.
4. Acquisition of Monty's Bakehouse
Assets become substantially cheaper during a major crisis. This offers the opportunity for stronger companies to buy them over at depressed valuations.
SATS has demonstrated that it had done this before.
Back in December 2008, at the height of the Global Financial Crisis, it purchased a 69.68% stake Singapore Food Industries for S$334.5 million.
Fast forward to the present, SATS had just concluded the purchase of aviation food innovator Monty's Bakehouse for S$48.4 million.
Though the acquisition concluded one week before SATS' profit warning, it shows that the group is ready to take advantage of crises to acquire, and this also indirectly provides assurance that it has the resources to navigate its way through the challenges.
Get Smart: Management bites the bullet
Without a doubt, SATS will witness significant declines in its revenue, net profit and cash flows.
Being intimately tied to the aviation industry, it cannot avoid this harsh economic winter.
However, the factors pointed out above make it more likely that SATS can get through the crisis without needing a bailout or additional fund-raising.
Retroactively from 1 March 2020, SATS' management has also bitten the bullet and taken pay cuts ranging from 5% to 15%.
Investors, however, should brace for a substantial cut in the final dividend. The group may even be forced to suspend dividends until such time when conditions improve again.
FREE special report: The Bear Market Survival Guide. If you'd like to learn how to survive this bear market, CLICK HERE to download our special free report.
Get more stock updates on our Facebook page or Telegram. Click here to like and follow us on Facebook and here for our Telegram group.
Disclaimer: Royston Yang owns shares in SATS Ltd.