Things are looking up for airline stocks.
In November, shares of Singapore Airlines Limited (SGX: C6L) surged by almost 30%, buoyed by positive vaccine trial results by Pfizer (NYSE: PFE).
The enthusiasm for a return to normalcy extended to other stocks.
SATS Ltd (SGX: S58), which provides airline catering, saw its shares soar by nearly 35% on the prospect of a return in international travel.
Likewise, shares of Genting Singapore (SGX: G13) jumped by over 28%, as hopes of a revival in tourism brightened.
And with the announcement of Phase III commencing from 28 December 2020, optimism is rising for an end of COVID-19.
Yet, the increase in share prices alone does not mean that the troubles within the travel and tourism industry are over.
The travel bubble pops
Tourism is a key industry for Singapore, bringing in 19.1 million visitors and S$27.7 billion in receipts for 2019.
For a country with a population of 5.7 million, that's huge.
However, since April this year, the number of visitor arrivals has fallen to a fraction of what it was at the start of the year, as shown in the graph below.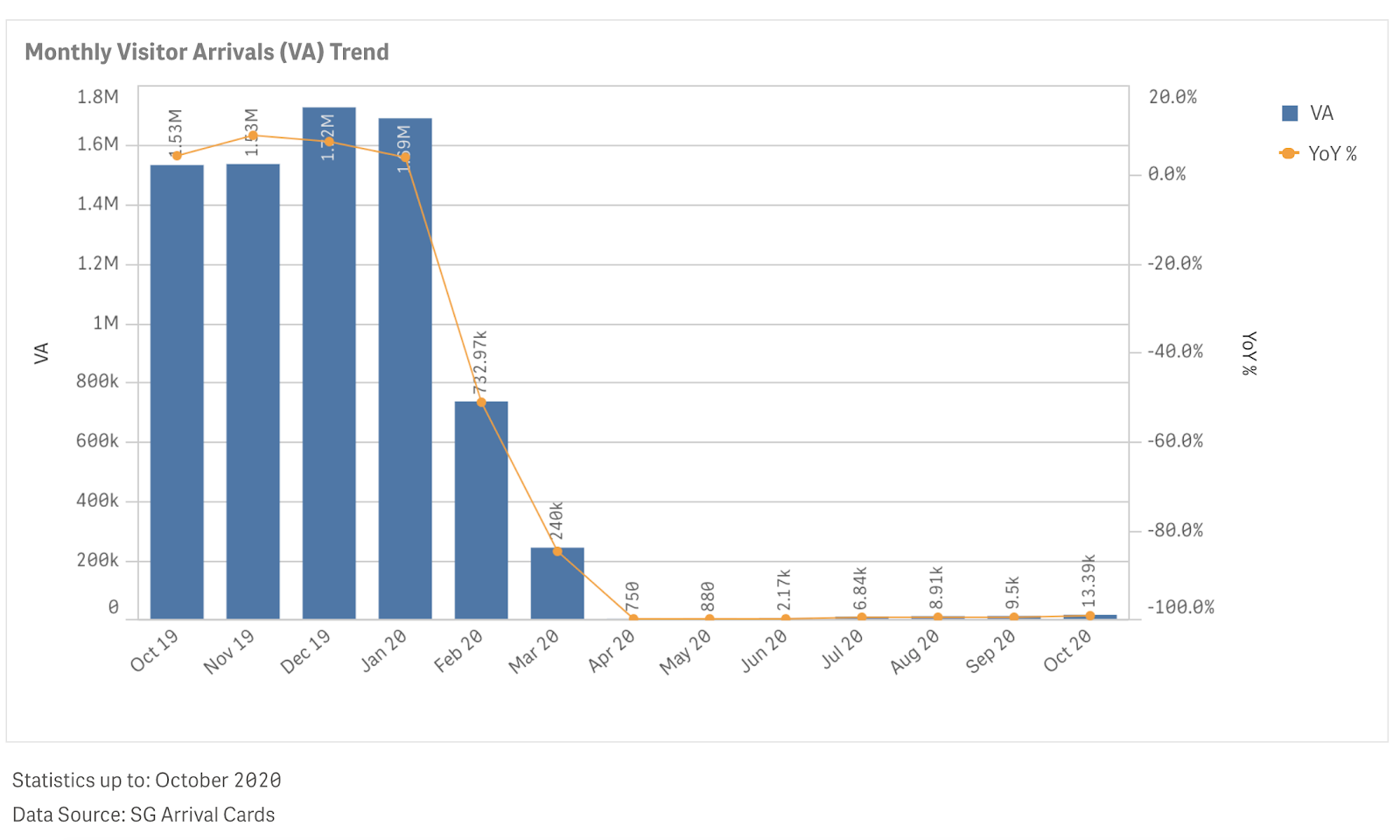 The Singapore government has been working hard to re-establish travel channels between individual countries.
But it hasn't been easy.
In mid-October, Singapore and Hong Kong agreed to establish the world's first travel bubble.
The pilot program was met with enthusiasm as it signalled a way forward for international flights to resume.
Unfortunately, the initiative soon fizzled out when Hong Kong experienced a resurgence in COVID-19 cases.
As it stands, the travel bubble has been postponed indefinitely until the situation in Hong Kong improves.
Potholes on the road to recovery
Meanwhile, a Royal Caribbean cruise ship was forced to turn back after one of its passengers tested positive during a four-day cruise.
Upon arrival in Singapore, the affected passenger's sample was re-tested at the national laboratory and found to be a negative for COVID-19, implying that the original test was a false positive.
The cruise incident, along with the delayed Hong Kong travel bubble, highlights the potential pitfalls on the road to recovery.
Looking inward to domestic tourism
Some companies are not waiting around for the return of tourists.
Instead, they are turning their attention to the domestic market.
Ascott Residence Trust (SGX: HMN) launched its "Space-as-a-Service" initiative to open up its residences for different activities, including remote work and live streaming.
The REIT's space is also being offered as cloud kitchens and fitness studios.

Source: Ascott REIT's site
SATS, on the other hand, is leveraging its expertise in central kitchens to distribute ready-to-eat meals featuring plant-based protein. The airline caterer is also partnering with the Singapore General Hospital for a new contactless food and beverage concept.
The trend is noteworthy as domestic travel markets are likely to recover first.
For instance, domestic air travel in China has made a full recovery, according to a graph shared by Ascott Residence Trust.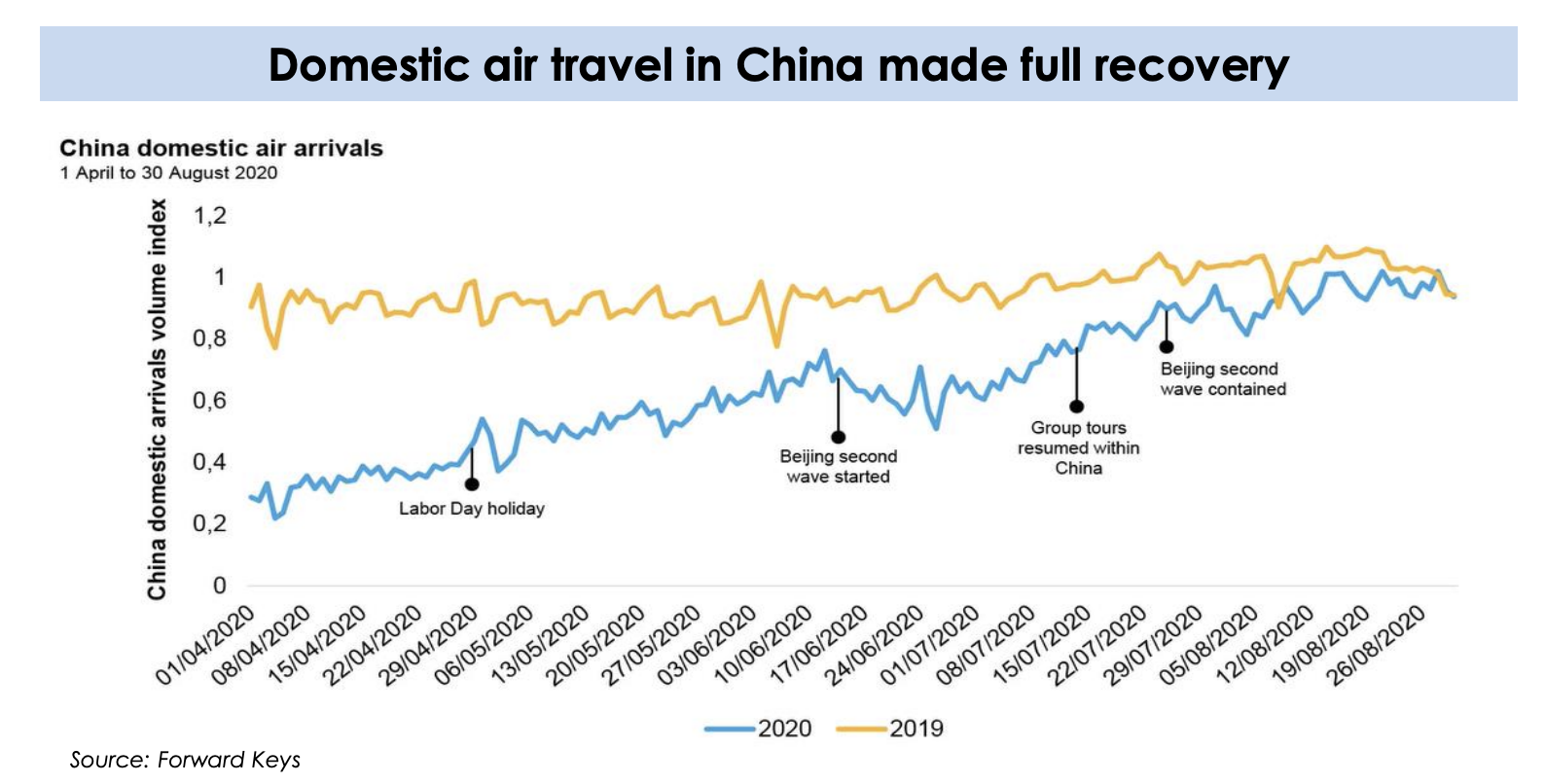 Source: Ascott Residence Trust's presentation slides.
Companies with exposure to the Chinese domestic travel market or other large local markets such as France, Japan, the US, and Spain could be among the first to benefit from the initial recovery stage.
International travel's long road to recovery
As of 1 September 2020, 43% of destinations remain closed for tourism, according to the World Tourism Organisation.
The statistic shows that not all countries are ready to accept visitors.
Meanwhile, in July, the International Air Transport Association (IATA) projected that global passenger traffic will not return to pre-COVID levels until 2024.
The latest estimate is a delay of one year from IATA's previous projection of 2023.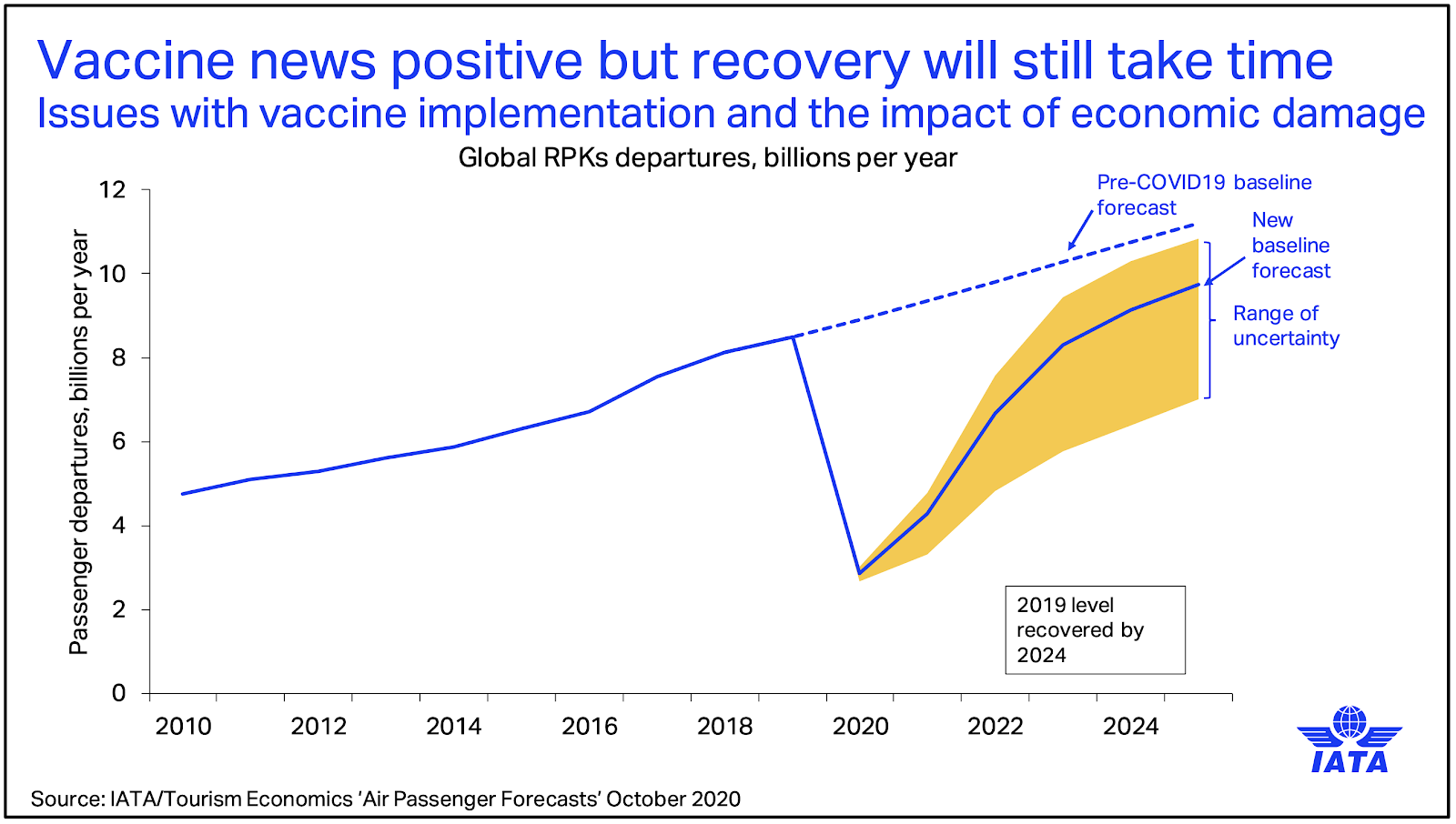 Source: IATA
Even with news of the Pfizer vaccine, IATA is seeing a wide range of uncertainty in the global travel recovery, citing the vaccine's effectiveness, the virus' behaviour and government response as key factors.
A calculated risk
For its part, Singapore will be taking calculated risks in reopening its borders.
Prime Minister Lee Hsien Loong said that Singapore will be opening its borders in a controlled and safe manner.
Already, Singapore has established reciprocal green lanes (RGL) with seven countries, including Germany, Brunei Darussalam, Indonesia, Malaysia, Japan, the Republic of Korea and key cities in Mainland China such as Guangdong, Shanghai, Chongqing and more.
The RGL enables short-term essential business travel.
To supplement the RGL, segregated travel lanes (STL) for business travellers will be launched in mid-January. The lanes will be open for all countries for short-term stays of up to 14 days.
Travellers under the STL programme will be housed in a "bubble" within specific facilities and undergo regular testing.
We should expect more initiatives along the same vein in the future.
Get Smart: A bumpy road ahead
I am an optimist at heart.
I believe a day will come when the virus is tamed and travel can return.
But predicting the trajectory in which it happens is a different matter altogether.
As Singapore's experience in forming the first travel bubble has shown, there will be setbacks on the road to recovery.
Even the IATA, which is armed with far more data than us, is unable to tell.
So, where does this leave investors?
The best approach, in my view, is to stick with companies that are willing to adapt their businesses to grow domestically, and are financially prepared for the long road to a recovery in global travel.
A rebound in stock price alone should not be a signal that the runway is clear for takeoff.
But if we pick the right companies and are patient enough, we should be able to reap the rewards over the long term.
Want to know our top 3 stocks for 2021? Download your FREE report: 3 Stocks I will buy in 2021! It comes with a bonus 3 trends for 2021, so you will be well equipped to ride the stock market recovery in 2021. Click HERE to download now!
Don't forget to follow us on Facebook and Telegram for some of our latest free stock market content!
Disclaimer: Chin Hui Leong owns shares in SATS Ltd.