The days are numbered for restaurants around the world. Or so it seems.
The COVID-19 pandemic has hit the industry hard.
As lockdown measures were implemented globally, dining in has become a casualty of the war against the virus.
Without customers dining in, most restaurants have suffered a sharp loss of revenue.
According to the US Census Bureau, overall revenue for food services and drinking places fell by as much as 55% from January to April.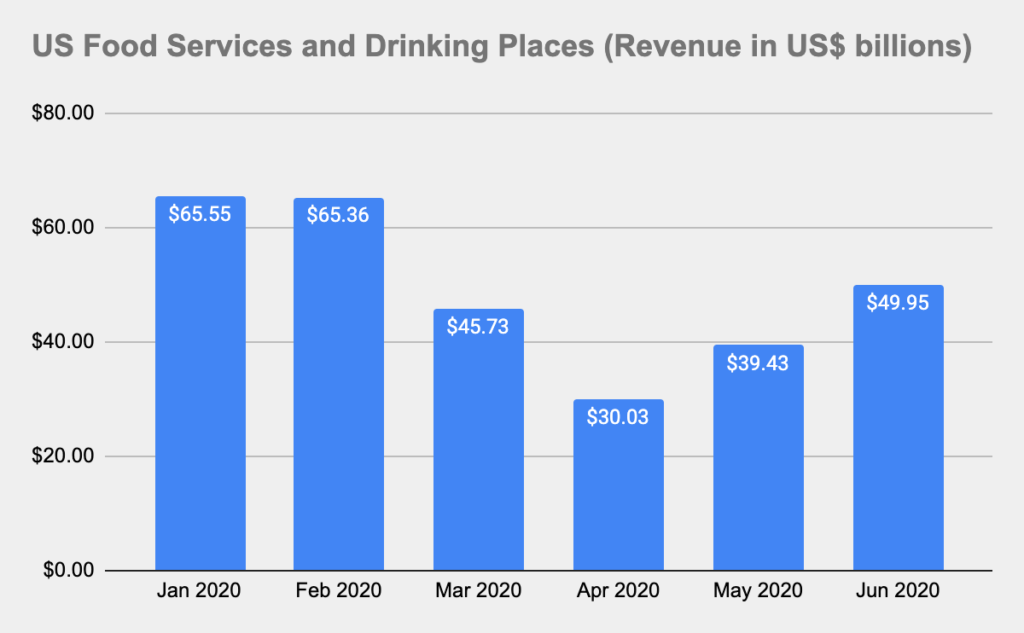 Source: US Census Bureau
The industry has since recovered from its April lows.
However, sales for overall US-based restaurants remain depressed, lingering well below 20% of its pre-pandemic sales.
But even as the sector's revenue was cut in half in April, the impact on restaurants has been uneven.
Not all restaurants suffered the same fate.
In fact, a select group grew even faster as lockdown measures were imposed.
Against the odds
Restaurants that were doing most of their sales digitally, whether through takeaway or delivery, fared better as dining-in became restricted.
Take Wingstop (NASDAQ: WING), a restaurant chain with over 1,400 stores serving buffalo chicken wings.
In the 13 weeks prior to the end of July, the restaurant franchise grew its sales by 36% year on year. Sales from its existing stores accounted for the bulk of its gain.
Even more impressive, domestic US revenue growth was actually 2.5 times faster than its growth for the whole of fiscal 2019.
Against the backdrop of an industry in the doldrums, Wingstop profits more than doubled.
Wingstop is not the only outlier in the sector.
Domino's Pizza (NYSE: DPZ), which needs no introduction, also posted a solid 13.3% gain in sales compared to a year ago during its fiscal second-quarter, which ended in mid-June.
The pizza maker's profits grew even faster, exceeding last year's figures by almost 30%.
If you are befuddled by the duo's strong results in the face of one of the worst restaurant downturns — well, here's a big clue.
For the quarter that just ended for Wingstop, close to 65% of its domestic US sales (including franchise stores) came from digital channels.
US-based Domino's stores did even better. The pizza maker delivered over 75% of its recent quarter's sales from digital orders.
While the results are impressive, not every restaurant was as prepared as Domino's or Wingstop to handle the pandemic-driven lockdowns.
The race to digitalise
The COVID-19 pandemic is challenging in the way it hit the restaurant industry both hard and fast.
There was little time to react.
If you were running a restaurant that was primarily earning from seat-in dining, your source of revenue would be cut off almost overnight.
Without sales, even the best restaurant operators would struggle.
Shake Shack (NYSE: SHAK), which is well-known for long, snaking queues for its burgers, started its digital transformation in 2019.
Unfortunately, online sales were only a fraction of its business by the time the pandemic came around.
In mid-March this year, Shake Shack had to make a sharp pivot towards takeaway and delivery as the virus spread.
The loss of the dine-in option hurt.
The burger joint operator lost 40% of its sales for its fiscal second quarter, despite shifting three-quarters of its revenue to digital channels during the period.
Similarly, Texas Roadhouse (NASDAQ: TXRH), which runs almost 600 steakhouses in the US, reported a sales decline of 31% year on year for its second quarter which ended in June.
Like Shake Shack, the steakhouse operator had to make a hard shift to a "To-Go" model in March.
The change wasn't good enough to stem the loss of sales.
And while the chain was able to grow its "To-Go" sales by almost six-fold from January to April, it wasn't enough to prevent the company from losing almost half of its existing store sales in April.
Looking at these results, there is little doubt that the pandemic has inflicted significant pain on many restaurants.
There's gold at the end of the digital rainbow
Mexican food chain Chipotle Mexican Grill (NASDAQ: CMG) was better prepared.
Prior to the pandemic, the restaurant garnered around a fifth of its sales from digital channels.
In Chipotle's latest quarter ended in June, the company's revenue was relatively unscathed, falling less than 5% year on year. Around 61% of its revenue was from digital orders.
But that's not the only interesting development at Chipotle.
The most interesting statistic, in my view, is that the percentage of digital sales remained high even after the company reopened its restaurants for seat-in dining in July.
In fact, almost half of its revenue came from digital channels in July.
In other words, Chipotle was able to retain most of its digital sales even after reopening its restaurants for dining in.
The same phenomenon can be seen at Texas Roadhouse as well.
As the steakhouse operator reopened its restaurants in May, the percentage of To-Go sales drifted downwards but has been maintained at above 25% of average weekly sales for July.
If you take a step back and look at the bigger picture, you could argue that both Chipotle and Texas Roadhouse had gained a new, significant digital sales channel that it would not otherwise have if not for the pandemic.
Without the pandemic, it would be unlikely that the Mexican food chain's digital sales would rise from less than 20% in 2019 to almost 50% by July this year.
Only the paranoid survive
The challenge for the restaurant industry is far from over.
Disruptions in the food supply chain could hamper its recovery.
The second wave of COVID-19 infections happening in the US right now could force restaurants to close their stores once again.
Meanwhile, as working from home becomes more common, the nation's demographic could shift away from where restaurants are located.
One thing's for certain, the toothpaste is out of the tube when it comes to digital ordering.
Doing takeaways or delivery are no longer just options for restaurants.
It's a must-have to survive, in my view.
As the likes of Chipotle and Texas Roadhouse have shown, there are sizable benefits for those who are willing to bridge the chasm between physical and digital.
If they can do so successfully, the payoff for investors is potentially enormous.
Shares of Wingstop have almost doubled since the start of the year. Meanwhile, Domino's Pizza and Chipotle shares have risen by over 40% each year to date.
As dining-in returns, we could see even more gains as forward-looking restaurants maintain the digital sales they captured during the pandemic, and ride the upswing in onsite dining.
As investors, all we need is patience.
Want to know what stocks we like for our portfolio? See for yourself now. Simply CLICK HERE to scoop up a FREE copy of our special report. As a bonus, we also highlight 6 blue chips stocks trading at a 10-year low. But you will want to hurry – this free report is available for a brief time only.
Click here to like and follow us on Facebook, here for our Instagram group and here for our Telegram group.
Note: An earlier version of this article appeared in The Business Times.
Disclosure: Chin Hui Leong owns shares of Chipotle Mexican Grill.