Make no mistake. Covid-19 has wreaked havoc on Asian businesses since its outbreak in China at the end of 2019.
Many companies are suffering from lower revenues and tumbling profits as the tourism industry is stifled, holiday plans are cancelled, and people shutter themselves at home.
Yet, there are companies that are mostly unaffected by the outbreak so far, such as iFast Corporation Limited (SGX: AIY).
A unique fintech model
iFast occupies a unique place among the financial companies on SGX.
iFast can be considered more of a fintech (i.e. financial technology) company, similar in function to Singapore Exchange Limited (SGX: S68). iFast offers a platform called Fundsupermart for the buying and selling of unit trusts. It also operates the FSMOne platform that allows investors to purchase equities in Singapore, Hong Kong and the USA.
The group's model is based on fee collection from its assets under administration (AUA).
iFast has two main segments of customers – B2B (business to business) and B2C (business to consumer), and charges them platform and wrap fees for transacting on its platform.
Essentially, the group acts as a middleman between the fund houses (which own, operate and sell funds) and investors. Hence, fund houses will pay iFast a trailer fee for allowing the group to list its funds on iFast's platform for investors to select from, and iFast is acting as a distributor of these funds.
Sustained growth in AUA
Last week, iFast released its fiscal year 2019 earnings. Its revenue hit a record quarterly high of S$16.96 million in the fourth quarter of 2019. AUA also continued to grow, hitting a new all-time high of S$10 billion, up 24.2% year-on-year.
Amazingly, the Covid-19 virus has not resulted in any substantial adverse impact on iFast's business, with the group declaring that AUA as at 19 February 2020 has stayed above the S$10 billion mark.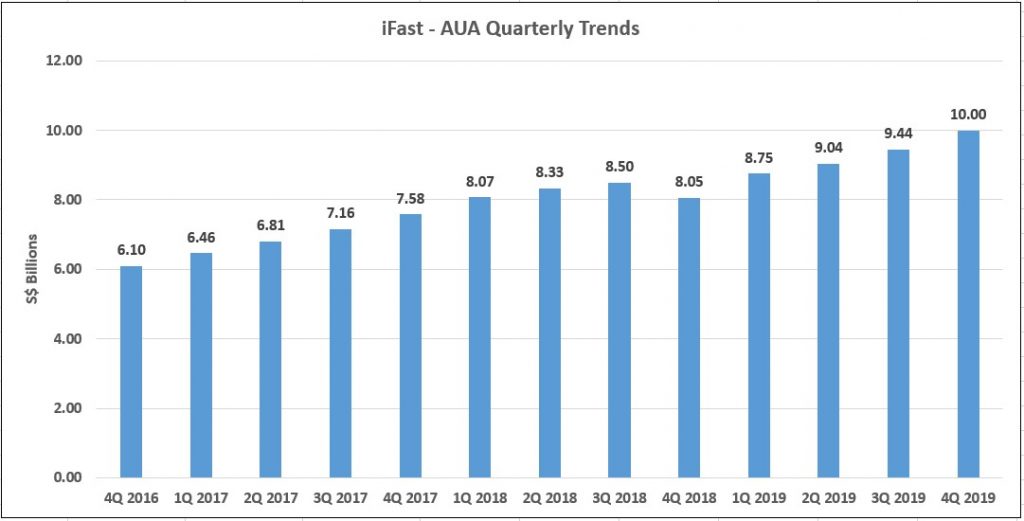 Source: iFast's Quarterly Reports; Author's Compilation
Looking at iFast's AUA trend, it has risen for almost 12 consecutive quarters, with just a minor decline in 4Q 2018 due to volatility in stock markets.
As iFast's net revenue is very closely tied to its AUA level, the rising AUA bodes well for the group's future.
Digital bank aspirant
In addition to the rapid and sustained growth in its AUA, iFast is also gunning for a restricted digital bank license in Singapore.
The Monetary Authority of Singapore has five licenses up for grabs, and these licenses have attracted a large variety of firms that have thrown their hat into the ring.
The group is working with two partners — Yillion Group and Hande Group and will take a 65% stake in the proposed digital bank.
Should iFast manage to clinch the license, it would greatly enhance its financial standing and allow it to attract significantly more deposits from investors and depositors.
The license would allow the group to open up a new revenue stream, but CEO Lim has cautioned that it would take a number of years for the bank to ramp up and become profitable.
Get Smart: An interesting mix of growth and yield
iFast has established itself over the years as a pioneer fintech company, and its track record of growing AUA speaks for itself.
The group has been consistently profitable and generates steady free cash flows.
The presence of free cash flow has allowed iFast to pay out a quarterly dividend to investors, a practice it has followed since its IPO in December 2014.
For 2019, the group paid out S$0.0075 per quarter for the first three quarters and a dividend of S$0.009 in its final fiscal quarter. Together, they add up to a total of S$0.0315 of dividends annually, which works out to be a dividend yield of around 3.1% at the last traded price of S$1.02.
Investors who are looking for a good mix of growth and yield should take a second look at iFast.
Not only has the group demonstrated that it can grow its AUA consistently over the years, but it has also announced that Covid-19 has not affected its business at all.
Its steady, quarterly dividends serve as a good source of passive income while investors wait for catalysts to drive the business to the next level.
For the latest stock market commentary and investing education concepts, sign up for our free investing education newsletter, Get Smart! Click HERE to sign up now.
Get more stock updates on our Facebook page or Telegram. Click here to like and follow us on Facebook and here for our Telegram group.
Disclaimer: Royston Yang owns shares in iFast Corporation Limited.