Looking across the REIT landscape can help us identify patterns and trends within an industry. 
Earnings season is a great place to start. SPH REIT (SGX: SK6U) was to first REIT report on 10 October 2019. Since then, around 20 REITs have reported their quarterly results. Let's start by taking a whistle-stop tour of the world of retail REITs. 
The business checkup
For retail REITs, much of the focus was around acquisitions. 
Below is a summary of the growth in gross revenue, net property income (NPI) and distribution per unit (DPU) of the five retail-based REITs that have reported so far. 

Source: REIT earnings announcements; revenue and NPI in S$'000
CapitaLand Mall Trust (SGX: C38U) drew in the most revenue among the five retail REITs above. 
Despite that, the REIT also posted the highest increases in gross revenue and NPI growth in the last quarter. CapitaLand Mall Trust benefited from the addition of the redeveloped Funan mall while taking full ownership of Westgate.
Similarly, gross revenue and NPI at SPH REIT (SGX: SK6U) rose due to the addition of Rail Mall in Singapore and Figtree Grove Shopping Centre in Australia. 
Meanwhile, CapitaLand Retail China Trust's (SGX: AU8U) revenue was lifted by its new acquisitions, CapitaMall Xeufu, CapitaMall Aidemengdun and CapitaMall Yuhuating on 30 August 2019. We should expect more growth from these acquisitions in the coming quarters. 
Frasers Centrepoint Trust (SGX: J69U) lagged behind its peers with a lacklustre performance in gross revenue. To be sure, the minor decline in revenue was caused by adjustments made based on updated accounting standards.  
We could see a better performance from Frasers Centrepoint Trust in its new fiscal quarter. The REIT has increased its stake in Waterway Point from 33% to 40% in September 2019; It also upped its stake in PGIM Asian Retail Fund to 24.82% in October 2019. 
Unfortunately, we can't say the same for Mapletree North Asia Commercial Trust (SGX: RW0U). The protests in Hong Kong has taken a toll on the REIT's key Festival Walk property. 
While the REIT was able to maintain full occupancy for Festival Walk, footfall fell 3.6% and tenant sales fell 6.6% in the first half of its fiscal year. Its current outlook for the property is subdued.     
The financial health checkup
Looking at the retail REIT's gearing, the average cost of debt and the average term to maturity provides a view on whether the individual trusts are growing responsibly.   

Source: REIT earnings presentation
SPH REIT stands out with the lowest gearing ratio among all quintet above. That gives the REIT the most headroom to grow. What we need to see is whether the REIT will take advantage of its position. 
CapitaLand Mall Trust and Frasers Centrepoint Trust provide an interesting study in contrasts. 
The former favours a longer average term to maturity but it comes at the cost of a higher average cost of debt. The latter, however, prefers to take an active role in securing a lower cost of debt but it comes with a shorter average debt term.
Both CapitaLand Retail China Trust and Mapletree North Asia Commercial Trust sport leverage ratios in above 37%, giving them less room for growth compared to the other retail REITs. 
The valuation checkup
The challenging operating environment at Mapletree North Asia Commercial Trust has sent shares down, making it the cheapest among the five REITs — as measured by the price-to-book (PB) ratio.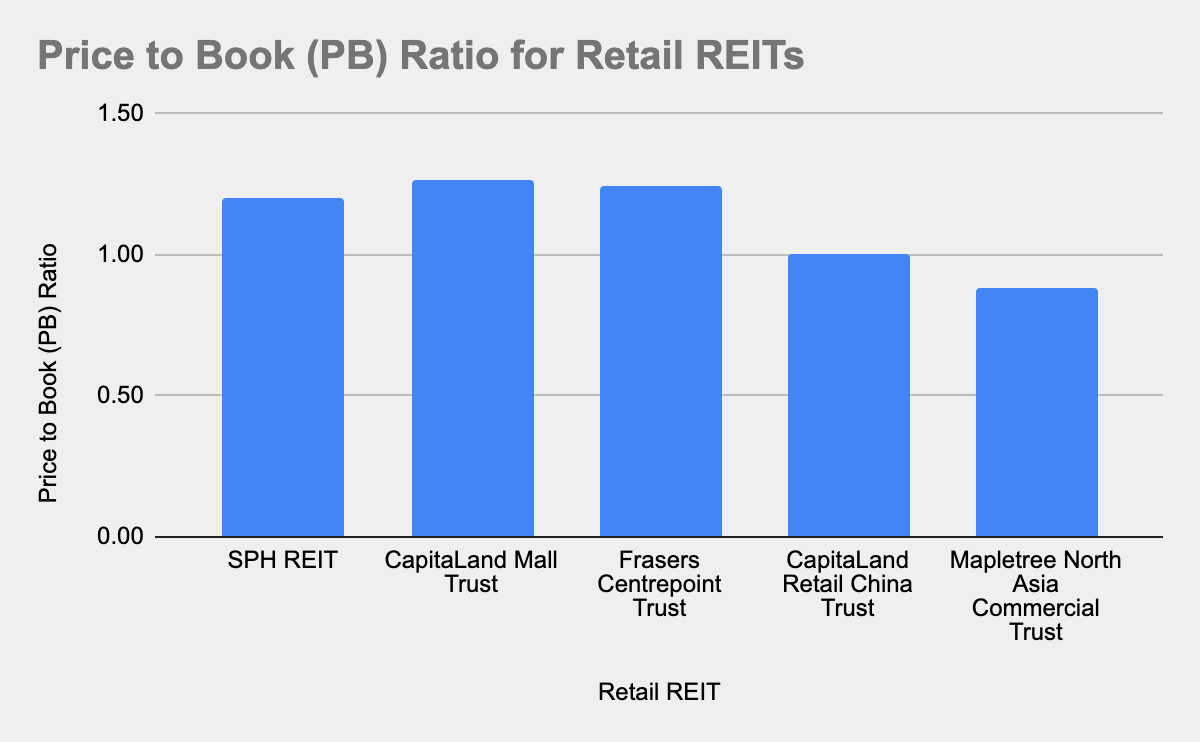 Source: Yahoo Finance; REIT earnings announcement and presentation 
SPH REIT, CapitaLand Mall Trust and Frasers Centrepoint Trust are all trading above 1.2 times their net asset value. Perhaps, that is a sign that the stock market is willing to pay a premium for the trio's track record. 
If we go by the numbers alone, CapitaLand Retail China Trust could be the REIT with the best value for money, trading at around its book value but still showing solid growth. 
The China-based REIT's properties are located outside of Singapore, though, which makes it harder to keep track and comes with the risk of currency fluctuations. 
Get Smart: Taking the broader view
As we peer into the quarterly results, it's important to remember that one quarter does not make a trend. Making an investment decision based on one set of results is rarely a good idea.
More importantly, we should consider the business developments within the REIT alongside the numbers that we see. Numbers without context rarely tell us the full story. 
If we want to make a smart investment decision, consider as many relevant points on the table, including your risk appetite, your goals, and your portfolio's needs.  
If you'd like to learn more investing concepts, and how to apply them to your investing needs, sign up for our free investing education newsletter, Get Smart! Click HERE to sign up now.
None of the information in this article can be constituted as financial, investment, or other professional advice. It is only intended to provide education. Speak with a professional before making important decisions about your money, your professional life, or even your personal life. Disclosure: Chin Hui Leong owns shares in CapitaLand Mall Trust and Frasers Centrepoint Trust.