Healthcare spending is likely to increase in the future, not only in Singapore but across the world. 
In simple terms, the world's population is getting older. According to a World Health Organisation (WHO) report, the proportion of people over 60 years old is expected to make up 22% of the world's population by 2050, up from 12% in 2015. For many countries, including Singapore, the proportion of elderly folk is projected to surpass the 30% mark, as shown in the diagram below.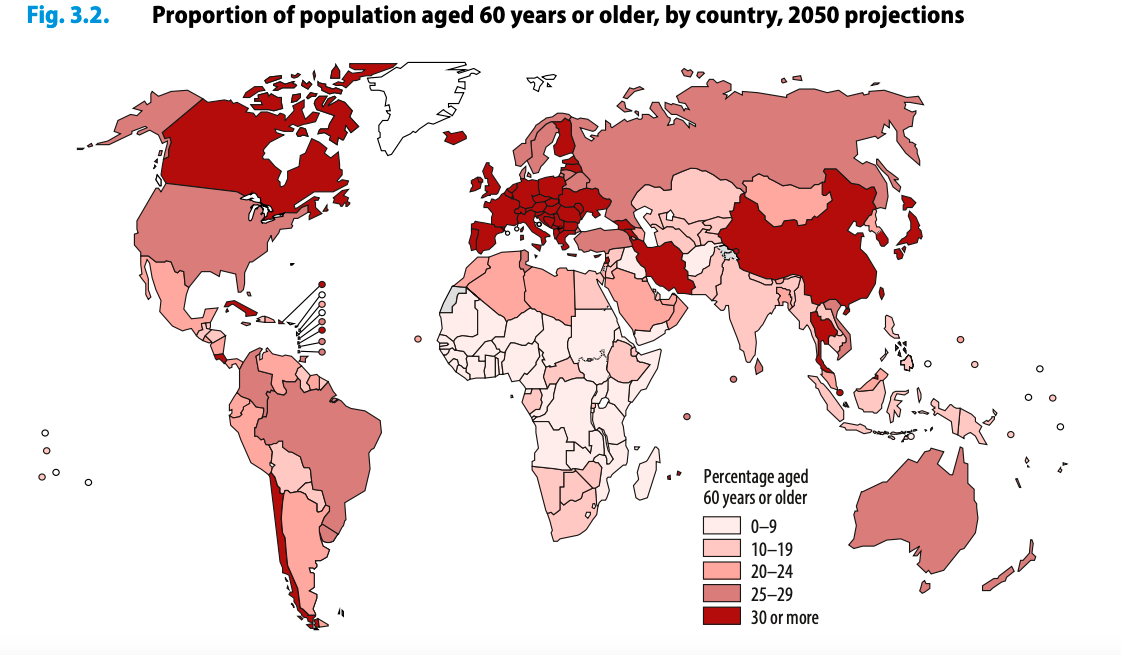 Source: WHO World report on ageing and health
The world is ageing due to two major trends that have been happening for decades. 
According to WHO, life expectancy across the globe is increasing, benefiting from higher infant mortality and people generally living longer. Meanwhile, birthrates are declining. Both trends lead to a world with a higher composition of older people. 
By 2050, much of Europe and countries such as China, Chile, Iran, Korea, Japan, Thailand, the Russian Federation, and Singapore are expected to have 30% or more of their population aged 60 and above. 
The global trend of ageing is a pretty big deal, in my opinion — as it presents challenges and has huge implications. But where there are challenges, there will be opportunities. 
Up and to the right
In Singapore's 2018 Budget, Finance Minister Heng Swee Keat said that the nation's expenditure in healthcare is expected to rise from 2.2% of its gross domestic product (GDP) to 3% by 2028.
The spending could be more acute in China, where according to a study, health care spending is projected to reach as much as 9.1% of GDP by 2035. 
These are all projections, of course — but the trend is clear in my eyes. 
The most obvious need would be for more healthcare services, including hospitals. Parkway Life REIT (SGX: C2PU), which owns a portfolio of three Singapore hospitals and 46 nursing homes in Japan, could stand to benefit.
Meanwhile, Raffles Medical Group (SGX: BSL) has recently almost doubled its flagship Singapore hospital and opened a new hospital in Chongqing, China. The hospital operator is poised to open its next hospital in Shanghai in the coming year.     
Get Smart: The Japan case study
Interesting, the WHO report cited Japan as the only country with 30% or more of its population above 60 years of age in 2015. So, if we want to know what comes next, studying Japan's developments will give us some strong hints.  
As we have learnt on Saturday through Parkway Life REIT, the Japanese government is bringing in 60,000 immigrants for nursing care jobs. It is my view that the Japan authority's action is unlikely to be unique. 
According to IHH Healthcare Berhad (SGX: Q0F), there will be a shortage of 18 million healthcare workers by the year 2030.
Countries with rising healthcare needs could soon face a labour crunch, which could lead to changes in their immigration policy and a concerted drive for higher productivity.    
Speaking of productivity, the use of technology is spawning new, large industries such as telemedicine.
Raffles Medical Group, for instance, is testing a teleconsultation service which allows patients to speak to a doctor on a 24/7 basis. These initiatives are not new, as companies such as US-based Teladoc Health (NYSE: TDOC) have been providing virtual healthcare services to 12,000 businesses with 22.3 million unique members. 
For context, the Telemedicine industry could be worth as much as US$130 billion, according to a study by Global Market Insights. The size of the addressable market is one example of how the drive for higher productivity within healthcare could lead to the creation of new, yet-to-be-defined markets.  
In the future, I can see more innovations targeted at improving productivity in the healthcare sector. As a Smart Growth investor, that is where I want to keep our my eyes on. 
For Smart readers looking for more, catch Morgan Housel's Three Big Things: The Most Important Forces Shaping the World  
To learn more about the different types of investing strategies, and how you can apply them in your investing journey, sign up for our free investing education newsletter, Get Smart! Click HERE to sign up now.
None of the information in this article can be constituted as financial, investment, or other professional advice. It is only intended to provide education. Speak with a professional before making important decisions about your money, your professional life, or even your personal life. Disclosure: Chin Hui Leong owns shares in Raffles Medical Group and ParkwayLife REIT.