The nature of our daily work is changing. And your job might be at stake.
A survey by Willis Towers Wilson shared by local HR firm HRnet Group (SGX: CHZ) yielded six major trends on how digitisation is changing the work ecosystem. The findings were based on over 1,000 organizations in more than 40 countries. 
Today, I would like to highlight three key trends that might directly impact you.
1. Automated for the people
The percentage of tasks being automated has been rising and is expected to continue increasing.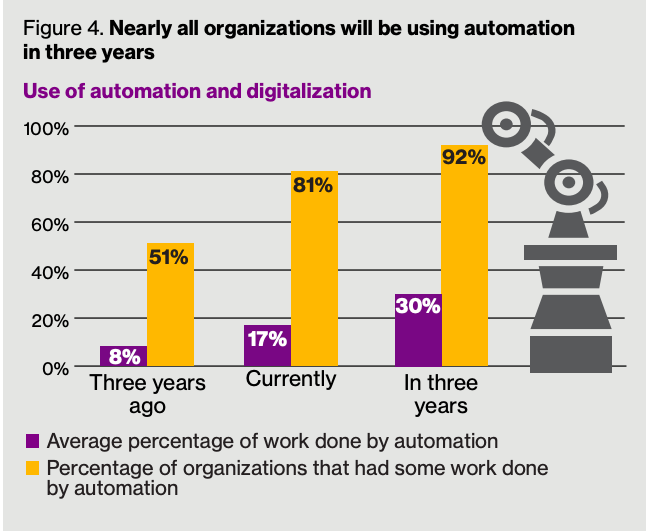 Source: Willis Towers Watson Survey  
Three years ago, 8% of work was automated. Today, the proportion has risen to 17%. In another three years, automation could drive 30% of daily tasks. 
For example, a company that I own, DBS Group Holdings Ltd (SGX: D05), partnered IBM in 2017 to roll out robotic process automation across its organisation to take over manual processes to reduce errors and lower costs. 
Going forward, we could see labour-intensive, repetitive tasks be handed over software robots to manage.
2. Designed for the people
Automation could change how jobs are being designed in the future. 

Source: Willis Towers Watson Survey  
In essence, we should expect repetitive, rule-based work to be automated. At the same time, tasks which require multi-disciplinary skills which cannot be automated will be in demand.
As a result, it is possible that companies could limit hiring fewer full-time employees as and in turn, redesign non-core, ad-hoc tasks to be outsourced.
3. The rise of work ecosystems
The number of outsourced jobs could increase in the future as companies seek to create workforces that can be activated on demand. 

 Source: Willis Towers Watson Survey  
The rise of sites such as Upwork (NASDAQ: UPWK) and Fiverr International (NYSE: FVRR) provide the possibility of hiring contingent workforces to fill in gaps that companies need. 
Get Smart: The only constant is change
As we circle back to HRnet Group, we find that 70% of its revenue and 30% of its gross profit in its latest quarter is from flexible staffing.  
In response to the global trends above, the company has expanded its RecruitFirst flexible staffing brand into Hong Kong, Kuala Lumpur and Taipei. The HR staffing firm has its sights on Jakarta next. 
HRnet Group certainly has the financial firepower to spread its wings beyond a mature Singapore market. 
As of 30 September 2019, the group had S$240 million in its bank and no debt. In the last twelve months, HRnet Group also generated a healthy S$55 million in free cash flow. At the moment, shares offer a solid 4.5% dividend yield. 
For a company that is worth S$630 million in market capitalisation, their shares could be interesting for the dividend investor looking for income or the value investor seeking a bargain. Or both. 
If you'd like to learn more investing concepts, and how to apply them to your investing needs, sign up for our free investing education newsletter, Get Smart! Click HERE to sign up now.
None of the information in this article can be constituted as financial, investment, or other professional advice. It is only intended to provide education. Speak with a professional before making important decisions about your money, your professional life, or even your personal life. Disclosure: Chin Hui Leong owns shares in DBS Group.