Singapore Telecommunication Limited (SGX: Z74), or Singtel, is Singapore's largest telco and a long-time dividend payer. But size alone does not guarantee that it will keep paying out dividends.
The telco space has become more crowded with the entry of a fourth telco, TPG Telecom, as Singapore's IMDA (Info Media Development Authority) moved to liberalise the industry.
In recent years, the three incumbent telco players, including Singtel, have witnessed a drop in profit and average revenue per user (ARPU) as a result of pricing pressures, a switch over from voice to data, and the rise of streaming service businesses such as Netflix (NASDAQ: NFLX).
First-ever quarterly loss
In Singtel's second-quarter earnings report, the company recorded its first-ever loss while operating revenue continued to come under pressure.
Though the headline sounds scary, investors should note that the exceptional loss of S$1.395 billion was related to a provision on regulatory demands for license fees and spectrum usage charges at Singtel's subsidiary, Bharti Airtel.
This loss is an accounting entry and thus has no impact on the cash flow for the group.
If the exceptional loss is stripped out, SingTel managed to report a decent 3% year-on-year rise in underlying net profit after tax (NPAT) to S$737 million.
Associates' contributions
Singtel is often recognised as a "local" telco but its operations and reach actually spans many different countries and it earns profits from its stakes in different associates.
It is important to highlight the profit contribution from Singtel's associates to the group's overall profit.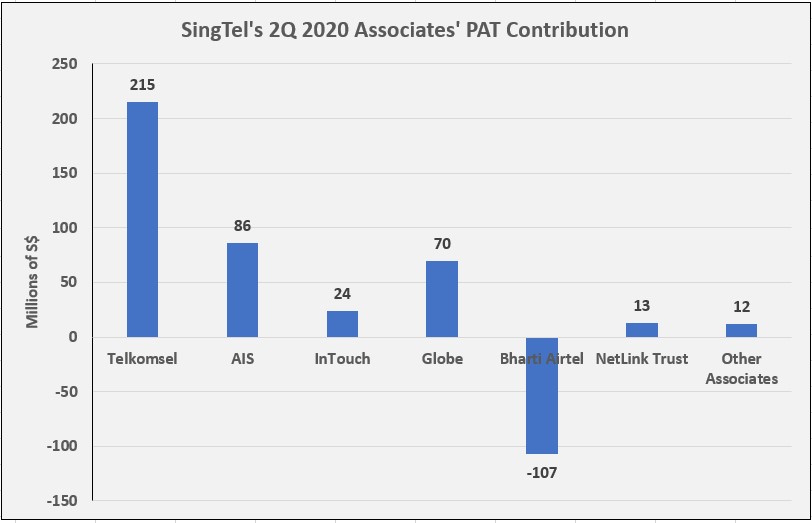 Source: SingTel's 2Q 2020 MD&A; Author's Compilation
From the above, it can be seen that Singtel has a fair number of associates that contribute to its group bottom line.
Total NPAT contribution from all the associates amounted to S$313 million for the quarter or a sizable 42.5% of Singtel's total group profit of S$737 million.
The largest profit contributions from the quarter actually come from Telkomsel (Indonesia), Advanced Info Service (AIS – Thailand) and Globe Telecom (Philippines).
These figures further reinforce the fact that Singtel is a regional conglomerate through its network of associate companies.
Free cash flow and dividend payments
As mentioned earlier, the exceptional loss for Airtel was a one-off item that was non-cash in nature.
Singtel's free cash flow generation capability remained strong, with the first half of fiscal 2020 seeing free cash flow of around S$1.9 billion generated. If we annualise this amount, full-year free cash flow should be around S$3.8 billion.
The group paid out a total annual dividend of S$2.85 billion for fiscal 2019, and CEO Chua Sock Koong has stated that the group will maintain its total dividend of S$0.175 for FY2020.
With SingTel's current level of free cash flow generation, we feel it would be sufficient to support existing absolute dividend payments.
Get Smart: The looming 5G spend
Singtel is currently conducting trials on fifth-generation (5G) network development in order to develop innovative applications with its partners.
These include government agencies and enterprises and the group is committed to building a nationwide 5G network in line with what the Singapore Government is planning for the nation in years to come.
Razer Inc (SEHK: 1337) is also partnering with Singtel and IMDA to explore the role 5G networks can play in cloud gaming.
With significantly more spending anticipated from Singtel in relation to 5G infrastructure, network hardware and future spectrum auctions, the group's free cash flow could decline in future years to a level where it may not be able to support its current level of dividends.
Though we cannot say for certain if dividends will be cut, the fact that Singtel is committing to spending more on 5G networks and that mobile revenue is stagnant means that at some point in the future, a reduction in dividends is not out of the question.
We will have to monitor developments to get a better picture in the future.
If you'd like to learn more investing concepts, and how to apply them to your investing needs, sign up for our free investing education newsletter, Get Smart! Click HERE to sign up now.
None of the information in this article can be constituted as financial, investment, or other professional advice. It is only intended to provide education. Speak with a professional before making important decisions about your money, your professional life, or even your personal life. Disclosure: Royston Yang does not own any of the shares mentioned.