When investors hunt for value stocks, they typically look for companies that own assets that are undervalued.
But not all value stocks are strictly categorised as asset plays.
Take Boustead Projects Limited (SGX: AVM), for instance, a mid-sized company that I own.
As an industrial real estate solutions provider, Boustead Projects is asset-light and provides expertise in design and project management for its clients while sub-contracting out the construction work to construction companies.
That is unlike a typical construction company that relies on heavy working capital requirements.
The group has engineering expertise in the design-and-build and development of smart eco-sustainable business parks and industrial developments for clients. Boustead Projects' list of reputable clients includes Forbes Fortune 500 and Euronext 100 corporations.
But what defines value at Boustead Projects? Let's discuss further.
Surging order book
Boustead Projects' order book, made up primarily of design-and-build contracts, has hovered around the S$100 million to S$200 million level since the group was spun out of Boustead Singapore Limited (SGX: F5D) back in April 2015.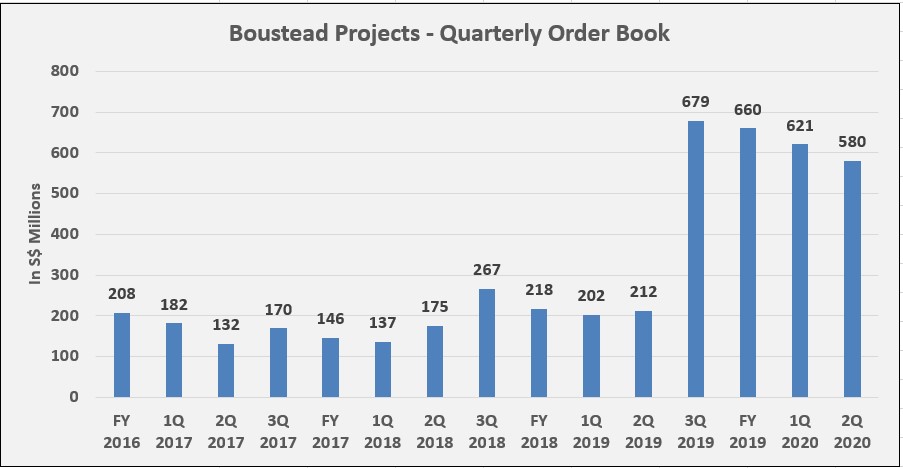 Source: Boustead Projects' Quarterly Media Releases; Author's Compilation
However, in the third quarter of fiscal 2019, the group revealed that it had clinched two of its largest contracts to date: an S$241.9 million public sector contract secured through open tender to build a multi-storey recycling facility for Jurong Town Corporation (JTC), and a contract worth over S$200 million to build an advanced integrated development for Surbana Jurong Campus.
The clinching of these two successful mega-contracts was no doubt surprising, but investors should note that the group has been quietly building up its capabilities and investing in technology over the years.
Taking the group to another level
Boustead Projects' first smart business park development, ALICE @ Mediapolis, was a showcase of transformative technologies and methodologies that were utilised in the development and design of the building.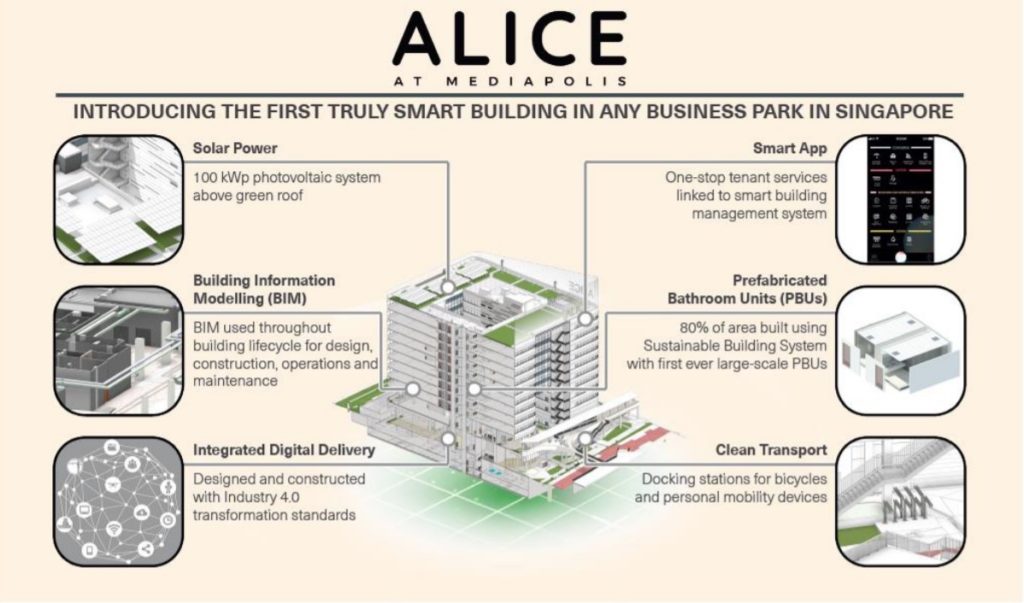 Source: 10 in 10 with Boustead Projects Limited (SGX)
The graphic above showcases the cutting-edge technology that was employed in the construction of ALICE. The Building and Construction Authority has awarded the Green Mark Platinum, the highest eco-sustainability rating, to Boustead Projects for the construction of ALICE.
Armed with these new capabilities and competencies, Boustead Projects has thus managed to clinch its two mega-contracts, with the prospect of more to come under its Boustead Development Partnership (BDP) fund.
Boustead Projects has upped its game against competitors and shown that it is keeping abreast of these new technologies in order to enhance its attractiveness to clients.
Leasehold property portfolio: a key needed to unlock value
Another key catalyst to unlock value for Boustead Projects is its burgeoning leasehold property portfolio.
It should be noted that as of 31 March 2019, Boustead Projects' balance sheet shows S$26.7 million worth of properties held for sale and S$182.1 million worth of investment properties, for a total of around S$208.8 million for its total real estate portfolio.
Investors should also note that all the properties in its leasehold property portfolio are accounted for at cost less accumulated depreciation, implying that the market value of these properties is significantly higher as they have not been marked-to-market over the years.
The Annual Report FY 2019 states that the total market value of all 24 wholly-owned and jointly-owned properties will have a projected market value surpassing S$1 billion once the remaining five properties are completed.
Management has explicitly stated that the portfolio has reached a stage where "various options to monetise the value of the leasehold portfolio are under active review by the Board (of Directors)."
In late October, Boustead Projects incorporated a wholly-owned subsidiary known as "Boustead Industrial Fund Management Pte Ltd", which may be a precursor to unlocking value within the portfolio.
Get Smart: Getting paid to wait
Boustead Projects falls into my "ValueGrowth" category as it is essentially a growth play, by virtue of its burgeoning order book, that also pays out an annual dividend.
Going by strict "value" standards, Boustead Projects can be considered an asset play with catalysts present that can unlock value fairly soon. While investors wait for these catalysts to come through, they can enjoy a 2.1% dividend yield.
If you'd like to learn more investing concepts, and how to apply them to your investing needs, sign up for our free investing education newsletter, Get Smart! Click HERE to sign up now.
None of the information in this article can be constituted as financial, investment, or other professional advice. It is only intended to provide education. Speak with a professional before making important decisions about your money, your professional life, or even your personal life. Disclosure: Royston Yang owns shares in Boustead Projects.