For most Hong Kongers, Link REIT (SEHK: 0823) needs no introduction..
Link REIT's IPO back in 2005 privatized the retail properties owned by the Hong Kong Housing Authority.
In other words, Link REIT gets to keep all the good retail assets from the government.
Profitable malls hiding in plain sight
Many of these properties are "neighbourhood malls" located in the older, urban district areas — where they capture the nearby residential population.
These retail malls are well served by Hong Kong's highly efficient bus and MTR transport system.
Neighbourhoods malls tend to be more resilient than the city's main shopping districts.
Many of the shoppers are local residents which still shop at nearby malls for their daily essentials.
In fact, "supermarket and foodstuff" tenants had positive sales growth even during the COVID-19 pandemic.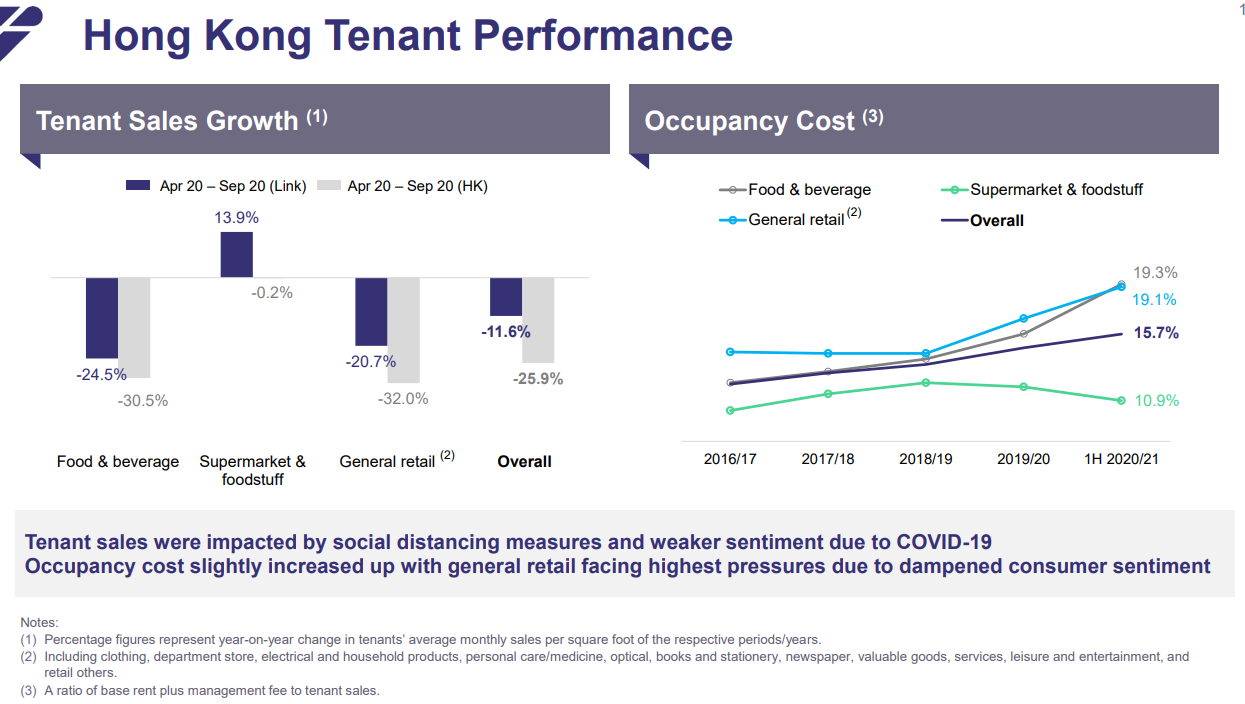 Source: Company's Presentation
Because Link's retail malls are located in heavily-built areas, it's harder for new retail developments to enter these sites.
This fact makes Link the dominant retail landlord in its respective districts.
Link's financial performance is solid. It doubled its gross rental income to HK$10 billion as of its latest fiscal year 2020 ending March 31, in less than 10 years.
Its stable rental collection allowed it to be hugely profitable, allowing Link to generate abundant free cash flow (FCF). In fact, its FCF grew from HK$3.4 billion in the fiscal year 2011, to HK$5.9 billion in the fiscal year 2019.
And it paid out almost all of its free cash flow as dividends.
Even during this pandemic, management affirmed its commitment to its 100% payout ratio, which is around HK$0.14 per year up till its financial year ending 2022.
The most stable form of profitable, leveraged investing
Link REIT is akin to a "virtual bank".
Its business model is very simple. Link borrows cheap, "short-term" debt from the bank, and invests into longer-term, high-yielding assets such as retail and office buildings.
This makes investing in Link REIT a stable form of leveraged investing.
And it gets even better.
Link's gearing ratio is so low at 17.7% that, in my opinion, it can safely borrow a lot more from the banks to grow its assets.
Banks are willing to lend them cheap money because they know Link has a well-diversified portfolio of high-quality assets.
Link's borrowing cost is around 2.8% and they have around HK$13 billion of bank facilities ready to draw down for funding.
Link is not stopping there.
It recently bought two overseas Premium Grade A offices in a move to diversify into the global markets. Both buildings are located in Sydney, Australia and London, UK.
They're fully occupied, with very long leases of 8 to 10 years. Rent reviews are either for a 4% rental escalation or "upward" rental adjustments.
Get Smart: Link REIT is a defensive, retirement stock
Despite its solid performance over the past years, it's share price recently plunged because of the pandemic.
But as far as I'm concerned, its latest financial results have been resilient.
It's 1H FY2021 gross rental income dipped slightly by 1.9% year on year to HK$5.2 billion, while its total distributable amount was down slightly by 1.5% year on year at HK$2.9 billion.
This performance was also partly supported by its China properties, which have reported positive rental adjustments.
A huge risk for Link is seeing suffering retail tenants defaulting due to the pandemic.
But that has yet to happen.
Instead, Link managed to achieve a strong rental collection rate of more than 95%, and maintained close to full occupancy for its properties.
The tenants are also well supported by the government, which gave out HK$600 million in its Tenant Support Scheme.
If you're a dividend investor looking to grow your retirement wealth, perhaps companies like Link REIT could fall under your stock radar.
Link REIT may be Asia's largest REIT, but I believe it still has more room to grow.
Special FREE Report: How You Can Make Money Investing In REITs As Singapore Recovers. Download your free copy HERE! 
Disclosure: Willie Keng does not own any shares in any of the companies mentioned.