Dear Smart Investor,
My fellow Co-Founders David Kuo, Joanna Sng, and I started The Smart Investor in 2020. Our goal was simple, to show that stock market investing can be simple and accessible to everyone.
Even when the pandemic hit, we knew that we would continue to invest regardless of the economy and the market situation.
But we could not have continued without your support, our dear member.
And for that, we are beyond thankful for your unwavering support.
A season to be thankful
It's easier to be a pessimist than an optimist today.
The past three years have been nothing short of a roller coaster ride of emotions.
All the anxiety over an unknown virus, the hope of vaccines, and the ups and downs in between have led us to today.
Amid the rough and tumble, it's always good to pause and be thankful for what you have.
Thank you for the dividends
We launched our flagship service, The Smart Dividend Portfolio, just before the pandemic. Despite the early setbacks, with a full-on circuit breaker no less, the portfolio continues to churn out higher dividends over time.
One of the stocks within our portfolio, DBS Group (SGX: D05), has rewarded the portfolio with a gain of almost 94%, including dividends, since April 2020.
Our secret?
Come rain or shine, we kept doing what we knew best.
Find great companies, who are willing to share their gains in the form of dividends, and buy them with the intention to hold for the long term.
A familiar but different uncertainty
Today, The Smart Dividend Portfolio is home to 25 Singapore-listed stocks, all paying a dividend.
Our approach seems obvious in hindsight, but it wasn't always that way.
Three years ago, there were few certainties.
No one knew when a vaccine would come or whether it would be effective.
No one was sure whether businesses or REITs would be irreversibly impacted.
No one could say how long the market downturn would last.
In a way, the situation is similar to what we face today.
Firstly, no one is sure how long high inflation will last.
Likewise, no one can be certain how high-interest rates will go.
Meanwhile, the threat of a recession looms large with nowhere to hide.
… so, what's an investor to do?
Firstly, let us be thankful that we have a choice to invest.
Next, we hope, by now, the answer would be obvious — we plan to continue what we do best, to invest in the best companies that we can find.
More importantly, be patient enough to achieve the kind of satisfying returns like the ones that DBS Group has provided to us.
Get Smart: A Thank You song for you
We couldn't leave this message without a final thank you to all who have supported us through thick and thin.
This one is for you.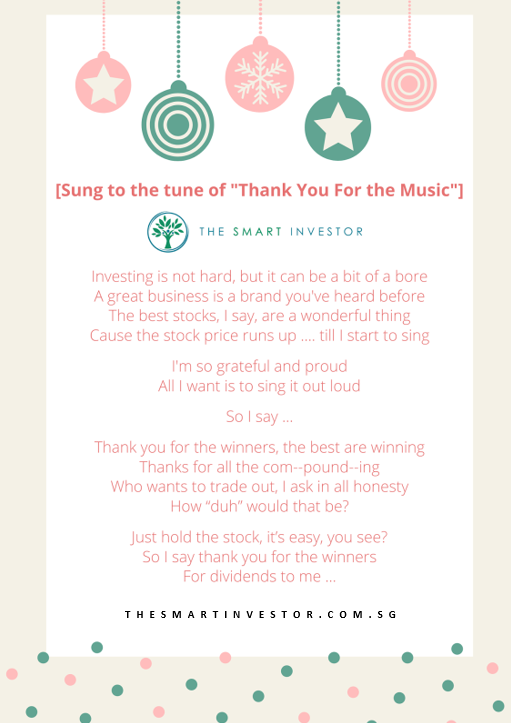 Merry Christmas and a Happy New Year!
First-time investors: We've finally released our beginner's guide to investing. Read it in an afternoon, follow the principles, pick an investing style and buy your first SGX stocks within the next few hours! Click here to download it for free.
Follow us on Facebook and Telegram for the latest investing news and analyses!
Disclaimer: Chin Hui Leong owns shares of DBS Group.