There's no question here, Alibaba Group (SEHK: 9988) is the world's largest online marketplace. It transacts more than US$1 trillion of products in a year, which is more than three times Singapore's gross domestic product (GDP).
Today, there are close to one billion people using its platform, buying and selling anything from toilet rolls to laptops.
Statistics like these is why Alibaba is often referred to as the "Amazon of China".
In fact, in my opinion, Alibaba is ahead of Amazon.
And the story gets better.
Growing at breakneck speed
In its latest quarter, Alibaba's sales grew by an impressive 30% year on year to US$23 billion.
The company's annual active consumers in its China retail marketplace alone hit 757 million, an increase of 15 million from June 2020.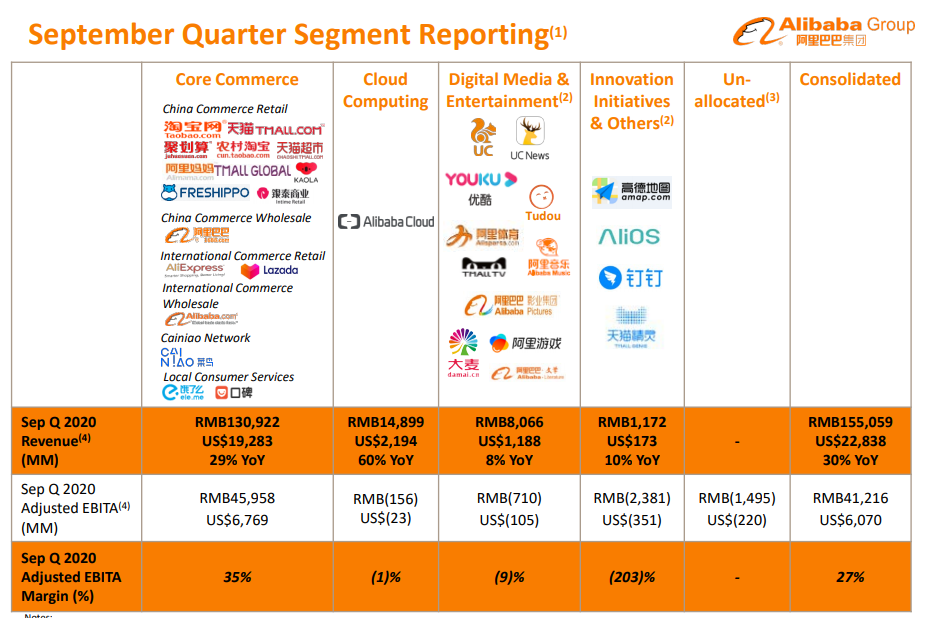 Source: Company's Presentation
And analysts are saying Alibaba can continue to grow its sales in the future.
The company is ambitious — aiming to hit more than US$1.5 trillion in gross merchandise value (GMV) by 2024 and to double the number of consumers on its platform to two billion by 2036.
You see, Alibaba taps on its strong network effect for its huge growth.
By giving people easy access to its wide ecosystem — from marketplace and financial services, to cloud computing and media entertainment, the value of its platform increases with more buyers and sellers.
You can say that Alibaba has mastered every aspect of the online retail business.
Alibaba operates Taobao Marketplace — China's largest mobile commerce site.
It also operates Tmall — the world's largest third-party online and mobile commerce platform.
The company also has a U.S. site, AliExpress — a global retail marketplace which allows people to buy directly from suppliers and manufacturers in China and all over the world.
If you're living in the U.S. and you want to buy a keychain, a soft toy or necklace directly from China, consider it done using AliExpress.
That's not all. Alibaba runs Tmall Taobao World, which allows overseas Chinese to buy directly from China's domestic brands and retailers.
And closer to home, it operates Lazada, a fast-growing e-commerce platform in Southeast Asia for SMEs. Today, Lazada serves over 70 million people.
All of its businesses above generated 86% of its total sales last year. It's easy to see why Alibaba is a gigantic money machine.
On Singles' Day in 2019, Alibaba sold US$38 billion worth of merchandise on all its platforms.
This impressive amount crushed its 2018's record of US$31 billion and 2017's record of US$25 billion.
Alibaba's huge online offerings allow it to generate massive amounts of free cash flow (FCF).
Its FCF grew 25% year on year to US$18.5 billion for its financial year 2020. Its return on invested capital (ROIC) averaged 17.5% since 2011.
Alibaba does not pay any dividends as the company reinvests all it makes back into the business.
Ant Group's IPO delay
The concern right now is Ant Group's recent IPO suspension by Chinese regulators.
According to the Financial Times, the IPO could be delayed by more than six months.
Analysts are saying the IPO suspension will give Ant Group more time to "further disclose related impacts of the new regulations on its credit business and valuation".
In short, China wants to regulate Ant Group's business like a bank. The increased regulatory scrutiny is to better manage and control Ant's potential risks on China's financial system.
These reasons are probably what caused Ant Group to not comply with existing listing requirements.
Ant Group not only extends credit to consumers but it also runs the popular Alipay, which already has more than one billion users.
This number of users makes up more than 10% of the global population using Alipay as a payment processing service.
Its payment service covers more than 100 countries.
Clearly, stricter regulations need to be put in place.
Even if the IPO does not go through, it probably will not stop Alibaba from exerting dominance in the online business.
Get Smart: The "floodgates" have opened
There's still massive upside for the company ahead.
Hundreds of millions of Chinese consumers have yet to hop on Alibaba's online bandwagon.
With Alibaba's strong online presence and growth opportunities available from its different business divisions, it's positioned to benefit from an increasingly digitized world.
And not to forget, with the pandemic forcing more consumers and companies to transact online, Alibaba is also a key beneficiary of this huge tailwind.
Special FREE Report: How You Can Make Money Investing In REITs As Singapore Recovers. Download your free copy HERE!
Disclaimer: Willie does not own any shares in any of the companies mentioned.