It has been a tough year for retail as movement curbs and social distancing measures have limited footfall in malls and retail outlets.
For Dairy Farm International Holdings Ltd (SGX: D01), 2020 will be remembered as one of its toughest on record, as the group undertakes a strategic three-year transformation plan.
The retail giant, with a wide array of brands such as Giant, Cold Storage, Mannings and Wellcome, was hit by a dearth of tourists as countries shut borders.
However, digital change is helping the group to stay relevant and has helped to mitigate some of the tough challenges it is facing.
Dairy Farm recently released its full-year 2020 earnings, and here are five aspects investors should know about.
Lower underlying net profit and dividends
Sales for the group fell by 8% year on year to US$10.3 billion as the retailer was impacted by widespread lockdowns that curtailed customer traffic to its numerous stores.
Underlying attributable profit to shareholders declined by 14% year on year to US$276 million.
As of 31 December 2020, Dairy Farm operated 9,997 stores across all formats, inclusive of associates and joint ventures, slightly lower than the 10,012 stores it had a year ago.
In tandem with the weaker earnings, the group declared a final dividend of US$0.115, down from the US$0.145 it declared in 2019.
The full-year dividend came up to US$0.165, a 21% year on year reduction from the US$0.21 paid last year.
Health and Beauty impacted
The Health and Beauty division suffered a sharp 35% year on year decline in sales to US$2 billion.
The group's Mannings business in Hong Kong and Macau were badly hit due to the lack of tourists from mainland China.
Consequently, operating profit for the division plunged nearly 78% year on year to US$66 million.
However, in line with Dairy Farm's strategic imperatives outlined in its 2018 transformation plan, the group continued to pursue growth in China.
7-Eleven in South China opened over 200 new stores despite the imposition of movement restrictions.
Product innovation and promotions helped to lift sales in the second half of the year.
Mannings China also carried out a space optimisation plan to create stronger brand awareness, resulting in improved same-store-sales throughout the year.
A surge in Grocery Retail's operating profit
On the flip side, Dairy Farm's grocery retail division saw business improving significantly.
Revenue for the division grew just 3% year on year to US$5.3 billion but operating profit more than quadrupled year on year to US$267.4 million.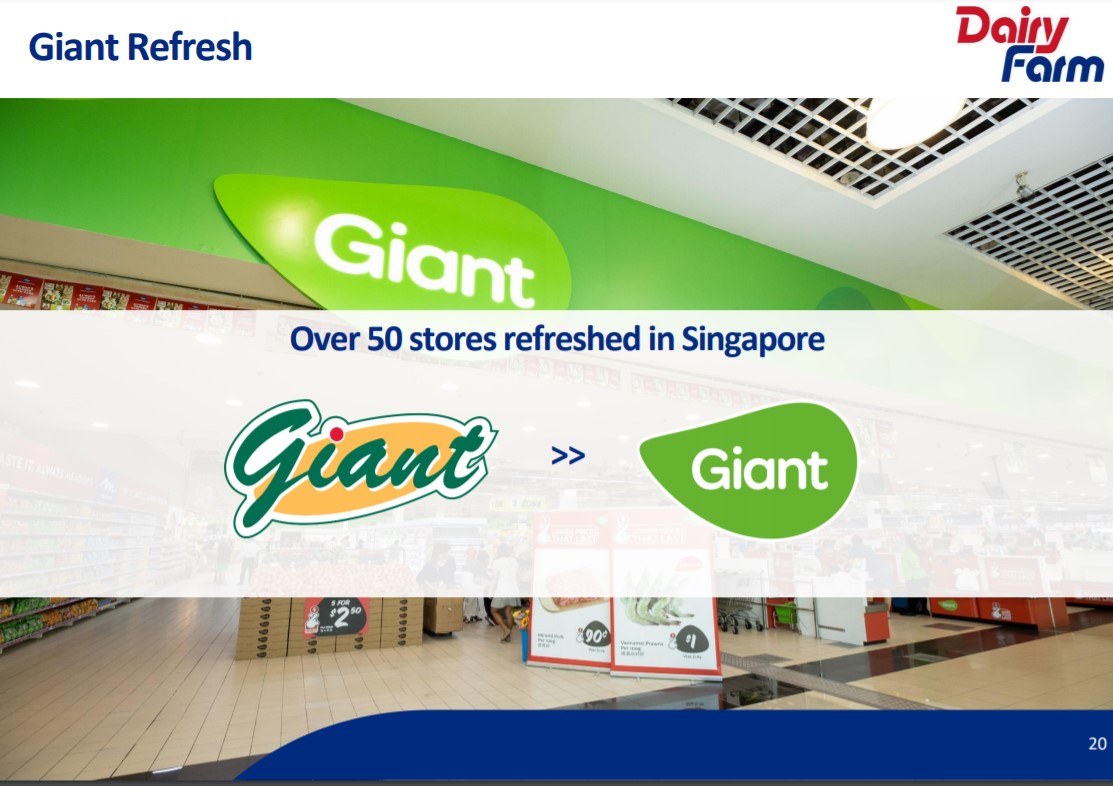 Source: Dairy Farm's FY 2020 Presentation Slides
The group successfully relaunched over 50 Giant stores in 2020 with a new logo and a fresh approach to merchandising.
All stores have been refreshed and refitted with a major facelift and space reallocation.
As a result, Giant has experienced its strongest same-store-sales growth since 2013.
Dairy Farm's upscale grocery stores, CS Fresh and Mercato, also feature improvements in product range, availability and freshness.
New pilot concept stores that emphasize fresh foods and organic and wellness products have performed strongly.
Launch of Meadows
Dairy Farm also launched an in-house brand called Meadows across all retail formats in Hong Kong, Singapore and Malaysia.
Over 600 items have been launched across various categories at lower prices.
Meadows has been introduced in both 7-Eleven convenience stores and Mannings and makes use of international sourcing along with effective in-store marketing and packaging to boost sales.
Customer feedback has been very positive, with strong recall and the perception of high quality and value.
Introduction of Yuu Rewards
In July last year, Dairy Farm launched the Yuu Rewards programme, representing Hong Kong's biggest rewards club.
This programme links more than ten household brand names with affiliate partners such as Hang Seng Bank Ltd (SEHK: 0011) and Pizza Hut and KFC of Yum! Brands (NYSE: YUM), across more than 2,000 locations in the country.
The purpose of the launch is to generate stronger customer loyalty and deepen engagement.
The programme is a huge success, with over three million members joining in just five months.
Yuu Rewards was also the most downloaded app in 2020, and over 50 billion points have been earned since its launch.
Get Smart: Scaling up e-commerce
Two years ago, Dairy Farm admitted to being slow to adapt to the e-commerce wave that's sweeping across the world over the last decade.
However, to its credit, the group has been accelerating the pace of its digital adoption.
Aside from Yuu Rewards, management has also invested in infrastructure supporting the Health and Beauty division in both Hong Kong and Southeast Asia.
Also, a marketplace app was launched last year with enhanced capability to support fulfilment.
The pandemic may have left an indelible mark on the group's business, but with the strategic initiatives, digitalisation and rebranding efforts being pursued, Dairy Farm may see better days ahead.
10 Growth Stocks To Supercharge Your Portfolio! In our latest special FREE report, we cover 3 unstoppable growth trends and the 10 stocks that will ride them in 2021 and beyond! CLICK HERE to download now!
Follow us on Facebook and Telegram for the latest investing news and analyses!
Disclaimer: Royston Yang does not own shares in any of the companies mentioned.