The COVID-19 pandemic has pushed many companies to digitalise their operations and processes.
Traditional cash payments, in particular, could be on its way out.
Many countries have adopted digital payments to reduce the need for physical cash.
The pandemic has made it even more urgent for this trend to accelerate as the handling of cash is one source of transmission for the coronavirus.
In the digital payments space, two dominant, global players are Visa (NYSE: V) and Mastercard (NYSE: MA).
Each company has tie-ups with numerous financial institutions and merchants globally.
Their credit and debit cards help to facilitate billions of transactions daily.
Both Mastercard and Visa are slowly but surely moving into the financial technology space to boost their capabilities and offerings.
Last year, Mastercard concluded its largest acquisition ever by purchasing Danish payments firm Nets' corporate business for US$3.2 billion.
Not to be outdone, Visa acquired financial services application programming interface (API) start-up Plaid for US$5.3 billion in January this year.
With both companies neck and neck in terms of clout and track record, which makes the better buy?
Let's look at a few aspects of each company to determine this.
Revenue and profit growth

Looking at Visa and Mastercard's latest quarter (before the pandemic hit), revenue growth was healthy for both companies but was higher at 9% for Visa versus just 3% for Mastercard.
Net income and operating income growth were also positive for Visa, while Mastercard suffered a fall in year on year net income.
However, Mastercard's net income was negatively impacted by fair value losses on investment securities.
If we adjust for this, Mastercard's net income grew by 1% year on year.
Winner: Visa
Operating and net margin

Next, we move on to margins to assess how efficient each company is at generating profits per dollar of revenue.
Visa has an impressive 67% operating margin and a high net margin of 52.7%.
Mastercard's operating margin was a full 12 percentage points lower than Visa's, while its net margin also trails behind Visa at 42.2%.
Winner: Visa
Payments volume and growth

Both companies generate revenue from payments made by users of their credit and debit cards.
A fee is charged to each merchant that uses Visa or Mastercard-branded credit and debit cards, and this fee is tied to a percentage of the gross merchandise value (GMV) of the transaction.
The payment processors also earn a fee from the total volume of transactions made during each period.
These are the two main sources of revenue for the two payment firms, and a glance at the payment volume numbers for each can indicate future growth potential.
Visa has a higher payment volume at US$2.1 trillion for the quarter, while Mastercard's volume stands at US$1.6 trillion.
However, Mastercard has shown better year on year growth in payments volume, at 8% versus 3% year on year for Visa.
Winner: Mastercard
Valuation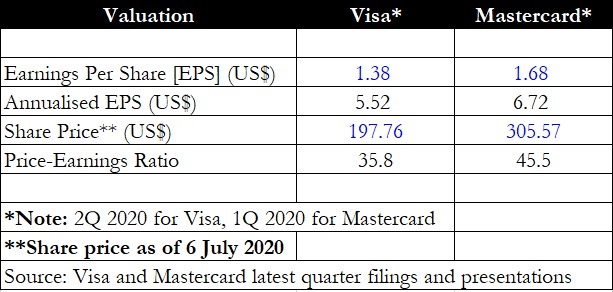 An analysis of both companies would not be complete without looking at the valuation to assess how expensive each business is.
We used the earnings per share (EPS) for each company and then annualised it (i.e. multiplied it by four) to estimate the full-year EPS.
Based on the most recent share price, Visa is trading at a price-earnings ratio of 35.8 times, while Mastercard seems much more expensive at 45.5 times.
Winner: Visa
Get Smart: Visa is the better buy
Visa appears to be the better buy with higher growth rates for revenue and net profit, better margins and a lower valuation.
However, investors should note that this is just a snapshot of one quarter's numbers.
To get a more complete picture of each company, we should ideally use an average of five years' worth of financial and operating data.
Other aspects such as dividend policy and acquisition history should also be scrutinised by an astute investor.
Besides, investors who cannot decide on which is the better payments company always have a choice to buy both.
After all, both companies are enjoying strong growth tailwinds from the digitalisation of both data and payments.
We are embarking on a very special journey to build our wealth… and would like to invite you to join us!
Together.. we'll uncover the next rising stars of the stock market…
add them for our portfolios in the right mix and combination…
and together we'll see them grow and shine and grow our wealth for our future and our children's futures..
If you'd like a chance to join us on this profitable journey, just key in your email below to receive your exclusive invitation when we open All Stars.
Click here to like and follow us on Facebook and here for our Telegram group.
Disclaimer: Royston Yang owns shares in Visa and Mastercard.