I don't know why I didn't do it earlier.
But here I was in Omaha, at the centre of the Woodstock for Capitalists.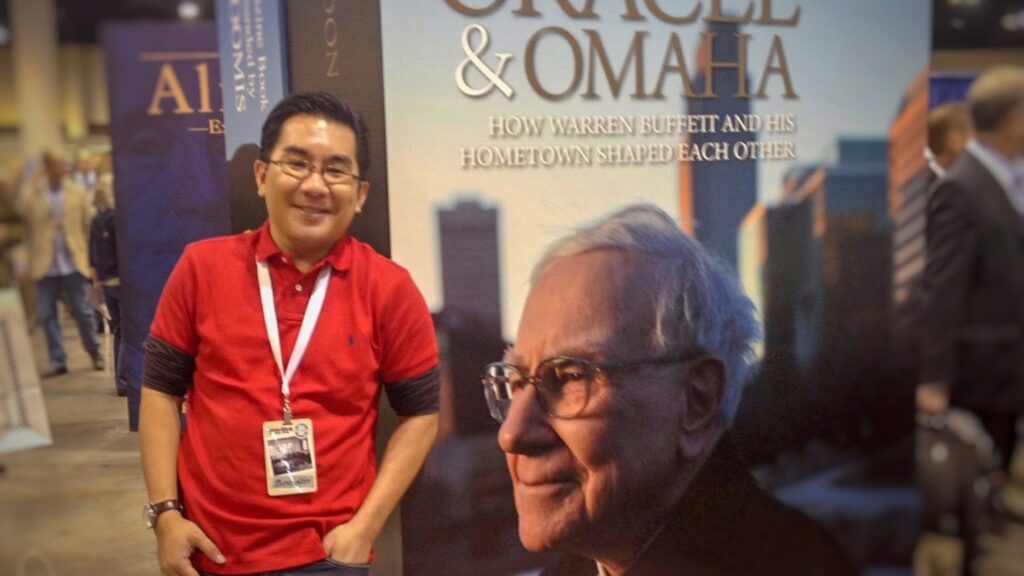 I am talking about the Berkshire Hathaway (NYSE: BRK.B) Annual General Meeting (AGM), of course.
The year was 2013, exactly 10 years ago.
But the memories are as fresh as yesterday.
There is no AGM that comes remotely close to this Berkshire Hathaway's annual event.
No, it's not just a bunch of executives passing resolutions as fast as they can.
This event was attended by 40,000 people, all descending on the town of Omaha, Nebraska.
It's a celebration of businesses, investing and most of all, the chance to learn from Warren Buffett and Charlie Munger.
Here's five reasons why this event is worth your time:
1. A full day of investing lessons
Attending the Berkshire Hathaway AGM may be the single fastest way to learn about the ins and outs of multiple key US industries.
The big four, as he calls it, are Berkshire Hathaway's property and casualty insurance business, Burlington Northern Santa-Fe's railroads, Berkshire Hathaway Energy's assets and its ownership of almost US$160 billion shares of Apple (NASDAQ: AAPL).
Buffett's conglomerate also plays host to a wide variety of other businesses, ranging from batteries (Duracell), home building (Clayton Homes), undergarments (Fruit of the Loom), manufacturing (Precision Castparts) and more.
There are few bigger treats than to watch Buffett and Munger breaking down major industries into simple, understandable terms.
2. Investing advice delivered, gently
Warren Buffett credits Ben Graham as a major force in shaping the way he invests.
But it was not just about the lessons that Graham brought to the table.
In Buffett's own words, he said that "Although [Graham's] ideas were powerful, their delivery was unfailingly gentle."
It's fair to say that Buffett is paying it forward by keeping his explanations simple and easy to understand for shareholders and the general public.
There will not be any high-sounding language or complicated concepts.
Instead, you can expect nuggets of investing wisdom that you can adopt on your own.
3. Learning as a tribe of like-minded investors
When I was in Omaha a decade ago, the atmosphere was quite unlike anything that I had experienced as an investor.
Fellow shareholders often wore their Berkshire Hathaway AGM tickets even before the event, identifying themselves as a fellow traveller on the journey of investing.
Therein lies a lesson: Learning about investing does not need to happen alone.
At The Smart Investor, we have a thriving community of like-minded investors.
All looking to improve themselves.
All focused on buying the best businesses we can find.
If you would like to join us, click HERE
4. Mistakes were made; learn from them
Even the best investors in the world make mistakes.
Buffett, for one, does not shy away from them.
If there is a major error on his part, you can expect Buffett to be upfront about his failings, often addressing them right at the start of the AGM.
In 2011, David Sokol, a key executive within Berkshire Hathaway's ranks, ran afoul of the company's code of ethics when he purchased shares of Lubrizol before Berkshire Hathaway bought out the company.
Tellingly, it was Sokol who brought the idea of acquiring Lubriozol to Buffett.
Initially, Buffett did not express any displeasure upon finding out about Sokol's deed.
But at the 2011 AGM, the Oracle of Omaha admitted that he was wrong not to express outrage over Sokol's move.
Sokol has since resigned.
5. An ode to life-long learning
Buffett will turn 93 years old in 2023.
But if you believe in the adage that an old dog cannot learn new tricks, you'll be wrong.
The Oracle of Omaha has shown his willingness over the years to let go of old ideas and concepts and adapt to new trends and environments.
After publicly disparaging tech stocks at the height of the dotcom bubble in 2000, Buffett now has Apple shares making up close to 47% of Berkshire Hathaway's stock portfolio.
As investors, we cannot afford to be set in our own ways.
The world will change.
And so, we have to be willing to learn new things, keep our feet on the ground and commit to a lifelong process of learning.
I am sure that Buffett will approve, too.
Get Smart: The Apple of Buffett's Eye
The most interesting thing Warren Buffett said during this year's AGM was to admit that Apple is a better business than all the many businesses that Berkshire Hathaway owns.
Here's the thing: the Oracle of Omaha had already expressed admiration for the big five tech companies namely Alphabet (NASDAQ: GOOGL), Apple, Amazon (NASDAQ: AMZN), Meta Platforms (NASDAQ: META), and Microsoft (NASDAQ: MSFT) back in 2017.
During an interview with CNBC, he said:
"I did mention one thing at the meeting, which I don't think people appreciated– at all. Is if you take say the five largest businesses in the country by market value, you're probably– and assuming Berkshire is in there. It flips in and flips out.

Let's assume we're out.

Those five businesses have a market value of $2.5 trillion or more, you know, starting with Apple.

You could run those five businesses with no equity capital. So you have close to 10% of the market value perhaps of the United States in five extremely good businesses that essentially take no capital.

Now that was not the case in the past.

I mean, if you were at the turn of the century and you were talking about U.S. steel and the big railroads and all that, you made large sums or Rockefeller with the oil business by earning money with refineries or– steel mills."
Investors who bought those five companies in 2017 would be happy campers today.
Of course, that is in the past.
The next best time to invest is today.
It's hard to ignore the incredible progress that AI technology has made in recent years. And it could change how we work and invest in the near future, just like how the internet and iPhone did in the early 2000s. Download our Special Free Report and prepare for what could be the biggest game-changing tech for many companies. Click here to download.
Follow us on Facebook and Telegram for the latest investing news and analyses!
Disclosure: Chin Hui Leong has owned shares of Apple, Alphabet, and Berkshire Hathaway for over a decade and continues to do so. He also owns shares of Meta Platforms and Microsoft.