On 22 January 2020, CapitaLand Mall Trust (SGX: C38U), the owner of 15 shopping malls in Singapore, proposed a merger with CapitaLand Commercial Trust (SGX: C61U), its office property-owning counterpart.
The new entity will be called CapitaLand Integrated Commercial Trust and will have to be approved by unitholders
With the date of both REITs' EGMs looming, here are seven key points that investors should take note of.
1. Asia's third-largest real estate investment trust (REIT)
The merger will propel the combined entity to become Asia's third-largest REIT, behind Hong Kong's Link REIT (SEHK: 0823) and Australia's Scentre Group (ASE: SGC).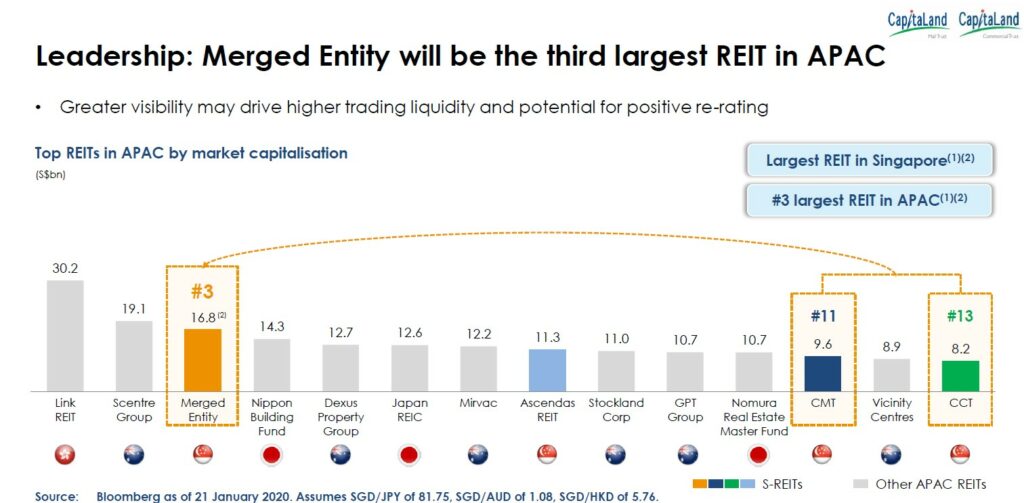 Source: CapitaLand Mall Trust's announcement
The merged entity will also be, by far, the largest REIT in Singapore with the second largest being Ascendas REIT (SGX: A17U), another CapitaLand-owned REIT.
2. Stronger together
Size alone matters little if the merged entity does not take advantage of it.
In this case, the proposed combination does provide the combined REIT with the financial muscle to take on larger deals.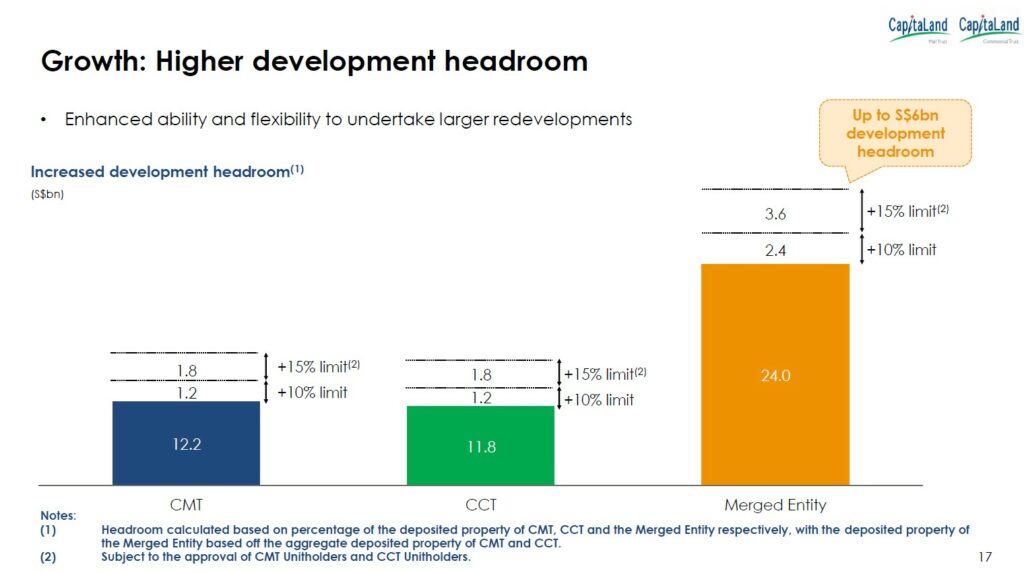 Source: CapitaLand Mall Trust's announcement
Based on projections, the merger of the two REITs will provide it with a total redevelopment headroom (for redevelopment and asset enhancements) of S$6 billion as opposed to S$3 billion each before the merger.
The headroom would provide more optionality for growth in the future.
3. Going international
Also, CapitaLand Mall Trust has indicated that the combined entity will have the flexibility to undertake up to US$4.6 billion in overseas acquisitions while maintaining most of its exposure in Singapore, representing 20% of the combined entity's portfolio value.
At the moment, the merged entity is expected to have a 4% exposure to overseas properties, courtesy of CapitaLand Commercial Trust's German properties.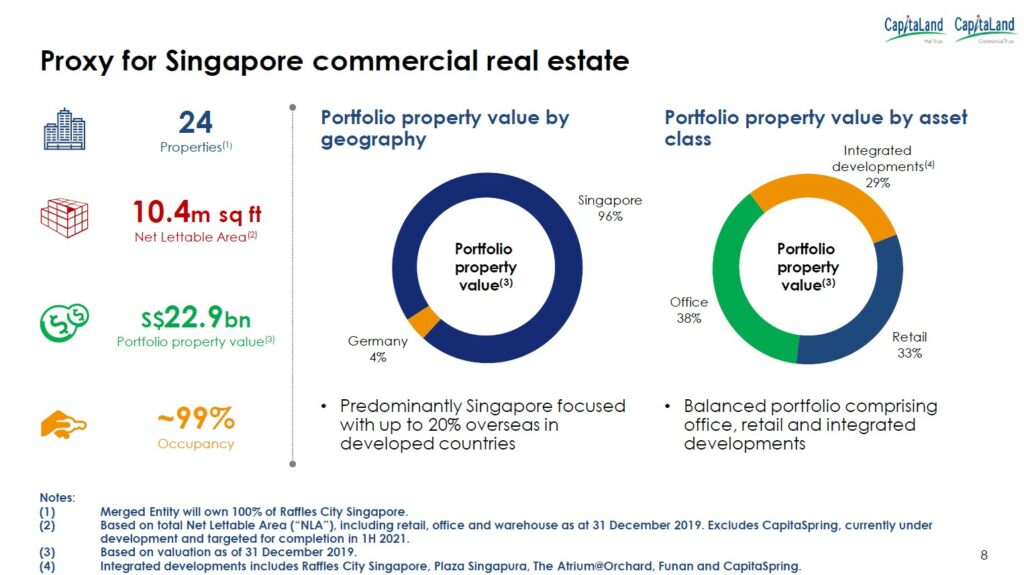 Source: Proposed merger presentation
The intention is to earmark up to 20% of the merged portfolio property value for overseas assets while maintaining a strong 80% Singapore base.
CEO of the REIT manager for CapitaLand Commercial Trust Kevin Chee has indicated that there is a high interest in other cities of Germany, building upon its current experience in the country.
Tony Tan, the CEO of REIT manager for CapitaLand Mall Trust, also stressed that the overseas targets will be in developed markets. As such, a further merger with CapitaLand Retail China Trust (SGX: AU8U) is not on the cards at the moment.
Tan, however, did mention Australia and Japan as possible countries to explore in the future.
4. Making the most of scale
Scale will also reduce the concentration of specific assets.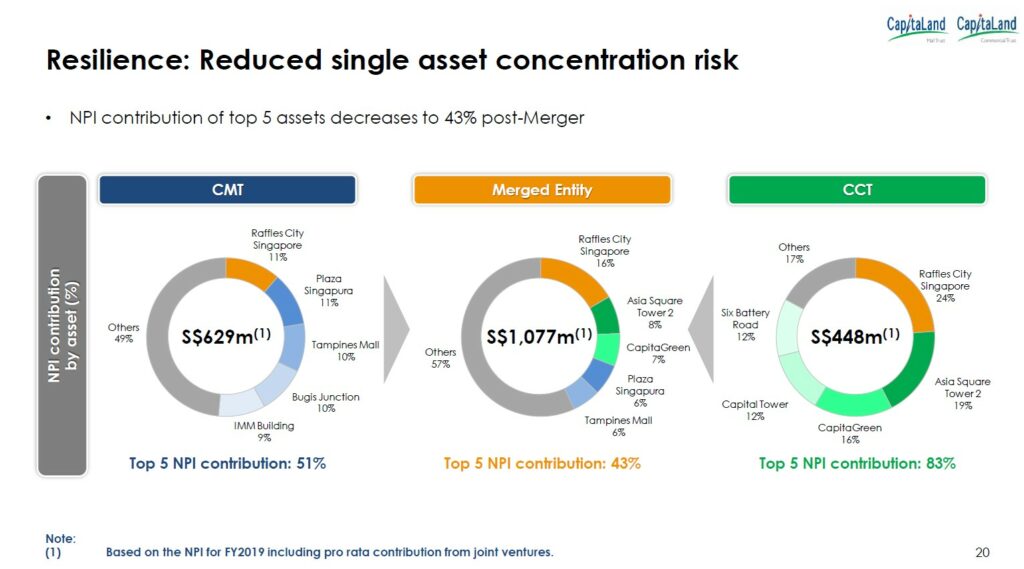 Source: CapitaLand Mall Trust's announcement
Before the merger, Raffles City Singapore accounted for a sizable portion of both REIT's total net property income (NPI). With the merger, the property is expected to account for 16% of total NPI, a reduction from the current 24% NPI concentration at CapitaLand Commercial Trust.
The reduced concentration will provide flexibility for CapitaLand Integrated Commercial Trust to perform asset enhancements on smaller properties such as Lot One with minimal disruption to unitholder distributions.
At the same time, the merger will also increase debt headroom by S$2.9 billion.
For instance, ION shopping mall, a mainstay within Singapore's Orchard Road, could be a candidate in the future.
We don't have confirmation that ION would indeed be a target.
However, we noted that Tan was coy when asked — he simply stated that he 'likes' ION. Tan added if you want to be in Orchard Road, ION would be 'the asset to own'.
Editor's note: Tan's comments were made in January this year, prior to the circuit breaker.
5. Integration for the future
Before the merger, CapitaLand Mall Trust and CapitaLand Commercial Trust were already sharing the Raffles City Singapore integrated development, which includes offices, a hotel and retail.
Within Singapore, there is a trend towards similar mixed-use developments.
CapitaLand Mall Trust noted that Government Land Sales (GLS) for mixed-use development has increased almost four times from 22,800 square metres (sqm) between 2012 and 2015 to 85,800 sqm between 2016 and 2019.
Funan, which reopened in mid-2019, was also designed to be a lifestyle destination where people can live, work and play.
There are benefits of combining retail and commercial buildings. If you have been to Funan during lunchtime, the place is teeming with office folks looking for good places to eat.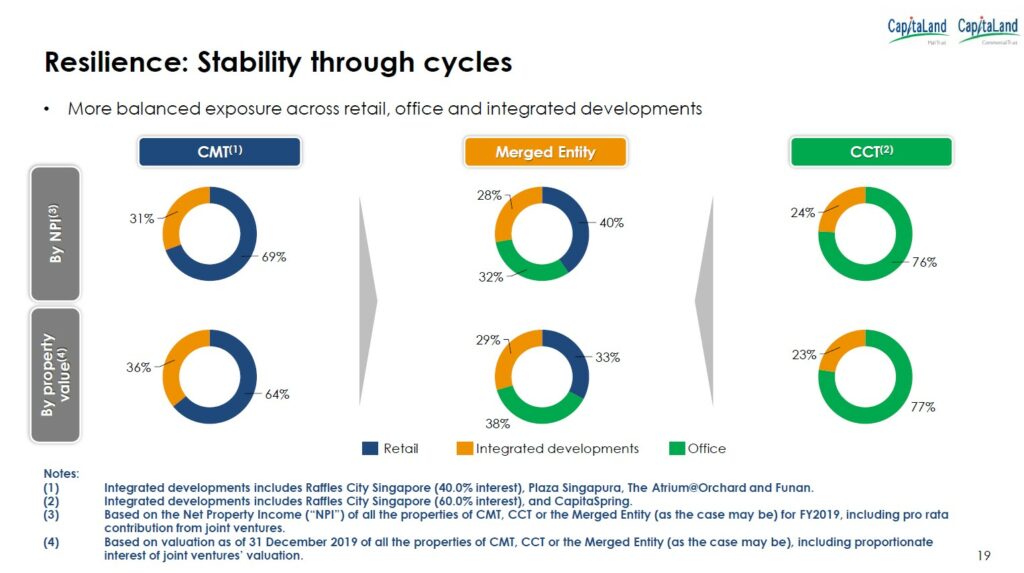 Source: CapitaLand Mall Trust's announcement
CapitaLand Commercial Trust CEO Kevin Chee also said that the move to integrate the properties is also an act to 'future-proof' the REIT's assets to where current trends are headed.
6. Mechanics of the deal
Unitholders of CapitaLand Commercial Trust will be offered 0.72 new units of CapitaLand Mall Trust (worth around S$1.86 based on a unit price of S$2.59) together with S$0.259 in cash.
In terms of cost, it will require a hefty S$999.1 million in cash and the issue of 2.78 billion new units of CapitaLand Mall Trust based on a unit price of S$2.59. The new units are expected to increase the number of units under CapitaLand Mall Trust by over 76%.
The distribution per unit and the net asset value are expected to show modest increases of 1.6% and 1.5%, respectively.
The originally-announced timeline was to arrange for the respective EGMs to vote on the deal by May 2020, as well as convene a scheme meeting within the same month. However, the implementation of the circuit breaker measures resulted in a delay.
The deal was supposed to have closed by June 2020.
Since then, the two REITs have entered into a supplemental agreement to extend the long-stop date for the transaction from 30 September 2020 to 30 November 2020.
CapitaLand Mall Trust's EGM will now be held on 29 September 2020 at 10:30 a.m. to vote on the merger.
For unitholders, the deadline for the submission of questions relating to the EGM is 26 September 2020 at 10:30 a.m.
For CapitaLand Commercial Trust, two consecutive meetings will be held on the same day.
The first is the EGM to be held on September 27, 2020, at 2 p.m., and the second is the trust scheme meeting to be held immediately afterwards, or at 2:30 p.m, whichever is earlier.
Unitholders have until 2 p.m. on 26 September 2020 to pre-register for the EGM and/or the trust scheme meeting should they wish to participate.
If all the resolutions are approved and the merger goes through, the last day of trading for CapitaLand Commercial Trust's units will be on 16 October 2020.
Delisting of CapitaLand Commercial Trust is expected to take place on 3 November 2020.
To sweeten the deal, the REIT manager of CapitaLand Mall Trust has decided to forgo its acquisition fee of S$111.2 million if the merger goes through.
7. Risks to watch
It's not all sunshine and roses, of course.
The combined entity was projected to have aggregate leverage of 38.3%, as opposed to 32.9% at the end of December 2019 for CapitaLand Mall Trust and 35.1% for CapitaLand Commercial Trust.
The rise in gearing is due to the additional debt taken by CapitaLand Mall Trust to pay for the S$0.259 cash component of the deal.
The addition of the commercial properties into CapitaLand Mall Trust will introduce rental volatility into the equation, as the demand for commercial property has historically been cyclical.
Get Smart: Decisions to make
We do like where CapitaLand Mall Trust and CapitaLand Commercial Trust are headed.
The merger should make the combined entity stronger and more resilient, necessary traits that can help the new REIT to survive this prolonged crisis.
With share prices battered to multi-year lows, many attractive investment opportunities have emerged. In a special FREE report, we show you 3 stocks that we think will be suitable for our portfolio. Simply click here to scoop up your FREE copy… before the next stock market rally.
Click here to like and follow us on Facebook, here for our Instagram group and here for our Telegram group.
Disclosure: Chin Hui Leong owns shares in CapitaLand Mall Trust.