Editor's Note: This article, first published on 4 September, has been updated with the latest information on FCT's fund-raising and the timeline for the acquisition of ARF.
Frasers Centrepoint Trust (SGX: J69U), or FCT, has announced more details of its fundraising exercise for the purchase of a 63.1% stake in AsiaRetail Fund Limited.
The equity fundraising exercise, involving the issuance of new FCT units, was announced on 28 September and involves two components: a private placement and a non-renounceable preferential offering.
A total of 244.68 million new units were issued under private placement at a price of S$2.35 per unit, representing a discount of around 6.6% to the volume-weighted average price (VWAP) of S$2.5171.
The private placement was well-received and was 2.8 times subscribed, raising a total of S$575 million.
The preferential offer for existing unitholders will be issued at S$2.34 per unit. For every 1,000 existing units held, unitholders will be entitled to take up 290 new units.
Upon completion, there will be issuance of around 324.64 million new units. A total of S$759.7 million is expected to be raised through this offer.
In total, 569.32 million new units will be issued and S$1.334 billion is slated to be raised.
FCT currently has around 1.12 billion units in issue. The fund-raising exercise will, therefore, increase the number of issued units by around 50%.
On another note, existing unitholders will be receiving an "aggregate distribution" amounting to the distributable income available up to the day before the announcement of the private placement.
The actual amount has not been determined.
However, based on current estimates, it should amount to around S$0.02804, which includes a retained distribution of S$0.01681.
The gross proceeds from the equity fundraising will amount to S$1.33 billion, where S$1.02 billion will be used to pay for the ARF transaction.
Another S$32.1 million will be for the payment of transaction-related fees, professional fees and stamp duties relating to the ARF purchase, while the remaining S$284.9 million will be used to pay down existing loans of the REIT.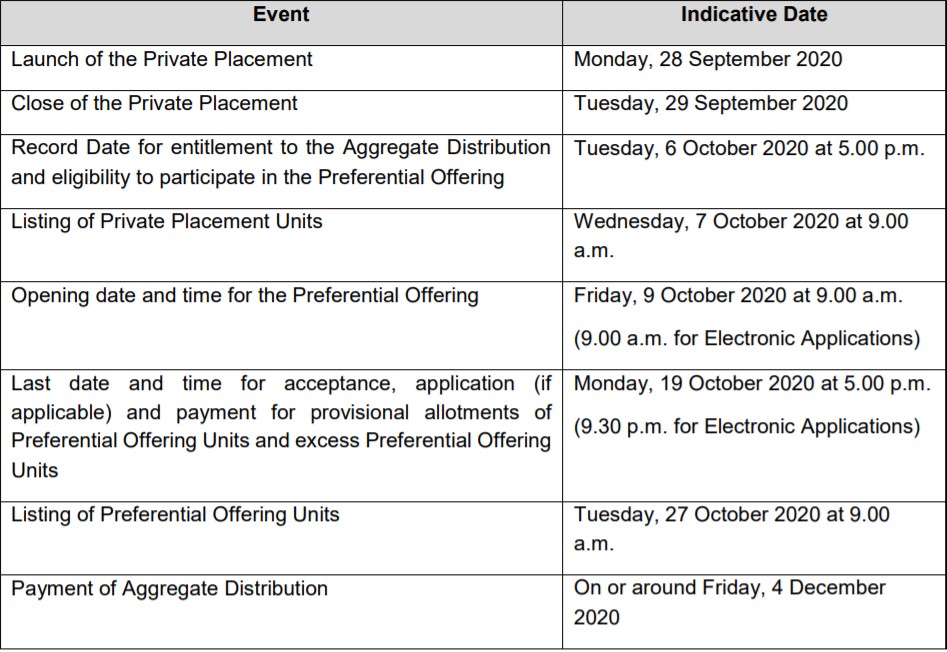 Source: FCT's announcements
The above table is a timeline of events that will take place in relation to the fundraising.
Key dates that unitholders should take note of are:-
Preferential offer opening date and time of 9 October at 9 a.m.
Preferential offer closing date and time of 19 October at 5 p.m.
Listing of the preferential units on 27 October at 9 a.m. (the units should be credited to your account by then)
Payment of aggregate distribution (to be determined) on 4 December.
——————————————————————————————————
On 3 September, Frasers Centrepoint Trust (SGX: J69U), or FCT, announced plans to acquire 63.1% in AsiaRetail Fund Limited ("ARF") for S$1.06 billion, as well as to divest its current stake in Bedok Point.
The deal is significant, as it will almost double its retail space.
FCT had already acquired an initial stake of 17.1% in ARF as far back as April 2019 and had raised its stake progressively to 36.9% before this announcement.
What is ARF?
ARF owns a portfolio of five suburban malls in Singapore – Tiong Bahru Plaza, White Sands, Hougang Mall, Century Square and Tampines 1, as well as a commercial property Central Plaza.
The total valuation for these assets is S$3.066 billion as of 1 August 2020.
ARF's retail assets (excluding Central Plaza) have a net lettable area (NLA) of 1.1 million square feet and generate a net property income (NPI) yield of 5%.
These acquisitions will increase FCT's retail mall property portfolio from the current seven properties to a total of 11, while NLA will increase by 64% to 2.3 million square feet.
However, before FCT completes the acquisition of ARF, ARF will divest a retail mall called Setapak Central for around S$39.7 million to a wholly-owned subsidiary of the sponsor, Frasers Property Limited (SGX: TQ5).
This move ensures that ARF's portfolio consists of only Singapore-based assets.
Separately, FCT also announced its intention to divest Bedok Point for a sale price of S$108 million.
An equity fund raising (EFR) exercise has been proposed by the manager to raise around S$1.3 billion to fund the acquisition of ARF.
Here are five reasons why we believe these transactions are attractive for FCT.
1. Enlarged presence
With the acquisition of 100% of ARF, FCT will significantly increase its total assets from S$3.96 billion as of July 2020 to S$6.65 billion.
FCT's portfolio has been growing consistently since its IPO in 2006 where its total assets stood at just S$955 million.
Through this transaction, FCT is expected to become the eighth-largest Singapore REIT by market capitalisation, catapulting its value from S$2.8 billion today to S$4.1 billion.
In terms of free float, FCT will also rank within the top 10 Singapore REITs with a S$2.6 billion free float.
This increase in market capitalisation and free float will ensure the REIT takes up a higher weight in the FTSE EPRA/NAREIT Index, thus driving higher trading liquidity.
With a larger size, the REIT also has better clout when it comes to negotiating for deals and deal terms.
2. Reduced tenant concentration risk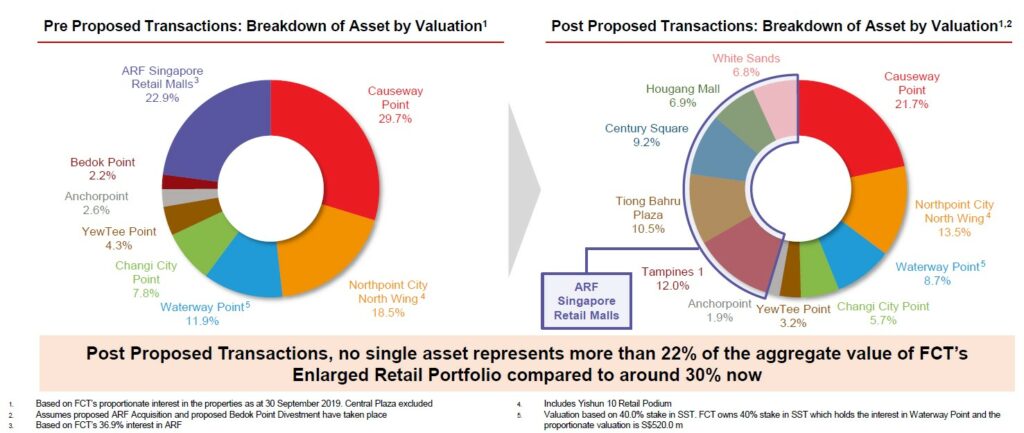 Source: FCT's Presentation Slides
The second thing we like about the acquisition is FCT's reduced concentration risk from any single asset.
As per the graphic above, before the announcement, Causeway Point took up nearly 30% of assets by valuation.
Post-transaction, FCT will have a more diversified profile for its 11 malls, and Causeway Point's contribution to asset valuation will fall to 21.7%.
3. Recycling of assets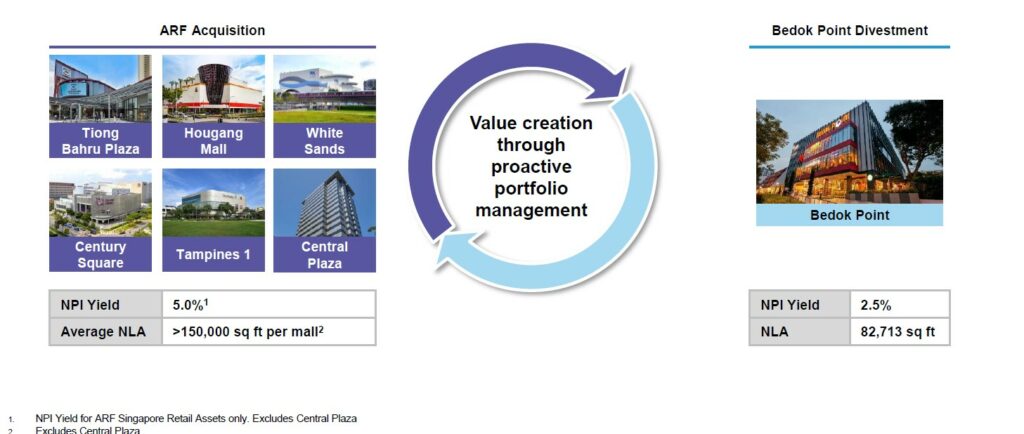 Source: FCT Presentation Slides
A key aspect of a great REIT manager is one who can perform effective asset recycling.
In a nutshell, this means selling off underperforming assets and acquiring assets with a higher return.
Per the diagram above, the retail assets of ARF have a combined NPI yield of 5%, while Bedok Point, the mall to be divested, has an NPI yield of just 2.5%.
This proactive portfolio management style benefits unitholders as they will enjoy an overall higher yield with the new assets, while the REIT rids itself of poorly-performing properties.
4. Doubling down on suburban retail malls
Through this acquisition, FCT has demonstrated its commitment to growing its suburban retail mall portfolio.
This asset class has attractive characteristics despite the challenges brought on by the COVID-19 pandemic.
Suburban retail malls generally have around 40% of their NLA devoted to essential services, which have been allowed to continue operating through Singapore's circuit breaker period.
The enlarged retail portfolio will have around 45.2% of its NLA catered to essential services, which allows for a more resilient portfolio compared to one that owns centrally-located malls.
Furthermore, ARF portfolio's total tenant sales have also demonstrated a strong recovery in July, down just 0.7% year on year even though shopper traffic was down 40.1% year on year.
For FCT's current portfolio, where tenant sales have recovered from being down over 60% during the depths of the circuit breaker to down just 3% year on year in July, shopper traffic remains 38.5% below its peak.
5. DPU accretive
The last, but probably most important point, is that the transactions are expected to be distribution per unit (DPU) accretive.
This news will be sweet music to a dividend investor's ears.
For the fiscal year ended 30 September 2019 (i.e. FY 2019), DPU is expected to increase from S$0.1199 to S$0.1302, up 8.6%.
And if we use the pro-forma 9-month fiscal year 2020 numbers (excluding rental rebates given to tenants), DPU is projected to increase from S$0.0903 to S$0.0945, for an increase of 4.7%.
Want to know what stocks we like for our portfolio? See for yourself now. Simply CLICK HERE to scoop up a FREE copy of our special report. As a bonus, we also highlight 6 blue chips stocks trading at a 10-year low. But you will want to hurry – this free report is available for a brief time only.
Click here to like and follow us on Facebook, here for our Instagram group and here for our Telegram group.
Disclaimer: Royston Yang does not own shares in any of the companies mentioned.