The Warren Buffett quote "Be greedy when others are fearful" is one that is probably most often cited but yet rarely practised in the stock market.
While some might be fearful of buying bank stocks now, I beg to differ.
Here are 3 reasons why I remain bullish on Singapore banks.
Declining NIMs, Rising Net Income
Some investors are concerned that a rate cut will negatively impact banks' earnings.
After all, banks earn money by charging businesses/individuals a higher loan interest rate and paying depositors a lower deposit rate.
The difference is called Net Interest Income (NII). NII divided by the average interest-earning assets is a bank's Net Interest Margin (NIM).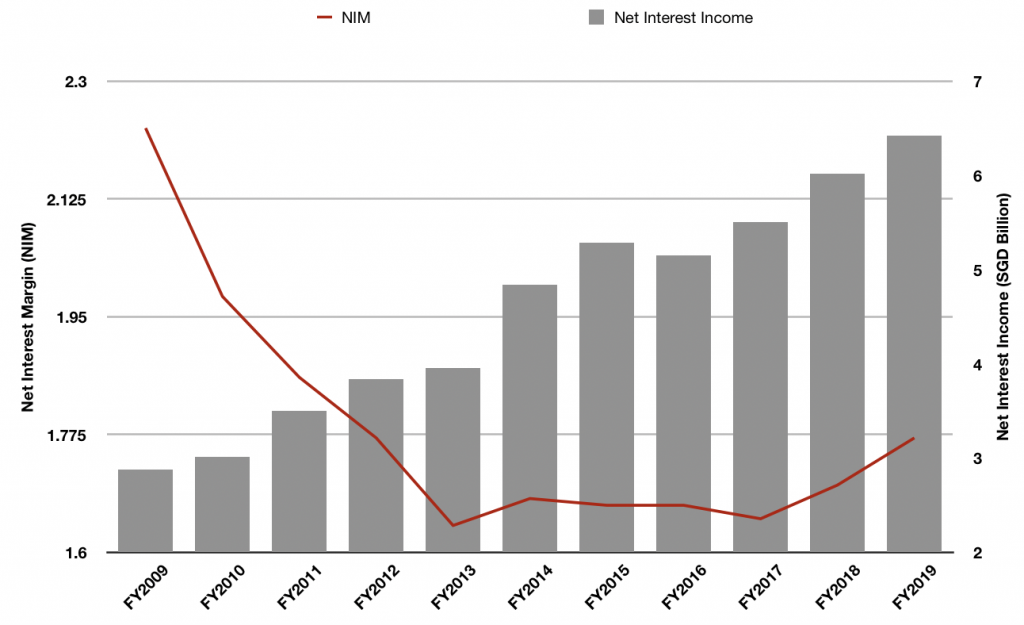 Source: OCBC Bank's Annual Reports; Author's Compilation
While these concerns are valid, it is worthy to note that another way banks make money is by gathering assets.
And because Singaporeans are still depositing a portion of their income in the bank, the banks are still able to loan out money.
This is the reason why we still see OCBC's net interest income rising as seen in the graph above, despite the fall in NIMs over the last 10 years.
Valuations
It is of my opinion that no matter how good the company may be, it still all boils down to valuations.
After all, a good company at a bad price can still result in a bad investment.
Using OCBC as an example, one would be able to see how cheap the bank's valuations are at this current point in time.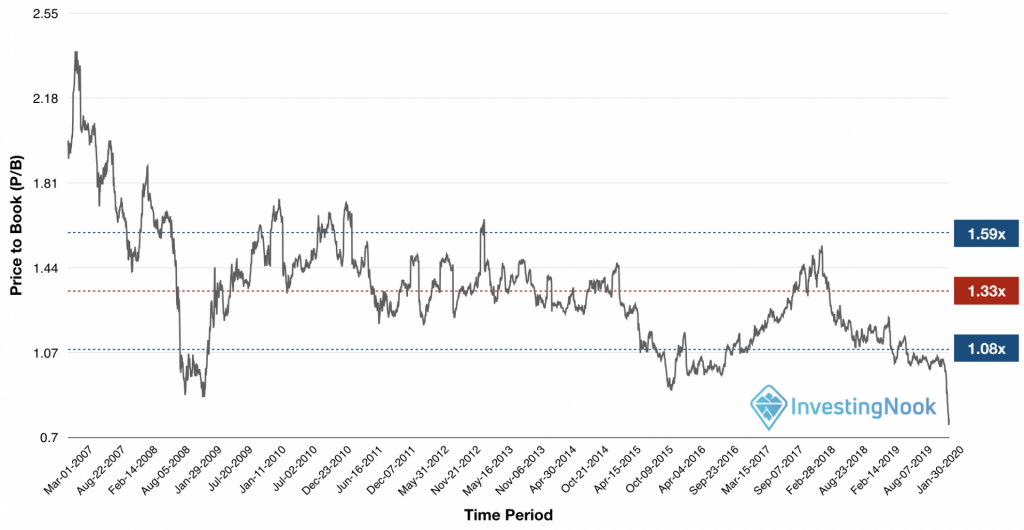 The current P/B ratio of 0.79x is at an all-time low even when compared to the past few crises – the 2008 Global Financial Crisis and 2016 Singapore Property Downturn.
Some may be concerned that current valuations are below that of the Global Financial Crisis, implying that this crisis may turn out to be worse than the previous one. I believe that the bank's fundamentals are still sound. Singapore banks have cleaned up their balance sheets, and are very well capitalised at this point in time.
Above 6% Dividend Yield
Apart from the cheap valuations, the Singapore Banks on average are trading at an attractive dividend yield of above 6%.To be more accurate, OCBC's dividend yield is currently 6.8%.
The improvement in CET1 Capital Ratio over the years decreases the likelihood of a dividend cut as this gives the bank ample room above the regulatory requirements to pay dividends.
The last dividend cut undertaken by any of the banks was during the Global Financial Crisis.
However, the current situation is not comparable to the Global Financial Crisis as mentioned above, where the global financial system collapsed when credit quality of the banks came under pressure.
Furthermore, the Singapore Banks are currently maintaining a CET1 Capital Ratio of above 14%, well above regulatory requirements. The Singapore Banks' current CET1 Capital Ratio is even higher than their Tier 1 Capital Ratio as compared to the Global Financial Crisis, where the CET1 Capital Ratio had yet to be introduced.
Get Smart: Looking beyond the short term
The immediate outlook will undoubtedly look gloomy.
However, when I look back at each financial crisis, the outlook back then was also pessimistic and gloomy.
The Singapore Banks' valuations are cheap but it may get cheaper as the economy worsens and investors feel more pessimistic. In the short run, I have no idea as to where stock prices will end up.
All three banks have a strong balance sheet and predictable compounding power.
Historically, I also note that the banks have been achieving an annualised ROE of 11%.
In the long term, I am quite confident about the banks' fundamentals and growth prospects.
FREE special report: The Bear Market Survival Guide. If you'd like to learn how to survive this bear market, CLICK HERE to download our special free report.
Get more stock updates on our Facebook page or Telegram. Click here to like and follow us on Facebook and here for our Telegram group.
Disclaimer: The author has vested interest in OCBC & UOB at the time of writing.
An earlier version of this article first appeared on Investing Nook.