It has been a rough ride for shareholders of HongKong Land Holdings Limited (SGX: H78) in 2019. 
I know — because I am a shareholder myself.  
The share price fluctuation hasn't always been easy to stomach. Earlier in March this year, share prices rose to a high of US$7.51, only to fall to today's US$5.39. For those who are counting, that's a 28% decline over a period of just nine months. 
Let's not beat around the bush. 
It would be fair to say that the primary reason for the share price decline is the Hong Kong protests that have flared up over the past few months.
The concerns are not without merit. 
After all, a big part of Hongkong Land's property portfolio is located in Hong Kong, as shown in the presentation slide below.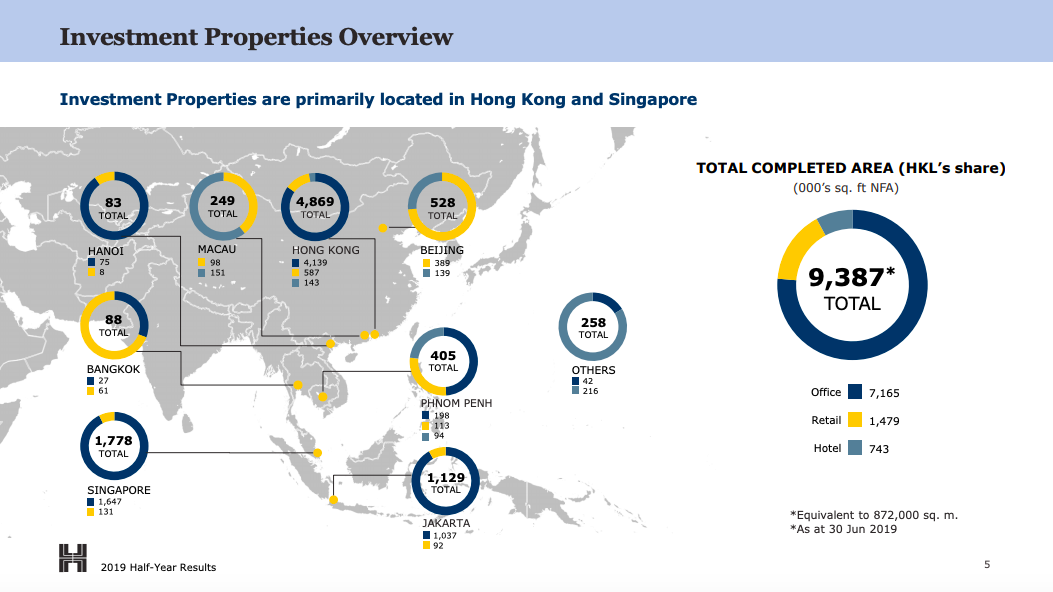 Source: Hongkong Land's 2019 first-half earnings presentation 
For context, the company's Hong Kong office portfolio accounts for 44% of the space it owns while the Hong Kong retail component contributes 6.3%, as at the end of 2019's first half. 
The average rent for the retail component, though, is more than two times higher compared to the office component, as shown in the presentation below.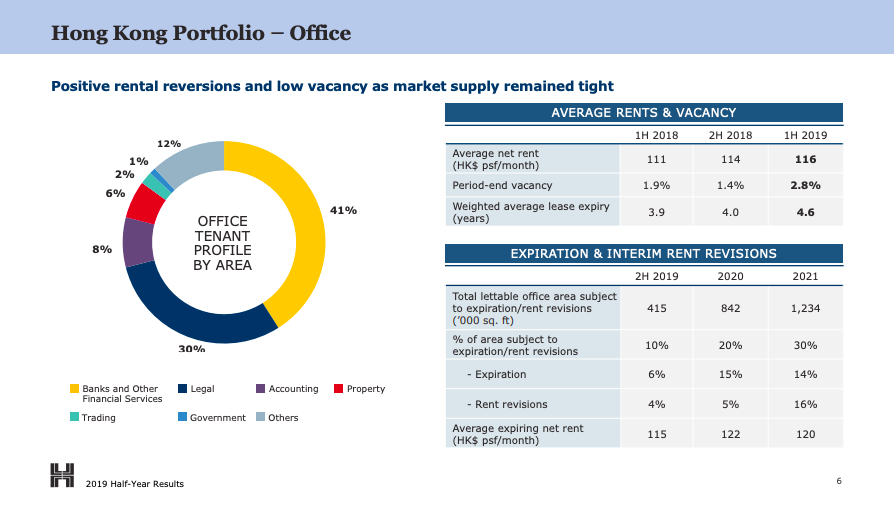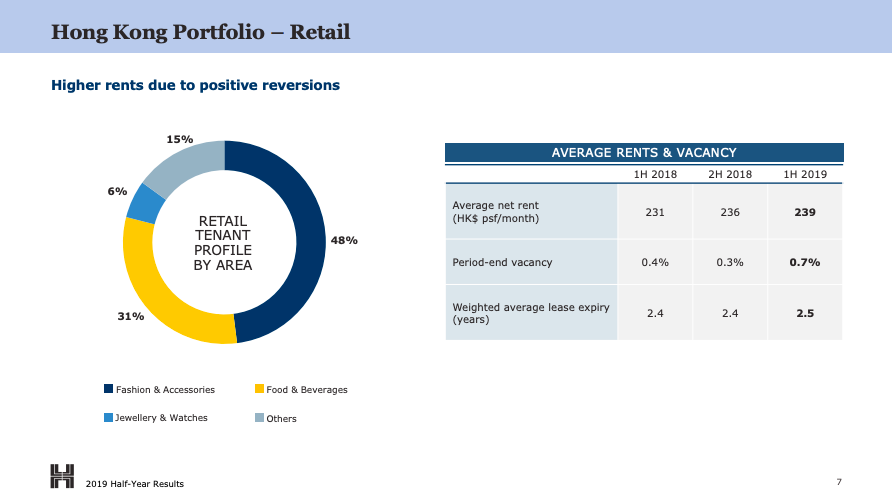 Source: Hongkong Land's 2019 first-half earnings presentation 
Silver lining among the dark clouds
Yet, I am not selling my shares. 
Despite the protests, it is important for investors to take a hard look at the positive side as well. In fact, I think there are reasons to be optimistic about the company:
1. Low lease renewals due in the near term 
Prior to the protests, Hongkong Land had already acted to lengthen their average lease term from 4 years at the end of 2018 to 4.6 years at the end of June 2019. 
During June's analyst briefing, CEO Robert Wong that the company has a "relatively modest level" of rent reviews due in the next 18 months.
2. A positive September update:
Hongkong Land provided a positive update during its interim management update for 2019's third quarter. 
Vacancy fell to 2.4% as of 30 September 2019, down from 2.8% at the end of June. Meanwhile, its Hong Kong retail portfolio remains fully occupied. 
Notably, both its Hong Kong office and retail portfolio actually recorded positive rental revisions as well.
3. Beyond Hong Kong
Hongkong Land's Singapore portfolio has grown to occupy almost 19% of its overall net lettable space. Vacancy fell to 1.3% at the end of September, down from 3.3% at the end of June. 
Looking ahead, the company has acquired a 49% stake in a British embassy site in Bangkok. Construction is expected to start in 2020 with a target completion date in the second half of 2025.  
Elsewhere, Hongkong Land has a 30% ownership of Beijing's CBD Z3 site. The company's joint venture partner, China International Capital Corporation (CICC), has signed up to be the anchor tenant for the site. If approved, the development is expected to start in 2020, with completion sometime between 2023 and 2024.
Get Smart: Keeping it real
There is no point in trying to hide from the facts on the table. 
Despite the positive results, there is the possibility that rental rates can decline for Hongkong Land. 
Retail sales in Hong Kong have declined for the first eight months of the year. That has had an impact. Property consultancy CBRE also reported that retail rental has fallen by 10.5% between July and September this year. 
Larger companies have not been spared. 
Henderson Land (SEHK: 0012) and Swire Properties (SEHK: 1972) were among the property developers that have offered temporary rental relief for its tenants. There is a possibility that Hongkong Land may eventually follow suit.  
For its part, the Hongkong Land management remains cautious about the potential future impact of social unrest. 
As investors, we may want to adopt the same attitude. 
At this juncture, It's important to remember that we don't have to invest everything at once. It is within our control to space out our investments as we assess developments in the years ahead.  
Get more stock updates at our Facebook page. Click here to like and follow us on Facebook.
If you'd like to learn more investing concepts, and how to apply them to your investing needs, sign up for our free investing education newsletter, Get Smart! Click HERE to sign up now.
None of the information in this article can be constituted as financial, investment, or other professional advice. It is only intended to provide education. Speak with a professional before making important decisions about your money, your professional life, or even your personal life. Disclosure: Chin Hui Leong owns shares of Hongkong Land.