At first glance, property owner and developer Hongkong Land Holdings Limited (SGX: H78) reported a severe 92% decline in profits for 2019.
Profits fell from US$2.46 billion in 2018 to less than US$200 million in 2019, a wide difference of US$2.2 billion in profits between the two years. 
The decline looks terrible, but it is not as bad as it looks.
1. So … what happened? 
The answer: investment property fair value gains and losses.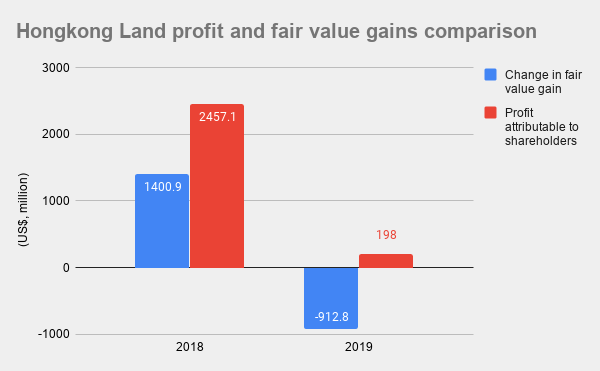 Source: 2019 earnings report
In 2018, Hongkong Land recorded a US$1.4 billion gain from revaluation. 
In 2019, the property developer gave back US$912 million in valuation losses. 
The net difference between the two years amounts to around US$2.3 billion, accounting for essentially all of that drastic 92% decline. 
Revaluation gains or losses do not impact the cash flow of the company. 
Basically, Hongkong Land's investment properties are appraised every six months. In this case, an independent valuer will assess the capitalization rates of its properties and the open market rents for the area. 
Because rental rates have declined (more on this below), the value of its Central properties has fallen as well. 
2. A better view 
It's no secret that operating conditions in Hong Kong have been tough. 
And that is an understatement. 
After experiencing street protests for many months, the Covid-19 outbreak could not come at a worse time. 
Economic activity has been greatly reduced and Hongkong Land has not been spared. 
Despite the odds, the Hong Kong-based property developer posted a 4% increase in underlying profit when you strip out the one-off revaluation gains and losses from 2018 and 2019. 
That's an admirable result in the face of all that has been happening. 
But can the income be sustained? 
For that, we have to dive deeper into a key part of Hongkong Land's underlying profit.
3. Deep dive: investment properties
There are two sources of underlying profit: the investment properties and the development properties.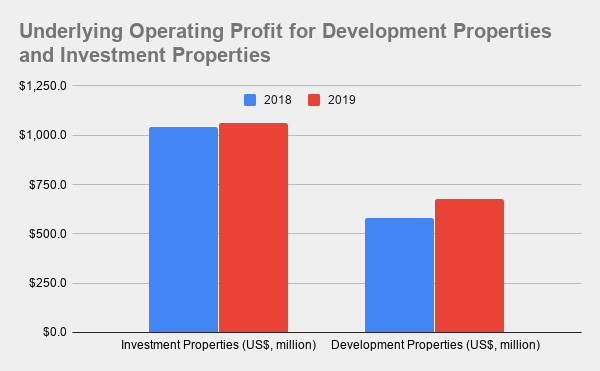 Source: 2019 earnings report
For context, investment properties are mainly commercial in nature and are considered by Hongkong Land as long-term holdings. The company earns by collecting rent. 
As such, income from investment properties tends to be more stable and reliable. 
The vast majority of the investment property income comes from the rental of commercial space. The contribution from this sub-segment has been stable.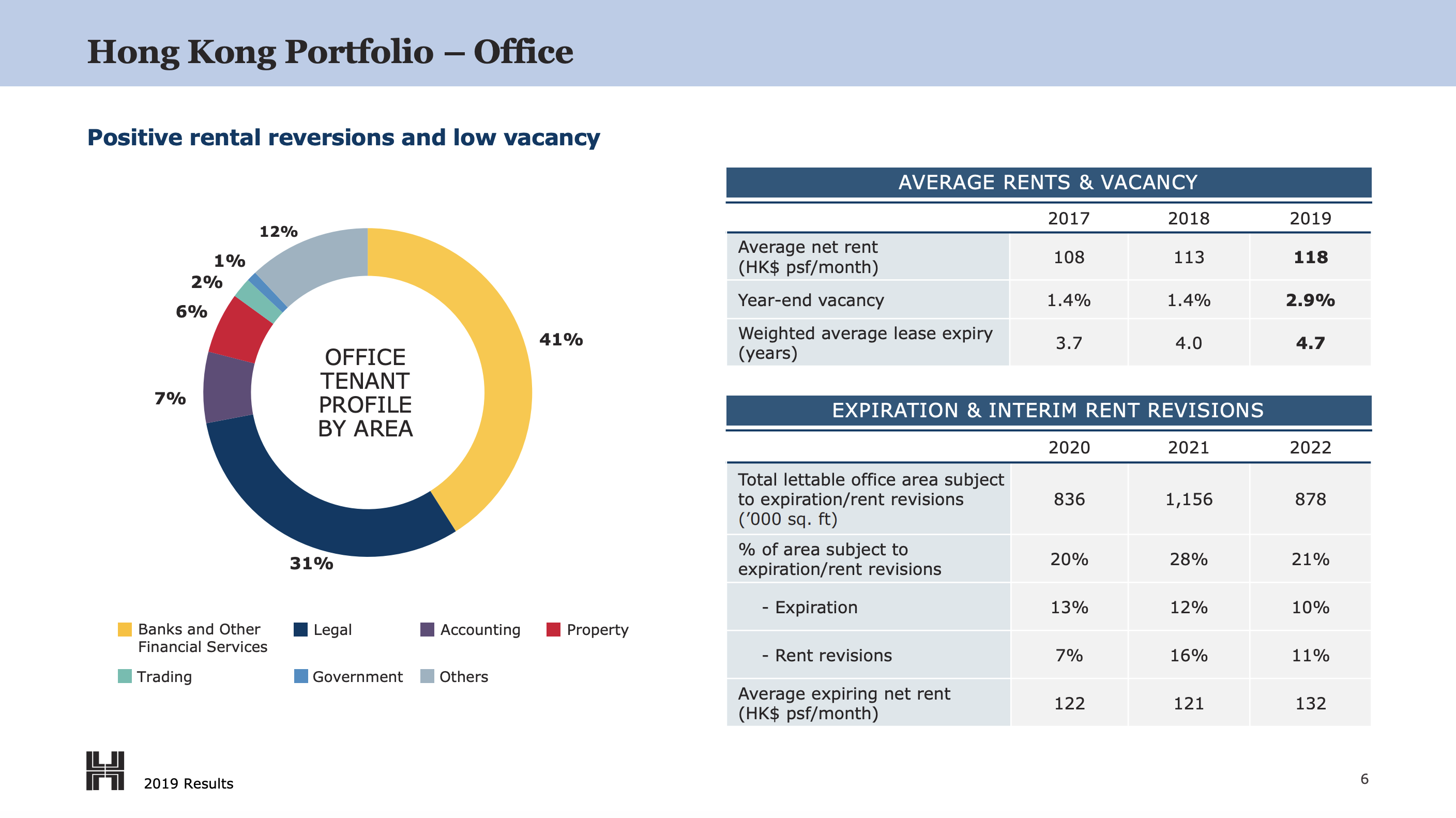 Source: 2019 earnings presentation
There has been some weakness in 2019 that comes in the form of higher vacancy of 2.9%, compared to 2018's 1.4%. However, its vacancy rate is still better than the broader Hong Kong Central Grade A office vacancy of 3.6%. 
In addition, Hongkong Land has been able to increase the average rent to HKD 118 per square feet (psf) per month, up from HKD 113 a year ago. 
At the same time, the tenant's weighted average lease expiry has been extended to 4.7 years, up from 4 years in 2018. 
Looking ahead, CEO Robert Wong said that the office portfolio is expected to remain resilient (read: stable) despite the economic uncertainties and the Covid-19 outbreak. 
This statement is important, as the office portfolio makes up the bulk of the rental income for Hongkong Land.
In addition, Wong said that the tenancy profile over the next three years is well-distributed: 
"Due to our active lease management over recent years, areas subject to expiration up to the end of 2022 amount to just over 30% of the Central office portfolio's total net leasable area. 

As these expiries are spread relatively evenly, the potential for significant fluctuations in vacancy is likely to be limited."
As of 6 March 2020, 9% of the leases are subject to expiration, 6% are up for rent revisions.    
It's not all sunshine and roses, of course.
Be sure to check back tomorrow we look into the other weaker side of Hongkong Land Holdings.
FREE special report: The Bear Market Survival Guide. If you'd like to learn how to survive this bear market, CLICK HERE to download our special free report.
Get more stock updates on our Facebook page or Telegram. Click here to like and follow us on Facebook and here for our Telegram group.
Disclosure: Chin Hui Leong owns shares in Hongkong Land.